Work-From-Home Impact Varies by Company, Industry and Occupation
by King White, on Oct 21, 2020 8:51:10 AM
The biggest work-from-home (WFH) experiment that was created by the COVID-19 pandemic has now been going on for over six months. Companies are beginning to see what is working and was isn't working, but the true results will not be uncovered until we are COVID-free with the employment market stabilized and people return to normal social practices which could dramatically impact productivity levels.
For now, there appear to be trending emerging which is aligned to the individual company, industry, and occupation type. To help you evaluate the potential impact on your company, Site Selection Group has analyzed the situation from several perspectives in this article as well as released a more comprehensive whitepaper entitled Calculating the Return on Investment of Work-From-Home Strategies to help you plan your future workplace strategy.
Some companies are adopting more aggressive work-from-home strategies
Companies are taking different approaches to determine their long-term plan for WFH. The tech sector appears to be the most outspoken about their plans as companies like Twitter and Facebook have announced longer-term plans for working-from-home. Nationwide Insurance is another great example in the financial services sector that has been one of the more outspoken WFH advocates.
Mark Berven, president of Nationwide Insurance, recently stated, "As our organization continues to evolve to meet the needs of our members and distribution partners, we're proud that our associates are ready to embrace new ways of working. Expanding our alternative work environment allows us to continue to recruit and retain the best talent and pass along the operational benefits enabled by our technology investments to our customers."
The following graphic created by L.E.K. Consulting does a great job of summarizing the direction of some larger corporations in specific industries.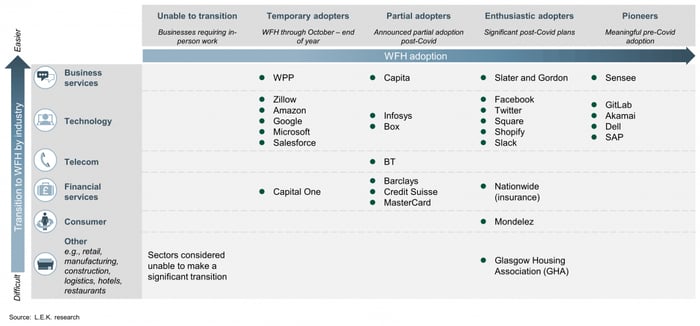 The industry and facility type can influence what can shift to work-from-home
Every company's situation is unique; however, there are certain industries and facility types that are going to be impacted more than others by Post-COVID-19 workplace trends. Most companies compete for talent and clients within their industry which makes it very important to be aware of what your competitors are doing. For example, law firms often require a lot of client-facing time while call centers have become very mobile due to cloud-based technology. It is much easier for call centers to migrate to a work-from-home model than it is a law firm. The following table categorizes various industries and facility types by how much COVID-19 might impact their workplace strategies:
COVID-19 Office Workplace Strategy Impact by Industry & Facility Type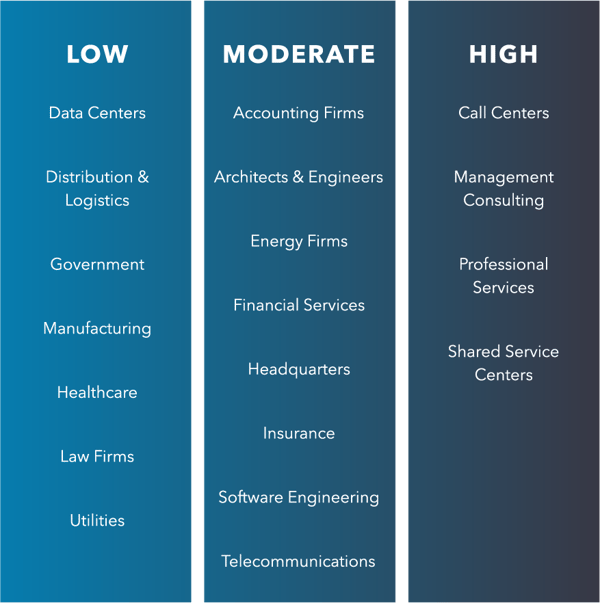 Evaluating work-from-home by job function is critical
It is important to establish the eligibility standards for WFH based on criteria aligned to your company's goals and objectives. The criteria may include job function, tenure, business unit, security risk and other factors that drive the need for the employee to be in an office environment versus at home. It might be easy for a call center worker to work-from-home; however, it is basically impossible to have a manufacturing or distribution center employee working out of their house. The following table illustrates which job functions and business units are potentially more likely to be shifted to work-from-home.
Work-From-Home Job Function & Business Unit Eligibility Matrix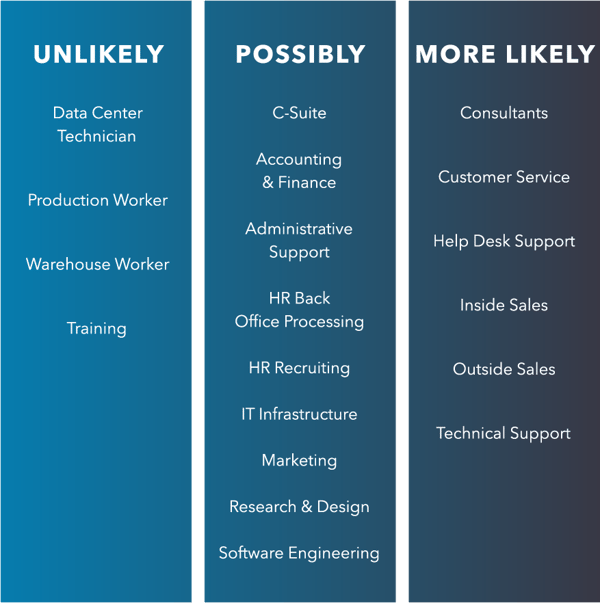 Conclusions
The best approach to making a long-term work-from-home policy for your company is likely the wait-and-see strategy. It is simply too early to understand the productivity impact as well as the return on investment. However, it is a great time to start evaluating which employee types and what functions could stay at home. Site Selection Group has outlined the 10-step process to determining your work-from-home workplace strategy which can be downloaded here: Calculating the Return on Investment of Work-From-Home Strategies.