Location Profile - Central America
by King White, on Jan 15, 2014 1:55:00 PM
Latin America has become a serious contender in the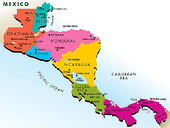 global site selection game over the last decade. Corporations are actively setting up operations in the region. Most of these projects stem from the need to consolidate pan-Latin America operations or serve customers in high cost locations like the United States. Within Latin America, Central America has become one of of the most desirable geographies to locate a variety of operations such as manufacturing plants, IT service centers, shared service centers and call centers.

Cities to consider in the site selection process
A number of Central America cities are viable options for companies looking to set up an operation in the region. Mature cities like San Jose (Costa Rica) and Panama City (Panama) have been at the forefront of the Central America movement, which has caused wages to be higher than other locations in the region. Other cities, such as Guatemala City (Guatemala), San Salvador (El Salvador), and Managua (Nicaragua) have been maturing very quickly while maintaining lower-wage structures. Meanwhile, several emerging markets — San Pedro Sula (Honduras), Tegucigalpa (Honduras) and Belize City (Belize) — have been quietly coming on the radar of corporations. The following table compares several of the key cities in the region: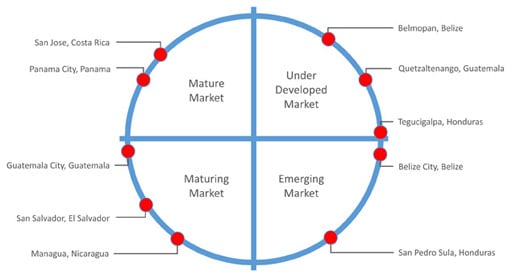 Companies that have expanded in the region
The region continues to attract some major projects from companies across the world. These corporations range from Fortune 500's to mid-sized companies. The following table identifies where some of these companies have chosen to locate:


Company

Costa Rica

Aegis, Amazon, Boston Scientific, Intel, St. Jude Medical, Western Union

Panama

Cable & Wireless, Caterpillar, DHL, HP

Guatemala

3M, Allied Global, Bayer, CapGemini, Colgate-Palmolive, Dupont, ExxonMobil, Genpact,
Xerox

El Salvador

Citibank, Dell, Hanes, Stream, Sykes, Teleperformance

Nicaragua

24/7, Command Medical Products, eTelemark, TNI BioTech, Sitel

Honduras

Allied Global, Gilden, StarTek, Stream

The value proposition of Central America
Central America continues to be a valid region of the world to perform a variety of corporate activities at a reasonable cost. Some of the key reasons include the following:
Labor costs are low. You will typically find labor to be 50% to 75% lower as compared to wages in the United States. For example, a bilingual call center worker earns between $2 and $4 per hour depending on the city in which you locate. The comparable employee would cost $10 to $12 per hour in the United States. However, you need to remember that the employee benefit load will range from 40% to 50% as compared to 35% in the United States.
Skillsets of employees can be very good in certain geographies. There are a handful of cities that have the capability to perform higher-end activities such as advanced manufacturing (especially in the medical device industry), IT service centers and shared service centers. San Jose (Costa Rica) is a prime location that has been very successful in attracting a diverse group of companies like Baxter, HP, IBM, Oracle, P&G and St. Jude Medical.
Proximity to the United States is desirable. The ability to get direct, short flights from major hubs in the United States has become a very important factor as companies realize the time and expense required to run in a nearshore geography versus an offshore location like China, India or the Philippines.
Challenges of locating in the region
Doing business in a Third World country can be challenging. There are many roadblocks that companies will face as they try to expand into Central America. These challenges are often isolated to one country or city; however, they can create hurdles when trying to get projects launched with uncertainty that may exist within all ranks of a corporation as they consider nearshore locations versus offshore geographies. Some of the challenges include the following:
Minimal scalability of labor markets. Due to the low population levels of most of the cities within Central America, it can be very difficult to find a mass of workers with the required skillsets. You must carefully evaluate the long-term availability of workers and be prepared that your facilities will not be able to be scaled up to the level of other geographies with larger population levels.

Wage inflation is high. Wage inflation is a critical factor that will quickly diminish the savings of locating to nearshore and offshore geographies. The annual wage inflation rate will range from 7% to 10% in most Central America locations.

Geopolitical risks pose challenges. Corruption and crime continue to be a problem in Central America. You will need to be prepared to deal with corruption within the local governments and by the various suppliers in order to get up and running in many of these locations. In addition, drug smuggling is prevalent in the region, which can also influence crime and corruption.

Capital intensive to set-up an operation. The cost to open facilities within the region can be very costly, with little support from landlords or the governments to help offset the upfront expenses of starting up a facility. Even though real estate costs are similar to the United States, there typically will not be any tenant improvements provided to a tenant.

Time required to launch a site. You need to be prepared for everything to take longer than expected when trying to set up a new facility. Construction schedules and the lead time for equipment will typically take much longer than in developed countries across the world.
Conclusions
The desire for global expansion continues to push corporations to consider regions like Central America for operations ranging from complex manufacturing to low-end call center operations. The region's ability to compete globally with other low-cost locations such as Mexico, South America, India, the Philippines and China is the biggest challenge that Central America faces. Overall, Central America offers many desirable attributes that will allow the region to stay competitive in the global site selection game.