Largest Economic Incentive Deals of 1st Quarter 2016
by Kelley Rendziperis, on Apr 25, 2016 1:47:45 PM
Although the number of projects offered economic incentives decreased from the prior quarter (from 524 to 335) the overall value continued to increase, reaching $1.3 billion for the first quarter of 2016. The top 25 announced economic incentive packages amounted to approximately

$1 billion, or 76%, of the total incentives offered in the quarter. The largest economic incentive package of $263 million was offered to Continental Tire the Americas for the construction of a commercial vehicle tire plant in Hinds County, Mississippi. There were 13 announced projects in New Jersey and New York accounting for 43% of the economic incentives value of the top 25 deals. Kentucky had the most announced economic incentive projects during the quarter with 65 deals valued at approximately $61 million primarily through the use of the Kentucky Business Investment Program.
To help understand economic incentive trends, Site Selection Group has evaluated the economic incentive deals announced during the first quarter of 2016.
More than $1.68 billion in economic incentives
Site Selection Group identified 335 economic incentive packages offered to companies across the United States during the first quarter of 2016. These economic incentive packages represent an estimated total incentive value in excess of $1.31 billion, as compared to $450 million in the first quarter of 2015. To generate these economic incentives, companies are expected to spend more than $8 billion of capital and generate over 44,000 new jobs, representing a total return on investment of approximately 16.4%, an award of $29,200 per new job and an average deal value of approximately $3.9 million.
While the average deal value was $3.9 million for the 335 announced projects; the following chart depicts the 335 deals broken out by incentives values: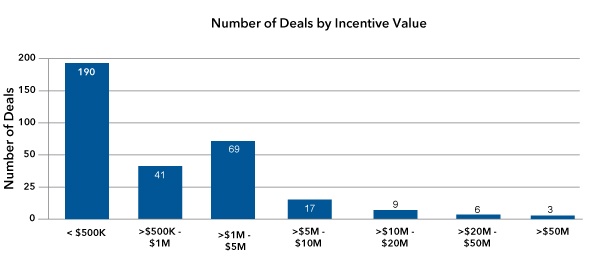 While the overall average award was $3.9 million, the data is heavily skewed by the top 25 announced projects. For instance, approximately 70% of the 335 announced projects were actually awarded economic incentive packages less than $1 million.
Top 25 economic incentive packages in the 1st quarter
The following table identifies some of the largest economic incentive deals offered in the first quarter of 2016. These projects provide a great way to benchmark what range of economic incentives exist for a variety of project types. However, it is important to understand the values are estimated and typically only reflective of state-level incentives.
Company

Incentive
Value ($M)
Capital
Investment ($M)

Jobs Created

Location

Continental Tire the Americas

263.00

1,450.00

2,500

MS

Athenex

225.00

1,620.00

1,400

NY

General Electric (GE)

146.00

0

800

MA

Fabuwood Cabinetry Corporation

39.90

0

276

NJ

TopShip

36.00

68

1,000

MS

Glassboro A-3 Urban Renewal

30.13

102.74

110

NJ

UrbanStreet Group

25.00

104

0

MO

South Inlet Partners Urban Renewal

24.43

73.52

10

NJ

Glassboro A-4 Urban Renewal

20.85

71.72

75

NJ

Bob's Discount Furniture

19.70

0

125

CT

World Business Lenders

16.88

2.1

225

NJ

DuPont Pioneer

16.00

0.5

0

IA

Woodridge Productions

15.15

0

150

PA

Crown Holdings

15.00

132.8

164

NY

C2 Imaging

11.50

0

110

NJ

Dollar General

11.40

92.4

500

NY

Linde North America

11.00

0

150

NJ

Symrise

10.25

73.91

60

NJ

Evolent Health

10.00

41.73

647

KY

McKesson

9.75

157

975

TX

Uptown Reinvestment Corporation

9.70

31.4

82

MI

Walt Disney Studios

9.52

47.42

205

CA

FXDirectDealer

9.00

0

121

NJ

Showman Fabricators

8.70

0

90

NJ

More Than A Bakery

8.00

57.10

310

KY
The top 25 deals represent approximately $1 billion of the total $1.31 million of incentives, over 76 percent, offered in the first quarter of 2016. These projects, in isolation, will account for more than $4 billion of capital and generate over 10,000 new jobs, representing a return on investment of approximately 24% and $99,000 per new job. For the top 25 projects listed above, the following graphs reflect the project type, number of projects by state and industry function: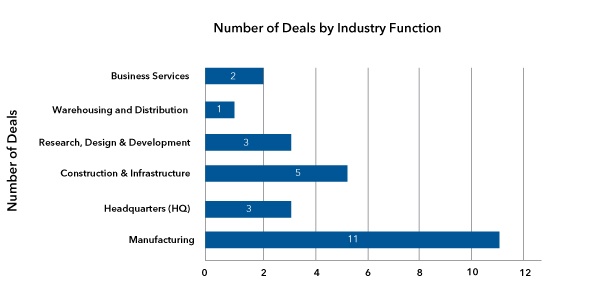 In this quarter, New Jersey's Grow New Jersey Assistance Program continued to be leveraged by companies and accounted for 10 of the top 25 projects in terms of the number of incentives deals. However, the top three awarded projects were located outside of New Jersey and accounted for $634 million in economic incentives or approximately 63% of the top 25 deals and 48% of the overall incentives awarded in the first quarter of 2016.
As mentioned above, Continental Tire the Americas will construct a commercial vehicle tire plant in Mississippi creating 2,500 jobs and investing $1.45 billion; Athenex will create 1,400 jobs and spend $1.62 billion to create a High Pharmacy Oncology manufacturing facility and expand a building on the Buffalo Niagara Medical Campus; and General Electric will create 800 jobs in relocating its headquarters to Boston.
For additional information about these projects and others, please contact Site Selection Group.