Why Manufacturers are Having Trouble with the Real Estate Market
by Josh Bays, on Oct 21, 2020 8:47:53 AM
Site Selection Group, a full-service location advisory, economic incentives and real estate services firm, helps manufacturing companies optimize their location decisions based on those site selection factors that will influence operational success. Those obvious site selection factors typically include logistics, workforce, business environment, infrastructure, utilities, regulatory environment, economic incentives and real estate. However, an underrated factor that heavily influences location decisions is time.
In a hyper-competitive landscape, almost all site selection projects face a speed-to-market concern. The most effective way for manufacturers to alleviate this concern in the site selection process is to focus on existing buildings rather than spending the time it takes to construct a facility. Depending on facility complexity, this approach can save between six and nine months.
Typical industrial real estate profile of manufacturing projects
The term "industrial real estate" is often casually used as a catch-all for buildings that can support both production and distribution activities. However, the technical building specifications required for production uses are typically much more complex than those required for basic distribution. Often, facilities designed for production operations as opposed to basic distribution require improvements to foundations, structural steel, utility capacity and distribution, and air movement. In summary, these facilities are more specialized and expensive.
Another industrial real estate trend that typically catches the casual industry observer off guard is the size profile of most manufacturing buildings. Although large mega manufacturing projects typically dominate the media headlines, the reality is that the vast majority of manufacturing projects require a facility under 150,000 square feet.
Conway tracks manufacturing investment in the United States and, while not 100% comprehensive, its database is an accurate representation of activity. Based on project data for 2020 representing 489 projects, the following chart shows the distribution of manufacturing projects based on facility size. As compared to the previous year, the distribution of projects remains roughly the same, but the percentage of projects under 150,000 square feet is higher (79.8% compared to 70.6%).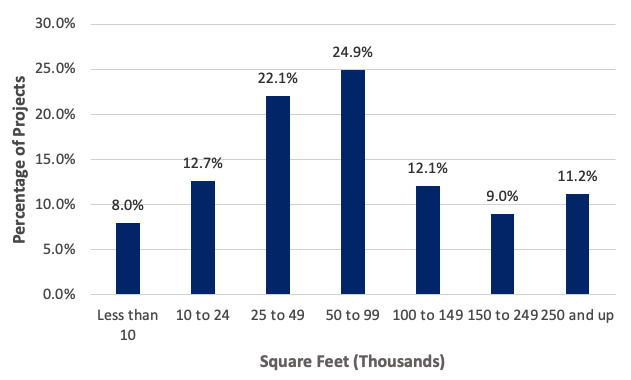 Current industrial market favors distribution not manufacturing
Despite being eight months into a global pandemic, the industrial real estate sector has been somewhat insulated due to strong demand for bulk distribution. It is hard to spend much time driving around a metropolitan area of the United States and not notice the towering effect of construction cranes that dot the skyline. Despite the lack of current year data, anecdotally, industrial real estate construction rates are holding.
National Industrial Construction (Million SF)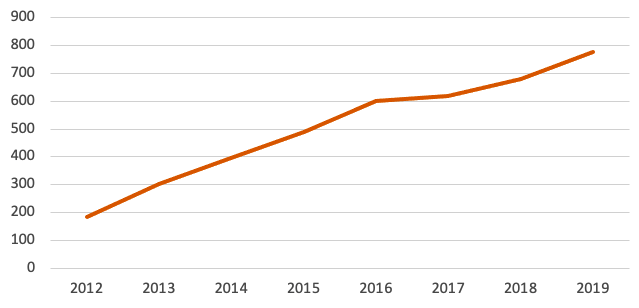 National Industrial Construction (Properties)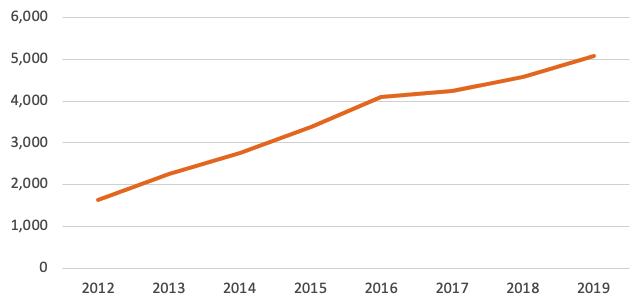 Source: CoStar
Unfortunately, these construction rates are rarely able to alleviate the speed-to-market concerns of manufacturers. Most of this activity, especially speculative activity, is on behalf of the institutional investment community and is focused on large buildings (larger than 250,000 square feet) with basic specifications. Unless a manufacturing project is willing to compromise its specifications and be shoehorned into a multitenant facility, it is usually resigned to constructing its own facility.
Could there be relief in sight?
Many industry spectators believe we are headed for a period where manufacturers are looking to optimize their inefficient production footprints by implementing consolidation strategies.
If that happens, the U.S. industrial real estate market could see the largest influx of production-oriented buildings become available since the Great Recession. And, recently vacated production buildings can have one significant, and often overlooked advantage, an available workforce.
Best real estate practices in manufacturing site selection
Although the current market for quality production-oriented buildings is tight, Site Selection Group does not recommend abandoning that strategy if growing your production footprint. When that needle in the haystack is found, it can have a positively profound impact on a project. However, Site Selection Group advises clients to run a parallel site selection process aimed at greenfield locations. It is cheap insurance against the prospect that a company will have to extend its project timeline to combat this competitive industrial real estate market.