What Does Slowing Growth in India and the Philippines Mean for the Call Center Industry?
by King White, on Apr 18, 2018 8:00:00 AM
The call center industry continues to recalibrate as onshore, nearshore and offshore site selection strategies change. From labor shortages and wage inflation to a new political leader and natural disasters, many factors that are often out of anyone's control or impossible to predict can influence where call centers tend to locate. One thing is for certain: India and the Philippines have benefited from astronomical growth of the call center industry over the last couple of decades. However, it appears that growth is subsiding. So what does this mean to you? To help evaluate the situation, Site Selection Group has gathered market data to help you develop a global location strategy.
India job growth drops to 36,000 in 2018
Nasscom, the leading trade association of Indian Information Technology and Business Process Outsourcing, estimates that the $28 billion BPO industry employs approximately 1.1 million workers in India today. The industry has seen massive growth across India over the last decade but has slowed down to levels not seen since 2010, a year after the Great Recession ended in the United States. In 2018, the industry is expected to add only 36,000 workers in India compared to its peak in 2009 with over 1 million workers. The following table provides a summary of the industry's historic growth in India:
Business Process Management Industry Growth in India
| | Revenue ($ bn) | Employment | Net Addition (000) |
| --- | --- | --- | --- |
| 2009 | 11.7 | 738 | 103 |
| 2010 | 12.4 | 770 | 32 |
| 2011 | 14.14 | 826 | 56 |
| 2012 | 15.9 | 879 | 53 |
| 2013 | 17.8 | 917 | 38 |
| 2014 | 20 | 989 | 72 |
| 2015 | 22 | 1037 | 48 |
| 2016 | 24 | 1086 | 49 |
| 2017 | 26 | 1152 | 66 |
| 2018 | 28 | 1188 | 36 |
Source: Nasscom Strategic Review 2011, 2015, 2018
The Philippines growth drops to 9% from its average growth rate of 17%
The Philippines has proven to be one of the most dynamic offshore destinations for call centers and back office operations. An estimated 1.15 million Filipinos are employed in the industry today. The region's historic compounded annual industry growth has been 17%. However, industry experts believe the growth rate will slow down to 9% per year through 2022.
"Given that we already have this much scale and further leading to maturity, the growth leading to 2022 is slower. Before, annual growth was in the mid-teens at 15% to 16%. When we forecasted it for [our] most recent roadmap, we projected growth revenue-wise to be around 9%," explained Rey Untal, president and chief executive officer of theInformation Technology and Business Process Association of the Philippines (IBPAP).
The following diagram provides a summary of the original IBPAP roadmap of growth projections: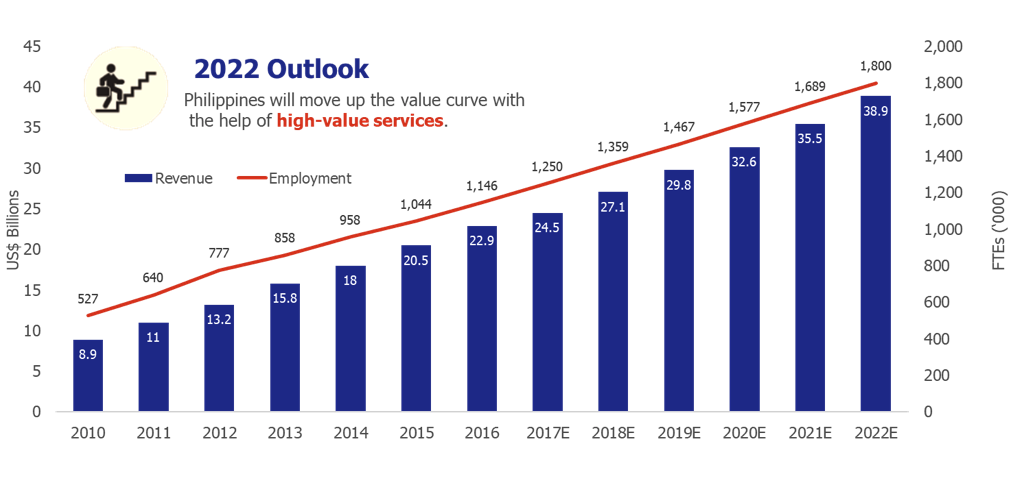 Source: IBPAP
Why is call center industry growth slowing in India and the Philippines?
Based on the review of the situation, there have been five factors identified that may be the cause of the slow down. These reasons include the following:
Larger Scale – Both India and Philippines have a call center industry workforce in excess of 1 million people. The ability to sustain double-digit growth rates becomes extremely challenging as the market has gotten so large.
Changing Location Strategies – Some industry experts in India and the Philippines are saying that the BPO industry is sluggish. The reality is that other geographies such as Latin America, the Caribbean, South Africa and Eastern Europe are taking market share from them.
Political Effect – The polarizing political effects of U.S. President Trump and Philippines President Duterte have definitely made an impact and created a lot of nervousness in the industry. As a result, the safe choice to locate has become the U.S.
Strong U.S. Economy – When companies are profitable, they will often overlook low-cost options and select higher-cost solutions. As a result, higher-cost geographies such as the U.S. and Latin America have become preferred geographies.
Technological Advances – There is no doubt that advances in call center technologies is and will continue to diminish call volume especially for lower-end functions that can be serviced through self-service technologies and artificial intelligence.
Conclusions
India and the Philippines will continue to be the dominant offshore markets due to their scalability, cost benefits, industry knowledge-base and many other factors. However, these countries need to be prepared that lower growth rates are likely here to stay.