Top 25 Onshore & Offshore Call Center Projects of 2015
by King White, on Jan 25, 2016 10:30:50 AM
The call center industry continued its solid growth pattern with the creation of more than 170,000 jobs across the world in 2015. With almost half of those jobs created in the U.S., domestic expansion and reshoring initiatives have enabled the United States to maintain its robust job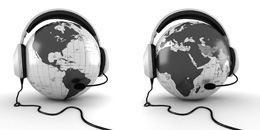 growth for the year. Outside the U.S., Latin America and the Philippines continue to be the hottest regions for expansion. Latin America created an estimated 14,800 jobs and the Philippines announced more than 28,000 new jobs primarily driven by the high growth business process outsourcing sector.

Africa could become a leading offshore location
As companies continue to find the next Philippines, Africa may be positioning itself as the next region and has gained significant momentum with the creation of almost 10,000 jobs across the continent. "For the last several years, Africa appears to be positioned to become a potential alternative for long term growth and scalability. As the education system and infrastructure improve, Africa could become a leading emerging destination in the next 10 to 20 years," explains King White, CEO of Site Selection Group.


Top onshore and offshore project announcements
To illustrate the momentum of the call center industry, Site Selection Group has identified our Top 25 Onshore & Offshore Call Center Deals of 2015. These new project announcements excluded any expansion of existing sites and were identified through a filtering process based on jobs created, location and community impact. The following table identifies the top new projects announced in 2015:
Top 25 Onshore Call Center Projects of 2015
| Company | # of Jobs | Location | Industry |
| --- | --- | --- | --- |
| Liberty Mutual | 2,500 | Plano, TX | Financial Services |
| Barclay's | 1,500 | Hamilton, OH | Financial Services |
| Qualfon | 1,200 | Harlingen, TX | BPO |
| Comcast | 1,100 | Tucson, AZ | Telecommunications |
| Charter Communications | 1,000 | St. Louis, MO | Telecommunications |
| Sitel | 1,000 | Ft. Lauderdale, FL | BPO |
| Sykes | 900 | Boise, ID | BPO |
| The Home Depot | 800 | Tempe, AZ | Retail |
| AAA | 700 | Layton, UT | Financial Services |
| Google | 700 | Farmington Hills, MI | Technology |
| Comcast | 675 | Spokane, WA | BPO |
| Fred Loya Insurance | 600 | El Paso, TX | Financial Services |
| Sitel | 600 | Spartanburg, SC | BPO |
| Alorica | 550 | Albuquerque, NM | BPO |
| Sykes | 550 | Morristown, TN | BPO |
| Sykes | 500 | Montgomery, AL | BPO |
| Teleperformance | 500 | Reno, NV | BPO |
| Triwest Healthcare | 500 | Kansas City, KS | Healthcare |
| Connexion Point | 400 | Memphis, TN | Healthcare |
| Republic Services | 400 | Charlotte, NC | Other |
| Uber | 400 | Phoenix, AZ | Travel |
| Atlantic City Contact Center | 322 | Atlantic City, NJ | BPO |
| Argo Marketing | 300 | Lewiston, ME | BPO |
| Convey Health Solutions | 300 | Decatur, IL | Healthcare |
| Frontier Telecom | 300 | Rochester, NY | Telecommunications |
Top 25 Offshore Call Center Projects of 2015
| Company | # of Jobs | Location | Industry |
| --- | --- | --- | --- |
| ISON Group | 5,000 | Nigeria | BPO |
| EXL | 3,000 | CapeTown, South Africa | BPO |
| Sutherland | 3,000 | Bulgaria | BPO |
| Atento | 3,000 | Campo Grande, Brazil | BPO |
| Atento | 2,500 | Bahia, Brazil | BPO |
| Telus | 2,500 | Manila, Philippines | BPO |
| Azpired BPO | 2,000 | Cebu, Philippines | BPO |
| Startek | 2,000 | Pasig, Philippines | BPO |
| Teleperformance | 2,000 | Taguig City, Philippines | BPO |
| Expert Global Solutions | 1,700 | Davao City, Philippines | BPO |
| Reliance Communications | 1,500 | Srinigar, India | Telecommunications |
| Teleperformance | 1,500 | Georgetown, Guyana | BPO |
| Minacs | 1,000 | Pune, India | BPO |
| Atento | 1,000 | Bogota, Colombia | BPO |
| Hinduja Global Services | 600 | Windsor, ON | BPO |
| Xceed | 500 | Morocco | BPO |
| Transcosmos | 500 | Okinawa, Japan | BPO |
| Tele2 Russia | 500 | Chelyabinsk, Russia | Telecommunications |
| Uber | 500 | Hyderabad, India | Technology |
| Tech Mahindra | 500 | Cebu, Philippines | BPO |
| Genpact | 500 | Bataan, Philippines | BPO |
| Service Source | 500 | Bonifacio City, Philippines | BPO |
| Acticall | 450 | Fez, Morocco | BPO |
| Telenor India | 425 | Jharkhand, India | Telecommunications |