The Impact of the "2019 Great Wage Inflation" on Site Selection Decisions
by King White, on Nov 18, 2019 10:23:26 AM
A decade after the Great Recession, U.S. wage inflation appears to be the latest economic trend creating new challenges for companies trying to optimize their site selection, expansion and consolidation strategies. There has been a convergence of factors leading up to what you could call the Great Wage Inflation of 2019. Unlike previous expansionary economic periods, wage inflation has been extremely low and slow to rise. It appears to be peaking at 4% in 2019. Factors including changing minimum wage laws, historic low unemployment and strong job demand are causing wages to increase at pre-recession levels especially for hourly type workers in call centers, manufacturing plants, distribution centers and retail as well as higher-end occupations such as software development and engineering.
Wage inflation approaches 4% in recent quarters
Based on an analysis of the Federal Reserve Bank of Atlanta, wage inflation is approaching 4% in recent quarters of 2019. Comparatively, wage inflation reached similar levels prior to the Great Recession and over 5% prior to the Dot-Com Bubble. The following graph provides a snapshot of overall weighted wage inflation over the last 20 years. If you visit the Atlanta's Fed Wage Growth Tracker website you can calculate different variations of wage inflation by education, gender and industry.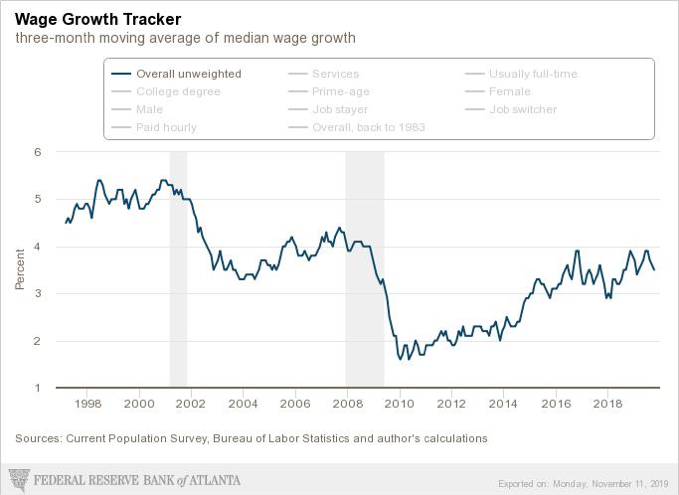 New minimum wage laws cause big increase for hourly workers
Minimum wage increases are another major factor contributing to wage inflation, and they often influence site selection decisions. Minimum wages have increased over the last five years in many states creating challenges for companies trying to control costs at existing locations and plan for new sites. These rising rates have especially impacted labor availability and labor costs for employers paying slightly above minimum wage. Retail, call center, warehouse and unskilled production workers will be the most affected by the continued minimum wage increases. The following map indicates each state's minimum wage by 2025.
Minimum Wages by 2025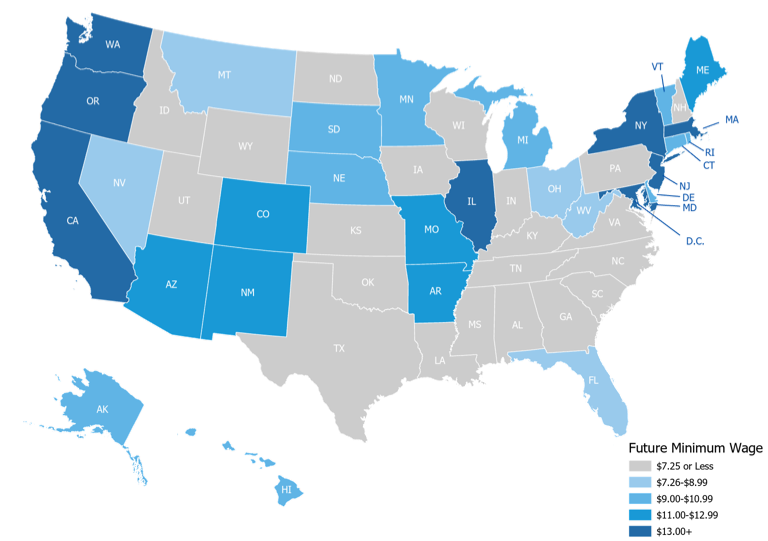 For additional details on minimum wage trends, you can download the Minimum Wage Report 2020 analyzing current and future minimum wages.
Unemployment reaches historic lows as job demand peaks
Wage inflation is greatly impacted by unemployment and job demand. The unemployment rate dropped to 3.5% in September which is its lowest in 50 years. The prolonged low unemployment rate combined with economic expansion has created extremely tight labor conditions. As a result, we have seen job postings peaking as employers are heavily recruiting to find employees to fill open positions. The following graph analyzes job demand based on the ratio of total job postings to unique, or deduplicated, job postings. A higher than average posting intensity can mean that employers are putting more effort than normal into hiring that position. As shown, the job demand is at its highest level in last three years.
Job Posting Intensity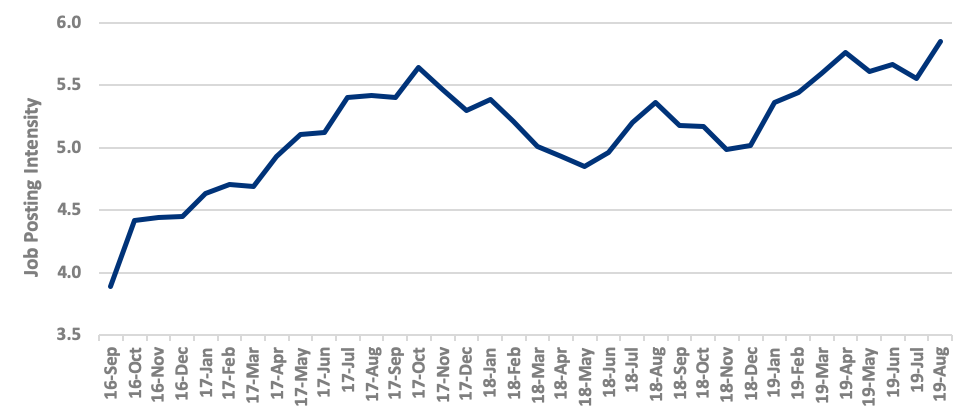 Source: Emsi
Conclusions
Wage inflation definitely feels like it has intensified in the last couple of years; however, it is relatively low when compared to the years leading up to previous major recessions. Employers appear to have grown accustomed to extremely low wage inflation since emerging from the Great Recession. This trend, combined with the extremely tight labor conditions, seems to be slowing down growth plans for companies in the U.S. and causing many companies to rethink their site selection strategies for high demand occupations such as workers in call centers, manufacturing plants, distribution centers and software development. Only time will tell if this trend will lead into a recession in the very near future.