The Diminishing Impact of Economic Incentives on Call Center Site Selection Decisions
by Kelley Rendziperis, on Feb 24, 2020 3:56:50 PM
Call centers continue to be a major job creator in the economic development of cities around the world; however, economic incentives appear to be having less of an impact on call center site selection decisions based on data researched by Site Selection Group. Since 2010, there were over 32,000 economic incentive awards announced in the United States. Of those deals, over 5,600 were in the business services industry sector and more than 260 were specifically related to call center projects. Although these call center economic incentive announcements are not all encompassing, they do provide a view into historic economic incentive trends for call centers based on the number of announced economic incentive awards over the past 10 years and the range of values for those economic incentives awarded.
Historical call center economic incentive awards
The following chart illustrates the number of announced call center deals in the United States over the past 10 years:
Announced Deals Over Past 10 Years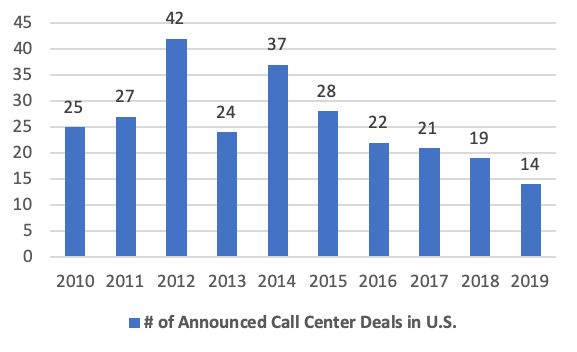 Notably the number of announced incentive packages for call center projects has steadily decreased since 2014. In addition to the number of economic incentive packages awarded to call centers in the U.S. since 2010, the total value of those incentives has also declined, other than in 2018, as seen in the following chart:
Economic Incentive Value Over Past 10 Years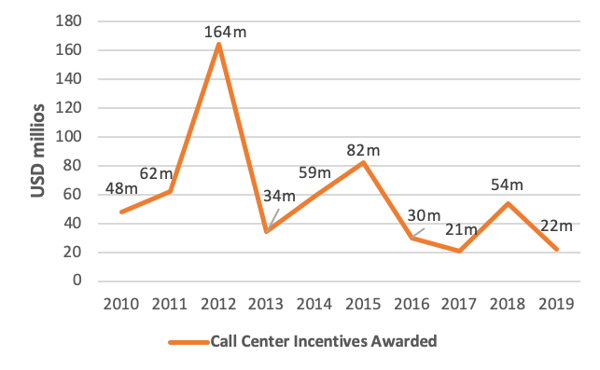 Source: IncentiveFlow, a Wavteq company
While the number of incentives decreased from 2017 to 2018, the total value of awarded incentives in 2018 was higher than 2017 and 2019. The reason for the larger total value of economic incentives award in 2018 was due to the following projects and the specific economic incentive programs:
Gucci America in Jersey City, NJ - Grow New Jersey
Sonic Automotive in Lowell, NC - Job Development Investment Grant
Conduent in Rochester, NY - New York Excelsior Jobs Program; New York Upstate Revitalization Initiative
The primary incentive programs utilized in each project listed above will be recognized over a 10- to 12-year period and are performance-based. Thus, the actual value associated with these awards is dependent upon meeting certain headcount and wage thresholds.
The prior five years, which represent 105 deals, yielded the following net new jobs and average economic incentive award per job in the U.S.:
Average Economic Incentive per Net New U.S. Call Center Job
| | 2015 | 2016 | 2017 | 2018 | 2019 |
| --- | --- | --- | --- | --- | --- |
| New Jobs | 8,772 | 9,233 | 5,739 | 5,629 | 5,602 |
| Avg. Incentive/ Job | $9,331 | $3,245 | $3,734 | $9,567 | $3,877 |
Source: IncentiveFlow, a Wavteq company
On average, economic incentive awards for call centers generally yield $1,000 to $5,000 per job. The information above over the past five years tends to support this range, except for a couple outliers. The peak in the average economic incentives per new job created in 2015 was larger than the others based primarily on Google's data center project in Iowa and Atlantic City Contact Center's new call center in New Jersey. The peak in 2018 is based on the previously mentioned projects. What this information reflects is how different incentive programs can be from one state to another and how the structure of the program ultimately determines realizability. Larger awards generally result from incentive programs that are linked to payroll, either via a direct rebate of payroll or withholding, versus tax credits and are in geographically favored areas.
The future of economic incentives for call centers
Over the past few years, not only was there a reshoring trend for call centers, but companies' expansion plans have occurred within the United States as well. Historically, a lot of the call center industry's growth was in nearshore and offshore locations primarily for cost-savings reasons, but companies have recognized they may have underestimated the value of customer service. Customer loyalty is paramount, and a customer wants to know they are talking to someone who is not physically distant and who has product knowledge. Connecting with a customer service agent provides a psychological edge and brand loyalty to a customer that outsourcing cannot provide. Thus, call center activity continues to grow in the U.S., but economic incentive awards are on the decline.
Not all call center jobs are created equally. Some jobs are in the health care field and may require licensure, some may be software engineers, some may be non-degreed customer service representatives. The varied range of qualifications results in a broad array of wage ranges. Since the economy is booming, unemployment is low and minimum wage requirements are increasing, economic incentives are not being offered as often to jobs paying less than $12 per hour. Moreover, in many cases the minimum threshold is $14 per hour, or more likely, the average county wage of all industries in the respective county.
Not only are wage pressures affecting the availability of incentives for call centers, but so are companies' objectives of cost-cutting measures around real estate portfolios. Many companies are reducing their physical footprint and utilizing flex/hoteling space concepts or remote workers. This has an affect on the number of net new employees tied to a facility and a company should be prepared to demonstrate to a community the revenue impact it will bring and/or maintain despite maintaining a more transient workforce.
There are still economic incentives for competitive projects throughout the United States; however, in the case of call centers, the realizability and significance of those incentives will be heavily dependent on the project facts and circumstances. Site Selection Group has decades of consulting experience in this field and is always available to discuss your project and the availability of economic incentives.
Note that the statistics used in this blog are based on information available at the time of publishing and are generally based on state level incentives.