The Resurgence of Mexico as a Manufacturing Hub
by King White, on Mar 24, 2014 12:04:00 PM
Mexico has re-emerged as a leading destination for manufacturers, challenging China in the global marketplace. Mexico's long history in the manufacturing sector, combined with the diminishing cost advantages of some offshore locations, has enabled the country to regain its competitive edge as a global manufacturing hub. As this trend continues, other industries will likely follow the trend to find great savings in this nearshore destination.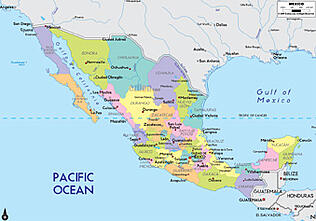 To identify regional trends within Mexico, Site Selection Group has conducted an analysis of the region to help companies understand the pros and cons for locating a manufacturing plant as well as other higher-end operations such as call centers, shared service centers and software development centers. The following information provides a summary of some of the key findings.

Numerous cities to consider

Mexico is one of the few countries in the world with enough population scalability to offer multiple metropolitan areas to consider when determining where to locate. The following table identifies 13 metropolitan areas with their respective population size that could be considered when evaluating the region.
| Metro Area | Population (Millions) |
| --- | --- |
| Mexico City | 20.57 |
| Guadalajara | 4.66 |
| Monterrey | 4.34 |
| Toluca | 1.93 |
| Tijuana | 1.84 |
| Puebla | 1.51 |
| Chihuahua | 1.36 |
| Ciudad Juarez | 0.89 |
| Reynosa | 0.74 |
| Aguascalientes | 0.73 |
| Querétaro | 0.69 |
| Saltillo | 0.68 |
| Silao | 0.17 |

Attractive labor costs
Favorable labor costs have been one of the most critical location factors that has attracted companies to Mexico. Wage inflation has remained relatively low in Mexico as compared to other fast-growing offshore markets, which has helped maintain lower operating-cost conditions. The following table compares annual base labor costs (U.S. dollars) for production workers, call center representatives and software programmers.
Location

Unskilled Production
Worker
Skilled Production
Worker
Inbound Call
Center Rep

Silao

$1,428

$5,218

$2,448

Aguascalientes

$1,491

$5,274

$2,474

Ciudad Juarez

$1,571

$5,346

$2,508

Chihuahua

$1,571

$5,346

$2,508

Guadalajara

$1,577

$5,351

$2,510

Saltillo

$1,587

$5,360

$2,515

Puebla

$1,592

$5,365

$2,517

Reynosa

$1,616

$5,386

$2,527

Tijuana

$1,694

$5,456

$2,559

Toluca

$1,725

$5,484

$2,573

Monterrey

$1,946

$5,681

$2,665

Querétaro

$1,958

$5,692

$2,670

Mexico City

$2,291

$5,990

$2,810

Companies expanding in the region
The region continues to attract some very large projects especially in the automotive sector. The following table identifies some of the largest projects announced in the last few years:
Company

City

Product

Capital
Investment
($M)

Employees

Ford

Hermosillo

Automotive

$1,300

1000

Chrysler Group

Saltillo

Automotive

$1,085

1100

Fiat

Saltillo

Automotive

$1,000

N/A

Honda de Mexico

Celaya

Automotive

$800

3200

Kraft Foods

Nuevo León

Food

$600

N/A

Eurocopter

Querétaro

Aerospace

$500

100

Mazda

Salamanca

Automotive

$500

3000

DuPont

Altamira

Chemical

$500

N/A

Honda Motor Co.

Celaya

Automotive

$470

1500

General Motors

Silao

Automotive

$349

N/A

General Motors

Bellas

Automotive

$300

N/A

General Motors

Toluca

Automotive

$211

N/A

Furniture Brands

Mérida

Furniture

$200

200

Pirelli

Silao

Tires

$200

700

Jatco

Aguascalientes

Automotive

$200

N/A

Chrysler

Ramos Arizpe

Automotive

$164

N/A

LEGO

Ciénega de Flores

Toys

$150

N/A

General Motors

San Luis Potosí

Automotive

$131

N/A

Hyundai

Tijuana

Automotive

$130

300

LEGO

Monterrey

Toys

$125

N/A

Mazda

Salamanca

Automotive

$120

100

Volkswagen

Guanajuato Puerto

Automotive

$118

N/A

Unilever

Jiutepec

Consumer Products

$100

250

Advantages of Mexico
Mexico possesses some key attributes that has enabled the country to become staple location for many companies. The automotive sector has clearly discovered the region's benefits while Mexico has also successfully attracted many white-collar operations such as call centers, shared service centers and IT related operations. Some of the positive location attributes of Mexico include the following:
Accessibility to the United States. The manufacturing sector has flourished in the region due to Mexico's logistic advantages over offshore locations. Transportation costs and ease of transportation, especially to border locations, make Mexico the premier nearshore destination for manufacturers. In addition, the ability for management to easily visit the region by direct flights from most major airports has helped attract non-manufacturing projects seeking a low-cost location to conduct business.
Low availability at a low cost. You will typically find labor costs to be a fraction of the wages paid in the United States. For example, an unskilled production worker in Mexico earns approximately $1 per hour as compared to $12 to $14 per hour in the United States. Whether it is a manufacturing plant or a call center, Mexico is typically best suited for low-skilled operations. Labor availability for the for these lower-end skill sets is very deep across Mexico. The success of automotive related manufacturing companies are a classic example how lower-end components can be made in Mexico then transported to the U.S. for final assembly. The labor in Mexico is there and it is very inexpensive.
Excellent scalability. Mexico offers multiple cities to choose from depending on the skillsets required. For higher-end operations, Mexico City has more than 450,000 students in various universities that can provide a highly educated workforce for a variety of operation types. Other cities along the border, such as Tijuana and Cuidad Juarez, have very deep labor pools for manufacturers.
Infrastructure. The WEF Global Competitiveness Report gave Mexico a ranking of 4.4 out of 7 for its overall infrastructure conditions. This is driven by factors such as its transportation and utility infrastructure. In addition, there are some excellent business parks spread throughout the country that make it easier to enter the market.
Challenges of locating in Mexico
There are many challenges that companies will uncover as they try to expand into Mexico. Some of the challenges include the following:
Corruption and drug-related violence. Corruption and drug-related violence continues to plague the region. Corruption is generally spread throughout the country while drug-related violence is centered around the border cities. For example, the number of homicides grew from 8,867 in 2007 to 27,199 in 2011 according to the Trans-Border Institute. No other country in the Western Hemisphere has seen such a large increase in the number of homicides over the last five years. These negative conditions caused many companies to pull out of Mexico. Mexico will continue to struggle with these issues for the foreseeable future.
Market saturation applies pressure on labor market. With the region's success in attracting so many manufacturers comes the challenge of market saturation. As markets become more saturated, labor rates will begin to inflate at a higher than the normal rate and employee attrition will increase. It is very important to carefully evaluate the competition in each market when trying to find the optimal place to locate.
Capital intensive to set-up an operation. The cost to open facilities within the region can be very costly, with little support from landlords or the governments to help offset the startup expenses. Rental rates are relatively stable for office and industrial space. However, the quality and availability of real estate will vary from market to market.
Conclusions
Mexico has proven itself to be one of the leading low- cost manufacturing hubs of the world. As the country continues to evolve as a premier industrialized nation, the region will attract a more diversified industry base beyond manufacturing.


*The expansion data used in this blog comes from the Conway Data New Plant Report, a publication of Conway Inc. and Site Selection Magazine.