How Relocating Companies Impact the States and Cities Where They Move
by King White, on Oct 19, 2021 11:20:11 AM
Most people weren't surprised by Telsa's recent announcement that it is relocating its headquarters from California to Austin, Texas, as Elon Musk has been talking about moving since May 2020 when he complained about California's coronavirus regulations.
Still, these types of announcements continue to gain momentum and have almost become expected as California struggles to retain small and large companies. Tesla's move follows other major announcements by Charles Schwab, McKesson, AECOM, HPE, Oracle, and dozens of other smaller projects. Most experts don't expect this site selection trend to change any time soon which leaves many executives wondering how these corporate relocations will impact their future site selection decisions.
A couple of months ago, Site Selection Group featured an article, California's Problems Illustrate the Complexity of Corporate Site Selection Decisions. In that blog, we identified many of the reasons why companies are leaving California which include labor costs, business climate, real estate costs, and cost of living.
In this blog, we focus on the impact of what happens to cities like Austin, Boise, Dallas, Denver, Nashville, Phoenix, and Salt Lake City where the California companies have been relocating.
Housing costs increasing dramatically
Housing prices have spiked in cities where Californians are relocating. They are selling their houses for significantly more than the cost of housing where they relocate. According to Redfin, Austin home prices rose 39% since last year to a median price of $485,000. Phoenix, meanwhile, led the way in-home price increases among 20 major cities tracked by the S&P CoreLogic Case-Shiller U.S. National Home Price Index with a 32.4% year-over-year price increase. And although there is some indication that home price increases are beginning to moderate, Goldman Sachs economists forecast that home prices will rise another 16% by the end of 2022. This effect of rising prices is pressure on local residents in cities that are on the receiving end of relocations as their housing costs and taxes are increasing rapidly.
Labor shortage driving wage inflation
Site Selection Group has seen wages increase by over 20% in the last couple of years in cities where Californian companies are relocating. Entry-level call center jobs have increased from $15 per hour to $18 to $20 per hour as fintech and similar tech companies from California relocate to other markets. In California, these positions were getting $25 to $30 per hour so the cost savings are significant for these employers. The same is happening for software engineers who are typically earning $120,000 in a city like Dallas while in San Francisco they are making more than $150,000. This wage pressure put significant strain on local companies that now have to compete with these wages as the Californian companies poach their talent.
Population growth creates infrastructure challenges
The greatest population migration into Texas is from California and Florida. The U.S. Census Bureau says that more than 687,000 Californians have moved to Texas over the last decade. The surge in population creates significant challenges on the local infrastructure. These high-growth cities are under constant highway construction which combined with more cars creates significantly longer commute times, not to mention the potential increase in taxes to fund the construction.
Industry clustering
The impact of large corporate relocations can often attract other suppliers servicing that company or industry. A good example is Toyota's relocation to the Dallas suburb of Plano, which created a flurry of suppliers to expand into Dallas-Fort Worth. There has also been a large cluster of fintech companies from the West Coast expanding into these cities. This is a great way to build a brain trust of talent and innovation in a specific industry.
Political influence
There is a lot of local buzz in Texas around people from blue states relocating to Texas. There are bumper stickers on the road like below indicate the sensitivity of local political opinions. Could this political disruption turn red states blue? Only time will tell.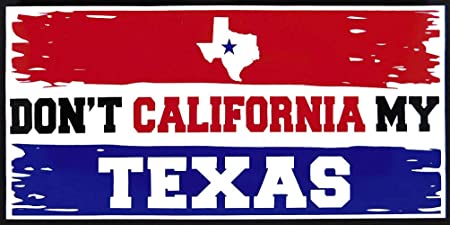 Conclusions
Corporate relocations are an incredible trend to watch unfold as companies are trying to realign the companies to locations that provide the optimal balance of scalability, talent supply, business climate, and operating costs. Only time will tell what the true impact will be on the cities that continue to win the majority of these corporate relocation projects.