Cost to Build Call Centers Escalate as Construction Costs Increase
by King White, on Nov 27, 2018 4:45:21 PM
Budget season is here and if you need to prepare a call center site selection project budget for 2019 then you need to be aware that your costs may be 10% to 20% higher than a few years ago. To help you develop a call center budget, our team of call center construction experts developed a simple cost-comparison guide for building out a new call center facility.
Building conditions will greatly impact the cost to build-out a call center
The condition of the building will greatly impact your call center construction budget. For example, if you find a turnkey vacated call center building then your budget might be a fraction of what it costs to convert an old Sears building.
A vacated call center facility will typically require the least amount of up-front capital and less time to set-up. However, it is critical to be aware of hidden costs of vacated call centers such as insufficient mechanical/electrical systems or other issues that can't be identified when touring the site. It's also important to understand why the call center facility closed. Was there a labor problem or is the market saturated?
On the other hand, many companies that want to be in a specific labor market to attract the right talent are willing to make the investment and build-out a more customized call center facility that often requires a complete remodeling of buildings. These buildings are typically either traditional office space not designed for a densely populated call center or a former retail building. These call center conversion projects require a lot more capital and time. However, the end-result can be a truly state-of-art call center facility that helps with employee recruiting and retention strategies.
Capital investment can trigger economic incentive opportunities
Economic incentives provided by economic development organizations can help offset your costs to build-out your call center. The economic incentives may include cash grants, tax abatements, tax credits, payroll rebates, training subsidies and even your building through real estate grants. For example, if you achieve certain capital expenditure and job creation targets in certain states, you can be eligible for discretionary economic incentives in the form of cash grants ranging from $1,000 to $5,000 per job. However, it is critical to keep in mind that the economic incentives often come with clawbacks in the event you don't maintain the jobs for a certain period of time.
Call center construction cost comparison
Site Selection Group developed a Call Center Construction Cost Matrix to help you understand the cost of building out a call center facility. The cost comparison is based on the following assumptions:
The building is 35,000 square feet with capacity for 300 agent workstations.
The building is delivered in shell condition with no mechanical, electrical, ceiling or other interior improvements.
There are three levels of build-out finishes which include a lower-end finish out similar to a more generic third-party business process outsourcer's facility to a high-end finish out which might be set up for a Fortune 500 or technology type company.
The soft construction costs include architectural, engineering, project management and other related project consultants.
The hard construction costs include the general contractor, construction materials, mechanical, electrical, sprinklers, carpentry, millwork and special finishes.
The supplemental power cost includes a back-up generator, UPS system and costs related to the connectivity of the equipment.
Data cabling expenses includes cabling to the workstations.
Furniture includes all workstations, office furniture, break room and related areas requiring furniture.
The analysis excludes any IT related expenses such computers, phones or servers.
The analysis does not consider any regional cost differences related to unionized construction labor, above-standard permitting costs or other site-specific factors.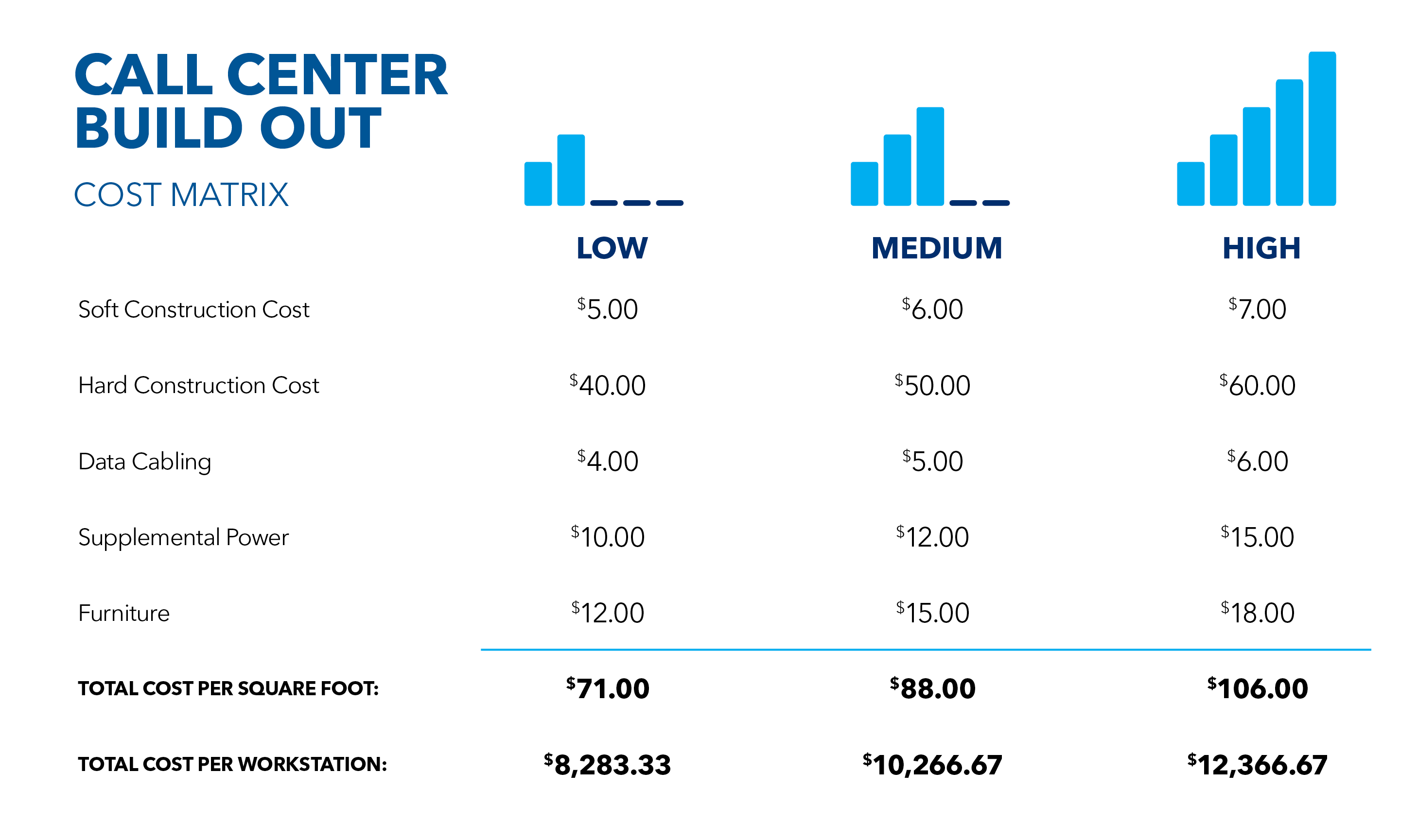 Conclusions
Call center design and construction have become critical to attract and retain call center workers as labor has become extremely tight across the U.S. It is important to keep in mind that real estate costs only account for 5% to 10% of a call center's operating costs while labor costs will be more than 80%. As a result, you need to realize that the investment in your call center facility will often impact your ability to successfully staff and operate your call center.