10 Critical Factors to Optimize Call Center Site Selection Decisions
by King White, on Sep 21, 2016 1:08:10 PM
Finding the optimal location for a call center operation can be challenging. The days of throwing a dart at the wall to find a call center site doesn't work anymore due to the complexities of evaluating all aspects of labor availability, labor costs, business climate, economic incentives and real estate. As a result, it is critical to develop an integrated call center site selection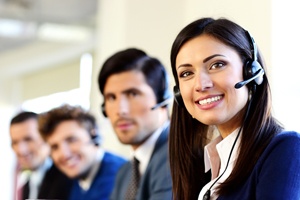 strategy to carefully identify the optimal onshore, nearshore and offshore call center locations. To help understand what types of criteria must be analyzed, Site Selection Group has identified 10 critical factors to evaluate when making your next call center site selection decision.

1. Labor market demographics
A call center will never be successful if you can't staff it with qualified call center employees. It is critical that the labor market provide enough scalability to handle the high attrition rates of call centers which often exceed 100% per year. Some of the basic demographic factors to evaluate include population, population growth, labor force and historic unemployment rates. In addition, it is critical to consider call center agent demographics which tend to include age groups of 18 to 35 years old, high school and some college education and lower household incomes. Lastly, it is a great idea to look for some supplemental labor sources such as local colleges (especially community colleges) and military installations.

2. Labor market longevity
The trend in the late 1990s and early 2000s was to locate call centers in very small labor markets where they could be the big fish in the little pond. This location strategy worked for around three to five years until many call centers in these small labor markets found themselves rehiring agents that had quit or were fired in the past. To combat this issue, there are many modern analytics such as LaborCast that can be used to forecast future labor supply and demand to calculate the longevity of a labor market as explained in a previous blog Forecasting Labor Supply and Demand.
3. Labor costs
Labor costs account for approximately 70% to 80% of a call center's operating cost. The classic comparison, $1 per hour in labor cost reduction pays for the entire rent of a call center facility, still holds strong today. Labor costs range dramatically across the world. Onshore locations range from $9 to $14 per hour while nearshore and offshore locations will range from $1 to $5 per hour plus benefits. Due to this wide range of labor costs, it makes the site selection process very complicated as public data often does not accurately reflect the true labor rates that a call center needs to pay in a labor market to attract the quality of agents needed and maintain reasonable employee attrition rates.

4. Competition
Understanding who you will be competing against for employees has become a critical component of the site selection process. The call center industry is a cross vertical sector so there is no SIC code to identify the location or number of employees that companies employ at call centers in a labor market. Oftentimes, the local economic development organization might be able to provide you with a list of existing call centers operating in a labor market. Once you have identified them, you need to carefully research the type of call center work they are doing and their job postings to estimate their starting wages. Lastly, it is also important to consider indirect competitors in the market, which might include retailers, major employers and other non-call center employers that pay a similar wage to what you will be paying.

5. Call center saturation
Once you have identified the call center competition, you can then calculate the call center saturation rate. To understand call center saturation and how to calculate it, Site Selection Group recently released a whitepaper on the topic which can be downloaded here - Metro Areas with the Highest Increase in Call Center Saturation.

6. Economic incentives
"Show me the money" is what many call centers are looking for when trying to find the best location. This isn't necessarily the best approach; however, it is still a critical factor to consider and will often influence your decision, especially when down to a final list of locations. Economic development organizations created economic incentives to help attract companies including call centers so why not use them to offset your start-up cost and ongoing operating costs? Some of the best economic incentives for call centers to pursue include cash grants, real estate grants, training subsidies, tax abatements and restrictions on offering economic incentives to other call centers in the future.

7. Language skills
With the growth of the Hispanic consumer in the U.S., English-Spanish skills have been in high demand, which has fueled the growth of call center expansion along the U.S.-Mexico border as well as in hot nearshore locations such as Costa Rica, Panama, Guatemala, El Salvador, Nicaragua, Dominican Republic, Honduras and other Spanish-speaking countries. While in Europe and Asia, the need for far more languages has really opened up Eastern Europe, Northern Africa, Malaysia and the Philippines as good low cost destinations for multilingual requirements.

8. Time zone
Most call centers try to distribute their call volume into different time zones to help reduce after-hour wage premiums as well as provide better coverage of geographies where they have a lot of customers. This is one of the many challenges that offshore call center locations such as the Philippines face as they have to work nighttime shifts to service U.S. customers.

9. Real estate availability
Call center facility availability is a critical part of the site selection process. Most call center projects are short on time and don't want to blow their budget on setting up a new call center facility. As a result, many companies prefer vacated call center facilities to save time and money; however, it is critical to carefully evaluate why the call center closed as explained in our recent blog - Vacated call center facilities available in the US could accommodate over 300,000 call center workstations. Due to the diminishing supply of vacated call center facilities in good labor markets, many companies are now converting former retail buildings and even doing build-to-suits. The cost of building out these call center facilities varies greatly as explained in another blog Cost comparison of setting up a new call center facility.

10. Parking
Even if there is good real estate available, it doesn't matter if there isn't adequate parking for your employees. Call centers typically pack employees into their facilities at a ratio of one employee to every 100- to 130-square-foot per workstation. In addition, call centers typically run multiple shifts which creates even more parking traffic during shift changes. As a result, the optimal parking ratio is seven to 10 parking spaces per 1,000 square feet. This high ratio will usually eliminate downtown office buildings, traditional suburban office buildings and industrial sites. The remaining buildings typically include retail big boxes and unique suburban single-story buildings with adjacent land.

Conclusions
There are many other factors that need to be evaluated in the call center site selection process including fiber availability, back-up power sources, tax climate, union climate and others. These 10 factors identified provide a great checklist to find the best location for your next call center.