Vacated Call Center Facilities Could Accommodate 400,000 Call Center Workstations in the U.S. in Response to COVID-19 Impact
by King White, on Apr 3, 2020 9:56:22 AM
The COVID-19 pandemic has created new challenges for the call center industry. With onshore, nearshore and offshore call centers forced to send agents home, companies may be evaluating their global call center footprint. If reshoring to bricks-and-mortar facilities is an option, then the 1,000 vacated call center facilities currently available to lease or purchase in 261 metro areas across the U.S. may be the answer.
These call center facilities encompass over 45 million square feet of office space which could accommodate a staggering 400,000 call center workers in a single shift. These are great options for companies that need to open a call center location quickly or don't have the capital to build or convert a new call center. Many of these facilities could be leased on a short-term basis as needed to support the impact of COVID-19 on global call volume.
To help navigate these call center facilities, Site Selection Group evaluated the availability of call center facilities across the United States utilizing its proprietary database of vacated call center facilities combined with its call center labor market database which includes critical site selection variables such as labor availability, call center saturation, labor cost and economic incentive availability.
Availability by geography
Texas and Florida have the most vacated call center facilities. States with a higher population and greater number of metro areas will typically have a larger amount of vacated call centers. Other notable states include Arizona, which has historically had one of the highest concentrations of call centers in Phoenix, and Illinois, which has a very challenging business climate that has forced many call centers to leave.
The following interactive map identifies which states have the greatest number of call center buildings and capacity available.
Call Center Availability by State
Availability by facility size
Based on Site Selection Group's data, there are 1,015 vacated call center buildings available in the U.S. The condition of these facilities varies significantly. Many of these sites have furniture and generators in place while others are stripped down to basically open office space. Some are available for short-term leases whiles others will require a longer lease.
The following graph summarizes site availability by square footage:
Available Call Center Facilities by Size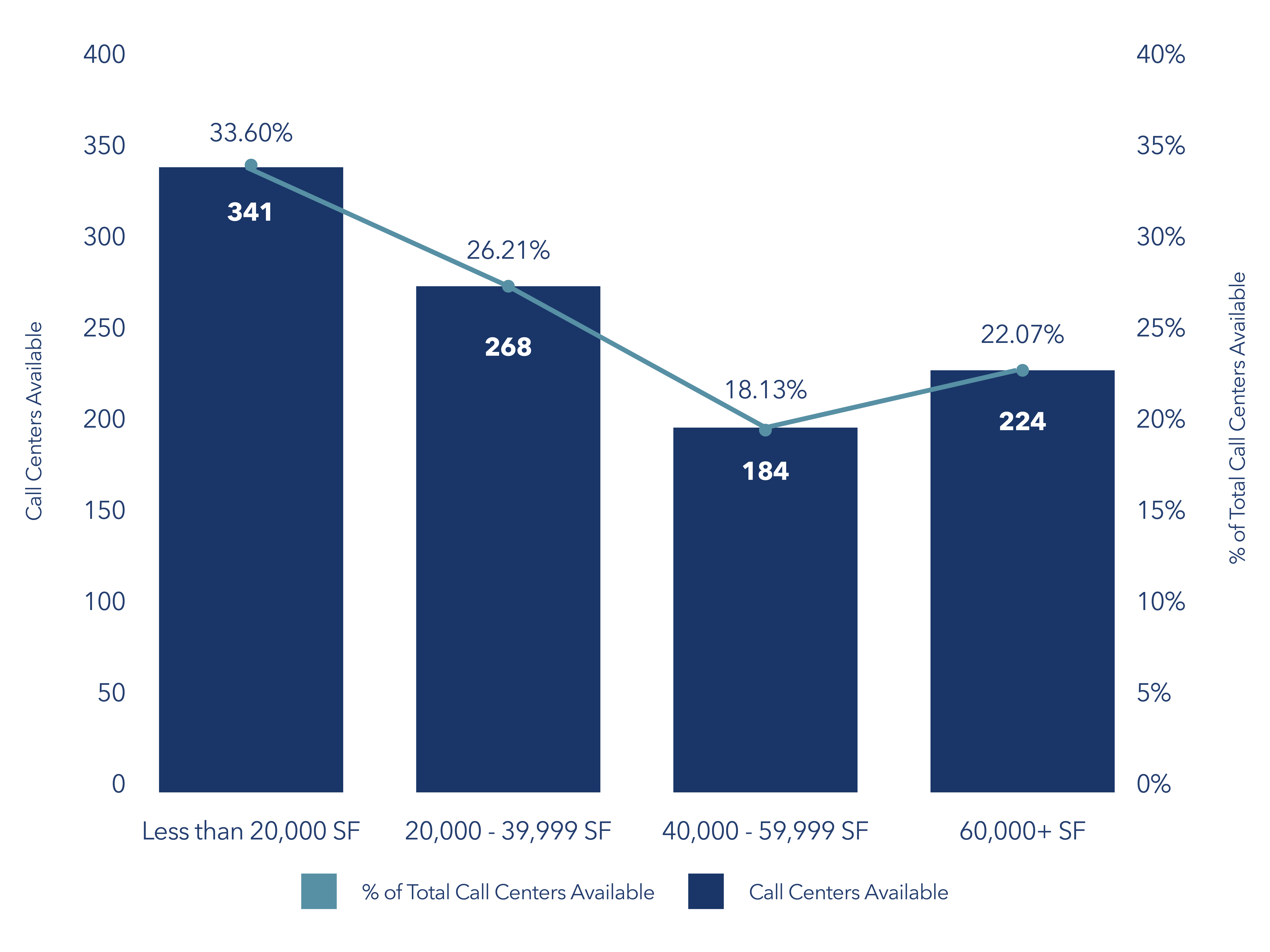 Availability by labor market size
Labor market size is critical to making sure the labor force will support the staffing needs of your call center. The majority of the vacated call center facilities are located in larger metro areas as shown below. The larger the metro area typically means that wages will be higher and often the call center saturation rate can be higher.
The following table summarizes the availability of call center facilities by the population of the metro areas in which they are located.
Available Call Center Facilities by Metro Area Population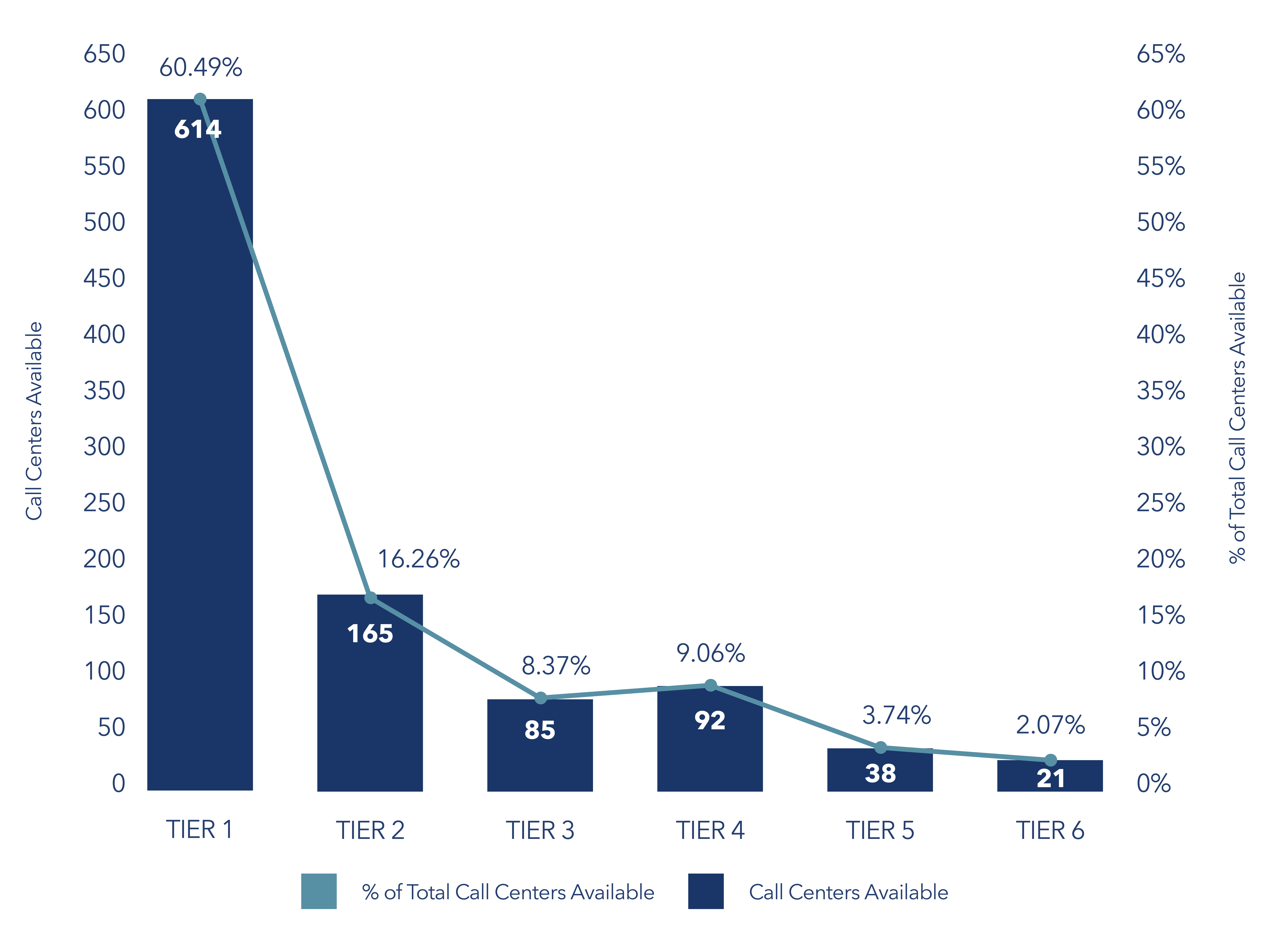 Conclusions
The COVID-19 pandemic has created new challenges that the call center industry was not prepared for. The geographic dispersion of call center capacity will probably never be the same. Whether you migrate more agents to work-at-home or to new geographies, it is critical that you develop a call center site selection strategy that will best serve your customers. For additional information on available vacated call center facilities, please contact Site Selection Group.
Source: Site Selection Group, LLC