The 43 Largest Work-At-Home Call Center Employers and Their Impact On Call Center Location Strategies
by King White, on Feb 21, 2018 11:25:06 AM
The work-at-home call center model started around 2000 by industry leaders such as Working Solutions, Alpine Access (now SYKES) and Arise Virtual Solutions (formerly Willow CSN). These business process outsourcers scaled the virtual agent business model to the next level as companies were seeking to reduce cost, improve customer service levels and tackle the human resource challenges often associated with traditional bricks-and-mortar call centers.
Today, the work-at-home call center agent model has evolved with enhanced training capabilities, better cloud-based software options and implementation by more in-house call centers and other outsourcers. Site Selection Group has summarized some of the latest trends as well as some of the largest work-at-home call center agent employers in this month's blog.
It all began with the hub-and-spoke model
The original model that surfaced in the late '90s was the hub-and-spoke model that corporate in-house call centers began to utilize. In this model, the call center would offer the work-from-home option to its current agents who were typically the top performing agents or to a new employee who met the hiring standards but had a long commute. They were able to visit the site for training and corporate activities then go to their homes to take calls. Back then, the companies would maybe have their top 10 to 20 agents out of a 500-seat call center working at home. Today, we are seeing this percentage jump to 10% to 20% of their workforce as the work-at-home model has become more widely accepted and easier to implement.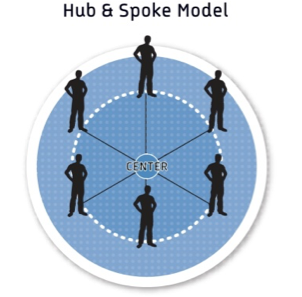 The virtual home agent model has grown rapidly
The virtual home agent model allows employees to live anywhere and may never physically be in contact with an actual brick-and-mortar center or management team. The entire hiring and training process is virtual with the home agents using the Internet as their mode of connection to the company. This model provides virtually no geographic limitations other than the availability of high speed Internet to the agent's home. Pure virtual call center companies such as Arise, Sykes Home (former Alpine Access) and Working Solutions pioneered this model and have seen great success. While many in-house corporate call center operators such as HSN, Enterprise and Amazon have also leveraged the virtual model to handle their growth.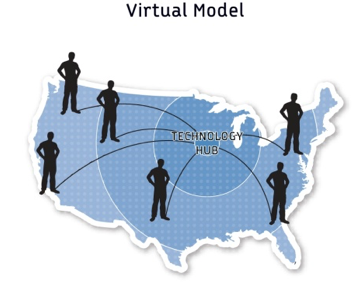 Recruitment strategies for home agents utilizing advanced employee analytics
Finding quality home agents is different than a typical bricks-and-mortar call center site selection process. Home agents typically look different from a demographic profile. The typical call center agent is usually 20-30 years old with a high school degree or equivalent. In the home agent model, you will see the demographics shift to a more mature, older employee with more education. The challenge is that you are trying to find a needle in the haystack. Before, you knew where you had to look (within about 20 miles of my site) versus anywhere in the country. As a result, there have been many developments around how to target these agents more precisely through employee segmentation studies.
Employee segmentation focuses on understanding the lifestyles of your employees rather than concentrating on demographics. The lifestyle revolves around their buying patterns and socio-demographic attributes. The best way to maximize the value of this type of tool is to analyze your existing home agent workforce by high and low performers. Once you correctly identify the targeted lifestyles of your home agents then you are able to target them down to the street corner across the entire U.S. for more effective recruiting strategies.
Who are some of the largest work-at-home call center employers?
It is hard to identify who is hiring these agents since there is no bricks-and-mortar facility to track down. After doing a lot of research, Site Selection Group came across an annual report by the leading job search site specializing in the best remote, part-time, freelance and flexible jobs. FlexJobs announced the 100 top companies with remote jobs in 2017. After sorting through the various employers, Site Selection Group identified 43 of the companies were hiring call center related positions which have been identified on the following list.
43 of the largest work-at-home employers
| | | | |
| --- | --- | --- | --- |
| 1 | Conduent | 23 | Vivint Smart Home |
| 2 | Liveops | 24 | Wells Fargo |
| 3 | TTEC | 25 | World Travel Holdings |
| 4 | Amazon | 26 | Nielsen |
| 5 | SYKES | 27 | CyraCom |
| 6 | Dell | 28 | Magellan Health |
| 7 | Working Solutions | 29 | First Data |
| 8 | LanguageLine Solutions | 30 | Carlson Wagonlit Travel |
| 9 | Intuit | 31 | Fiserv |
| 10 | UnitedHealth Group | 32 | Enterprise Holdings |
| 11 | Williams-Sonoma | 33 | The Hartford |
| 12 | Convergys | 34 | ServiceNow |
| 13 | Aetna | 35 | McKesson Corp. |
| 14 | Cactus Communications | 36 | American Express |
| 15 | BroadPath Healthcare Solutions | 37 | Direct Interactions |
| 16 | Hilton | 38 | Philips |
| 17 | Anthem, Inc. | 39 | JPMorgan Chase |
| 18 | ADP | 40 | EXL |
| 19 | BCD Travel | 41 | Cigna |
| 20 | Humana | 42 | CVS Health |
| 21 | Xerox | 43 | HD Supply |
| 22 | Sutherland | | |