Site Selection Group Releases 2020 Global Call Center Location Trend Report
by King White, on Mar 24, 2020 3:26:15 PM
Call center site selection strategies continue to evolve as companies try to balance their onshore, nearshore and offshore call center and back office location footprints. To help understand these trends, Site Selection Group released its annual analysis of call center expansion trends in its Global Call Center Location Trend Report 2020. Each year, Site Selection Group gathers this data and identifies the latest call center site selection trends. This year's analysis evaluated 285 new and expanding call center projects that created 133,202 jobs. The analysis includes 88 call center projects involving 17,014 lost jobs at facilities that downsized or closed call centers. By analyzing this data, Site Selection Group identified some high growth call center locations for companies to consider during the site selection process.
Global call center industry growth continues across all regions
The call center industry continues to shift jobs to and from onshore, nearshore and offshore geographies. A lot of companies continue to be focused on onshoring strategies which caused the United States to lead in overall growth with 164 projects announced with 133,202 jobs due to solid economic conditions, corporate reshoring initiatives and focus on the customer experience.
The Philippines led in job creation in the offshore region with 28 projects creating 44,130 jobs. Nearshore destinations in Latin America and the Caribbean had solid growth by creating 14,580 jobs at 29 announced projects. The following pie charts summarize the growth of call centers across the world:
Call Center Jobs Created by Global Region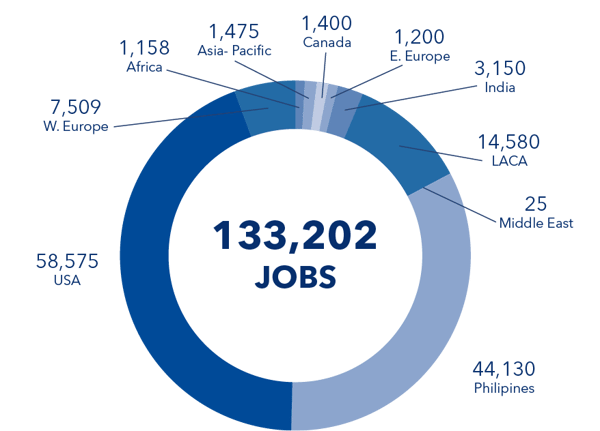 Note: Site Selection Group data was gathered from press releases and government agencies. Data is representative of market trends and in-depth country due diligence for all activity.
Onshore call center growth remained stable and created almost 60,000 jobs
The demand for quality customer service and the trend of onshore call center expansion in the United States continued during 2019. As in years past, many companies reshored operations from the Philippines, India and other offshore markets as they sought to improve quality levels despite higher costs. An estimated 164 call centers opened or expanded, creating 58,575 jobs in the United States. This domestic growth caused many labor markets to become tighter and put wage pressure on employers. The Southeast, Southwest and Midwest regions of the U.S. accounted for the majority of the growth generally due to more attractive labor conditions, lower operating costs and availability of economic incentives. The following pie chart provides a summary of expansion data within the United States.
Call Center Jobs Created by US Region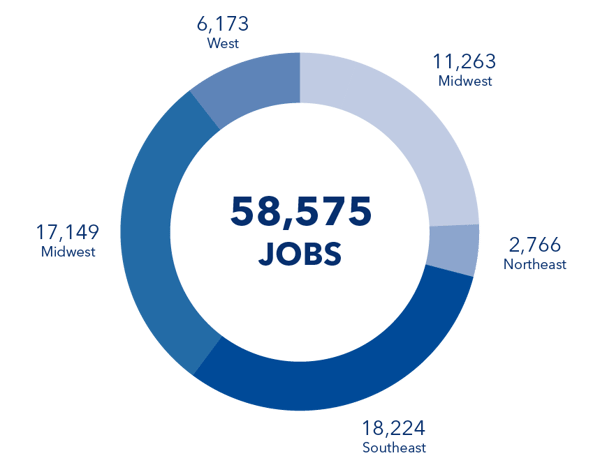 Nearshore Latin America Region continues to grow due to low cost structure, accessibility, bilingual skills and political stability
Latin America continues to gain market share as probably one of the hottest regions. Most projects stem from the need to consolidate pan-Latin America operations or serve customers in high-cost locations such as the United States. Within the Latin America and Caribbean region, Colombia and Jamaica were real hotspots with significant growth. Costa Rica surprisingly re-emerged as a hot destination due to its availability of "quality talent" despite higher costs. Mexico was also an extremely popular geography as low currency valuations and proximity to the United States have made it very attractive.
The Philippines dominates offshore growth but possibly slowing
The Philippines continues to dominate offshore industry growth due to successfully attracting both captive and BPO call center projects as well as higher-end projects such as software development, shared service centers and other knowledge-based operations. However, the growth of these back-office operations in the Philippines is creating new challenges for companies as they fight for talent. This is causing higher employee attrition and wage inflation. In addition, the on-going political concerns, PEZA economic incentive program modifications and growth of the Chinese sports betting industry are creating headwinds that could slow down growth in the Philippines.
Conclusions
Finding the optimal location for expansion continues to be a complicated question and requires extensive analysis to figure out the right answer. Based on the analysis conducted by Site Selection Group, it is clear that the United States, the Philippines and Latin America are currently the dominate geographies for onshore, nearshore and offshore global footprints for U.S.-based companies; however, Eastern Europe and to some extent, Africa, continue to serve a role for companies needing additional languages or other skill sets beyond voice-related call center operations. To help you develop a call center location strategy aligned to your goals and objectives, download the Global Call Center Location Trend Report 2020 or contact one of our global call center site selection experts to find the optimal location for you.