Site Selection Group Releases 2019 Global Call Center Location Trend Report Evaluating Onshore, Nearshore and Offshore Site Selection Trends
by King White, on Feb 20, 2019 2:32:49 PM
Call center site selection strategies continue to evolve as companies try to balance their onshore, nearshore and offshore call center and back office location footprint. To help understand these trends, Site Selection Group released an in-depth analysis of call center expansions in its Global Call Center Location Trend Report 2019. The study analyzed 310 new and expanding call center projects that created 145,847 jobs as well as 107 call center projects involving 21,966 lost jobs at facilities that were downsizing or closing call center facilities.By analyzing this data, Site Selection Group identified some high growth call center locations for companies to consider during the site selection process.
Global call center industry growth continues across all regions
The call center industry continues to shift jobs to and from onshore, nearshore and offshore geographies. With the current trend of onshoring taking center stage, the United States led overall growth with 153 projects announced with 49,092 jobs due to strong economic conditions and corporate reshoring initiatives.
The Philippines and India led in job creation in the offshore regions. The Philippines reported 29 projects creating 31,351 jobs and India had 20 projects with 18,200 new jobs. Nearshore destinations in Latin America and the Caribbean had significant growth by creating 25,055 jobs at 34 announced projects which was a 53% increase in job creation when compared to 2018. The following pie charts summarize the growth of call centers across the world:
Call Center Jobs Created by Global Region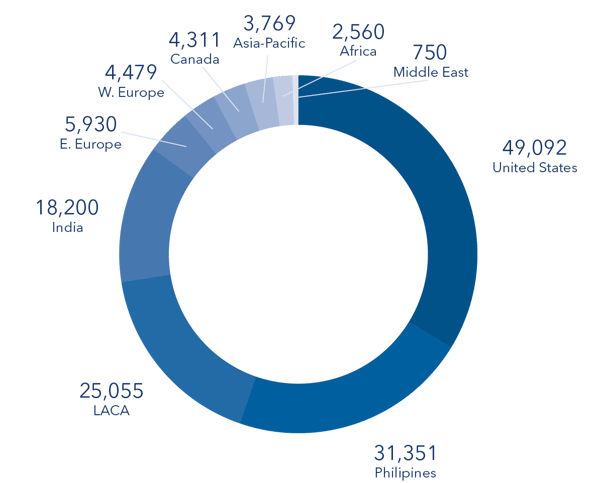 Note: Site Selection Group data was gathered from press releases and government agencies. Data is representative of market trends and in-depth country due diligence for all activity.
Onshore call center growth remained stable and created over 49,000 jobs
The demand for quality customer service and reshoring of call center operations in the United States continued during 2018. As in years past, many companies reshored operations from the Philippines, India and other offshore markets as they sought to improve quality levels despite higher costs.
Site Selection Group estimates that 153 call centers opened or expanded within the United States last year. These centers created 49,092 jobs which is 25% less than the 66,231 created in 2017. The continued growth has caused many labor markets to become tighter, putting wage pressure on employers. The Southeast and Southwest regions of the U.S. accounted for the majority of the growth generally due to more attractive labor conditions, lower operating costs and availability of economic incentives. The following pie charts provide a summary of expansion data within the United States.
Call Center Jobs Created by US Region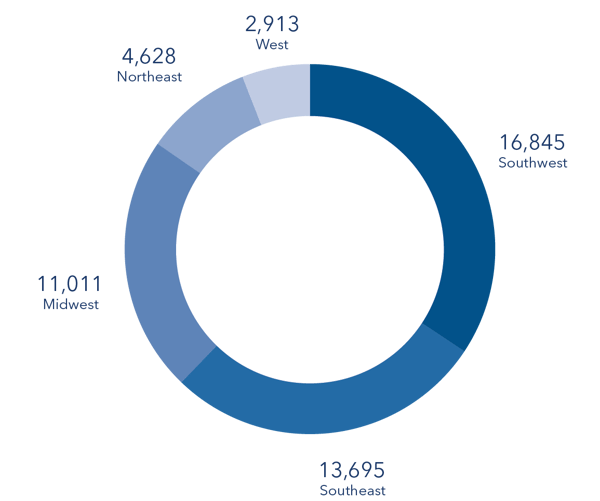 Nearshore Latin America expansion increased by 53% from prior year
Latin America has now become a serious contender in the site selection game over the last decade. Companies are actively setting up operations in the region. Most of these projects stem from the need to consolidate pan-Latin America operations or serve customers in high-cost locations such as the United States. Key benefits of the region include low cost structure, accessibility, bilingual skills and political stability. Within the Latin America and Caribbean region, Jamaica was a real hotspot with significant growth while Central America countries such as Costa Rica, Guatemala and Honduras continued to attract many call centers. Mexico and Colombia must also be noticed as they have become extremely active with expansion.
India and the Philippines dominate offshore region but growth is slowing
India and the Philippines continue to dominate offshore industry growth. In India, there has been a push for more rural call center expansion due to lower cost and marketing efforts of the government to create jobs in rural India. While in the Philippines, the region has successfully attracted higher-end non-voice operations such as software development, shared service centers and other knowledge processing operations. The growth of these back-office operations in the Philippines is creating new challenges for companies trying to attract the best talent, reduce employee attrition and control labor costs, not to mention the recent impact of changes to the PEZA economic incentive program and the Chinese sports betting companies.
Conclusions
The call center industry continues to have stable growth despite headwinds such as artificial intelligence and labor market tightness in the U.S. As a result, it has become even more challenging to find the optimal location to expand. Based on the analysis conducted by Site Selection Group, it is clear that the United States, India, the Philippines and Latin America have been established as the dominate geographies for an onshore, nearshore and offshore global footprint. To learn more about call center location trends, download theGlobal Call Center Location Trend Report 2019 or contact one of our global call center site selection experts to find the optimal location for you.