Jamaica – A Closer Look at One of the First Nearshore Locations
by King White, on Mar 20, 2015 12:00:00 PM
Jamaican government officials recently made a prediction that the call center industry there will double in the next five years, growing from 15,000 to 30,000 employees by 2020.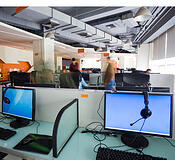 It took Jamaica about 15 years to reach its current call center employee level, so is it possible to achieve its growth projections? To answer the question, Site Selection Group evaluated the region to determine the prospect of Jamaica meeting its forecast.


Current state of the industry
With 15,000 workers employed in approximately 35 call centers, Jamaica has established itself as a mature call center destination. Kingston and Montego Bay are the primary labor markets within the country where call centers have located. There are a mixture of U.S.-based and locally operated call centers there.


The following table provides a summary of the primary metro areas that call centers have clustered:


| Metro Area | Population | # of Call Centers |
| --- | --- | --- |
| Kingston | 790,000 | 11 |
| Montego Bay | 220,000 | 21 |
| Portmore | 183,000 | 2 |
One of the first large centers in Montego Bay was e-Services who ACS (now Xerox) acquired in 2009. Today, Montego Bay has attracted the most call centers including Xerox, Teleperformance and Account Control Technology. While in Kingston, Sutherland Global Services, HGS and Jamaica-based FullGram are among the call centers that have located there.

Labor rates are relatively expensive
One of the biggest challenges of Jamaica concerns its labor rates. Entry level agents are earning U.S. $4.50 per hour plus performance incentives, which makes the country one of the highest cost nearshore locations. Many centers are now paying $5.50 per hour to attract the more experienced agents. There is only a $4 to $5 wage differential as compared to similar skilled agents in low-cost cities in the United States. This fact, compounded with wage inflation, will only continue to diminish the value proposition for the country.


Conclusions
If the value proposition continues to erode and the competition for labor continues to increase, the ability of Jamaica to achieve its targeted goal of 30,000 employees in the next five years will be difficult. The government is now trying to attract higher-end, knowledge-based operations such as shared service centers and IT related outsourcing functions to expand the market. The push into those types of functions will ultimately hurt the traditional call centers that put Jamaica on the site selection map. Only the future can tell if Jamaica will be successful in achieving its goals.