How to Calculate the Return on Investment of Implementing a Work-from-Home Workplace Strategy
by King White, on Sep 23, 2020 9:47:30 AM
Companies are entering uncharted territory as they try to determine what their workplace will look like in a post-COVID-19 world. From work-from-home (WFH) to social distancing, companies are faced with some very challenging decisions that will impact them financially and culturally. Companies are asking:
What percentage of our workforce will be working from home in the future?
How much can we reduce our real estate expenses through a work-from-home strategy?
Can we maintain our culture if we shift to long-term work-from-home?
What is the return on investment of my options?
To help answer these questions and many others, Site Selection Group has developed a straight-forward, ten-step roadmap in a new whitepaper to assist you with developing a workplace strategy.

Understand the latest workplace trends
No one knows exactly how a post-COVID-19 world will look like, so it is important to understand the latest workplace trends to help figure out what both employers and employees want. There are numerous surveys emerging daily conducted by various organizations with differing agendas. One of the better surveys was recently conducted by PricewaterhouseCoopers (PwC) which identified the following trends:
One-third of executives (30%) anticipate they'll need less total office space in three years, primarily due to remote work.
While 30% of executives foresee the need for less office space due to remote work, 50% are anticipating an increase due to longer-lasting requirements for social distancing or growth in their workforce.
Most office workers (83%) want to work-from-home at least one day a week, and half of employers (55%) anticipate that most of their workers will do so long after COVID-19 is not a concern.
The number one reason employees say they go into the office is to collaborate with other team members (50%). Difficulty collaborating is also the number one reason people give for being unproductive as they sheltered in place (39%), second only to balancing work with home duties such as childcare (38%).
Employers need to prepare for flexible workweeks, as a majority of office workers would like options to work remotely at least one day a week. More than half (55%) of executives expect to offer that option.
The office isn't obsolete yet, but it is changing. While the COVID-19 crisis showed that staff can interact well when apart, people still want to engage with colleagues in person. It's why 50% go into the office.
Return on investment is estimated to be 2+ years
Calculating the return on investment of a work-from-home workplace strategy is really where the rubber meets the road. You need to consider the many variables that come including, but not limited to, sublease costs, additional staffing and workplace redesign. Conservatively, the return on investment ranges between two and four years which may be a significant issue for most companies believing there are immediate cost savings. The following provides an example of how to calculate the return on investment.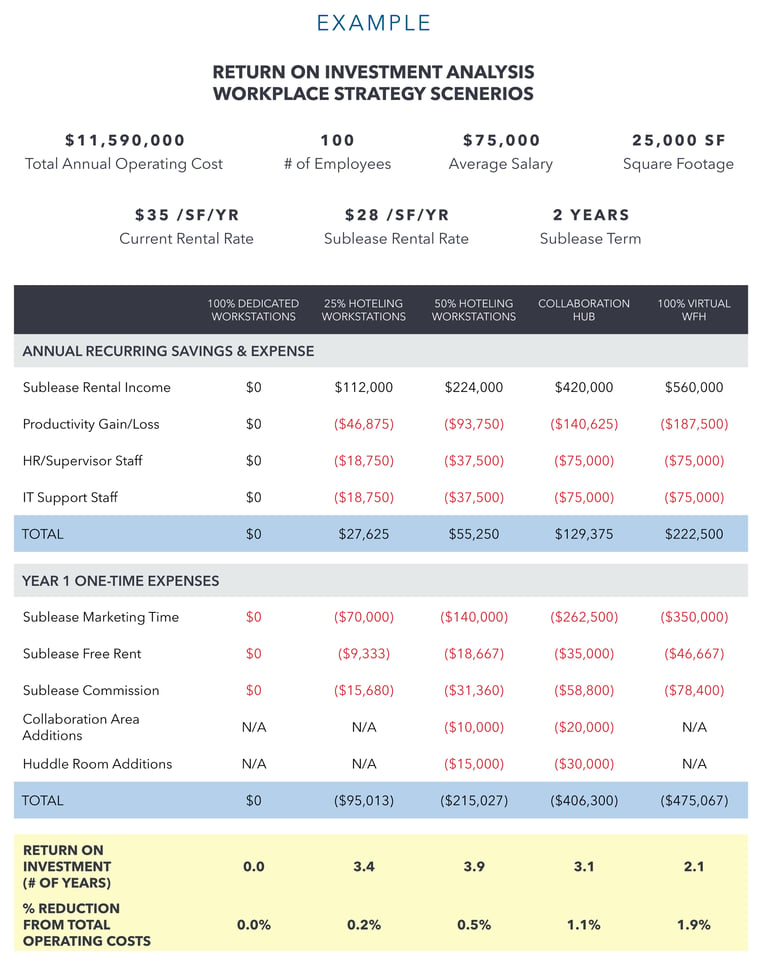 Conclusions
Site Selection Group highly recommends you consider work-from-home workplace strategies as a way to control costs both near- and long-term. However, it is critical that you evaluate the benefits, risks and return on investment before rushing into any decisions. Our team of workplace strategists is here to help you evaluate, quantify and implement the workplace strategy that is best for you. To learn more, download our latest whitepaper to developing the optimal workplace strategy for your company.