22 Companies Announce Major Call Center Expansions in Q3 2019
by King White, on Oct 22, 2019 1:50:01 PM
More than 30,000 call center jobs led by employers such as AT&T, Brex, PNC Bank and Carmax were announced in the third quarter of 2019. These call center jobs were spread among 74 call centers at onshore, nearshore and offshore locations. Companies continue to invest in their call center operations and implement site selection strategies to optimize their call center footprint. To help you see where these companies are expanding, Site Selection Group has summarized some of the bigger announcements and outlined some strategies to consider before making your next call center site selection decision.
New minimum wage laws steering call center site selection decisions
Call center employers have enjoyed decades of paying low, entry-level wages in the $10 to $12 per hour range. However, in the last few years, extremely low unemployment and political pressure to increase minimum wages in many states have caused call center employers to increase entry-level wages to $12 to $14 per hour in most metro areas. In mega-cities, such as New York, Chicago, and Los Angeles, entry-level call center wages have increased to $15+ per hour.
Based on Site Selection Group estimates, there have been approximately 20-30% wage inflation across most U.S. metro areas over the last several years. This level of wage inflation can especially make it very challenging for business process outsourcers who often pay in the bottom range of wages. The greatest increases are occurring in states such as Arizona, California, Washington, Oregon, Colorado, New York, Maine, and Massachusetts where the minimum wage will increase to $11+ per hour by Jan. 1, 2020, and higher in the future. In the Minimum Wage Report 2020 recently released by Site Selection Group, the current and future minimum wage changes are outlined in detail. The following map identifies the minimum wage by the state for 2020.
2020 Minimum Wages by State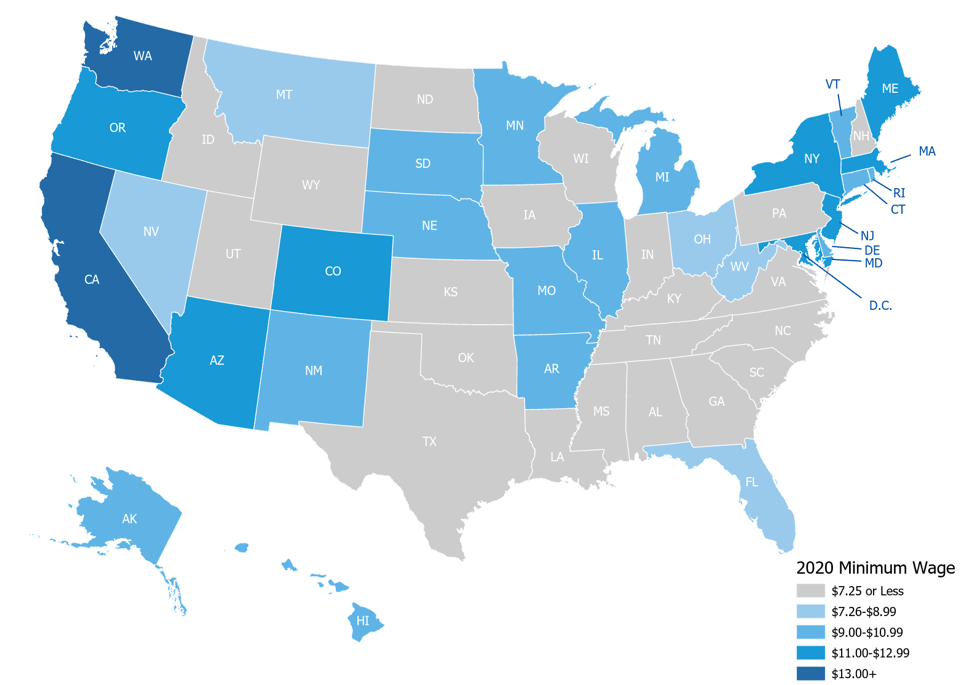 22 major global call center expansions announced in Q3 2019
This quarter had some big announcements across various industries including business process outsourcing, financial services, technology and telecommunications. The following 22 companies are highlighted for Q3 2019 to help you keep abreast of the latest call center expansion announcements.
Atento
Global business process outsourcer, Atento, is set to fill more than 2,000 vacant positions at its call centers in Brazil, hiring around 350 employees in Rio de Janeiro alone. With a workforce of 79,000 people, Atento is the second biggest private sector employer in Brazil. It runs delivery centers in just about every major Brazilian city. There are more than a dozen Atento facilities in Sao Paulo alone.
ARB Call Facilities
ARB Call Facilities Inc. continues to expand its operations in the Philippines. The leading BPO partnered with top full-service real estate firm, KMC, in acquiring three floors at the Southpark Corporate Center in Alabang. With the recent expansion into Bacolod, ARB is now focused on next-wave cities in the Philippines. In addition, it leased 11,000 square meters in Bacolod for another site.
AT&T
AT&T has announced two new call centers in Mesa, Arizona, and Houston. The 97,000-square-foot office is on the second floor of a building at AT&T's Mesa campus. It invested nearly $7.6 million in the new space. In addition, AT&T announced a new 69,000-square-foot call center in Houston.
Brex
Brex, a San Francisco-based financial technology company, will open a new location in the Salt Lake Valley, creating up to 1,000 new positions over the next seven years. Based on the economic incentives approved, Brex may earn up to 25% of the new state taxes it will pay over the seven-year life of the agreement in the form of an economic development increment finance tax rebate. The Governor's Office of Economic Development (GOED) board approved a post-performance tax rebate not to exceed $2.7 million.
CarMax
Used car retailer CarMax is opening a Tempe, Arizona, call center in December and hiring 430 new workers. Employees at the center will support customers over the phone or online with shopping or financing. The Tempe location will be the company's third stand-alone call center.
Chime Solutions
Chime Solutions, the high-growth business process outsourcer owned by serial entrepreneur Mark Wilson, announced a new call center in Charlotte, North Carolina, that expects to hire 400 employees by early October and 1,000 by the end of 2020. Chime is leasing about 75,000 square feet at 7201 University Oaks Drive, which is part of Innovation Park in University City.
Dito Telecommunity Corp.
The newest telecommunications provider in the Philippines, Dito Telecommunity Corp., is investing P20.5 billion and creating an estimated 4,500 jobs to put up a new operations center in Clark, Pampanga, in the Philippines. The facility will hold operational departments, a network operations center, call center and regional service center. The facility will be designed after Google's campus-style headquarters.
eHealth Inc.
Private health insurance marketplace eHealth Inc. announced plans to establish an East Coast operations and technology headquarters in Indianapolis and hire up to 500 employees by 2023. New employees can expect to earn an average yearly salary of $80,000 plus benefits.
Faneuil
Faneuil plans to lease a building at 1500 Aristides Blvd. in Lexington, Kentucky, and spend $12.2 million in capital expenditures. The company said it will employ approximately 200 people this year and may hire as many as 450 by the end of 2021.
Global CallCenter Solutions
Global CallCenter Solutions, a customer service company, is expected to revitalize an old grocery store and hire 600 employees. Starting pay is $9.50 an hour plus bonuses and commission opportunities based on job performance.
Infosys
Infosys, a global digital services and consulting firm, opened a new technology and innovation center in Scottsdale, Arizona. The site will be 60,000 square feet with space for 500 employees. The company has pledged to add a total of 1,000 jobs in Arizona by 2023.
Intuit & Sykes
Kentucky Gov. Matt Bevin joined local officials and executives from Intuit Inc. and Sykes Enterprises Inc. announced a partnership between the companies to create 300 full-time jobs at a customer service center in Perry County's Coal Fields Regional Industrial Park.
Mass Markets
Hundreds of new jobs are promised with the addition of a new call center in Sioux City, Iowa. Marlowe Companies Inc., the parent company of Mass Markets, is moving Mass Markets back to Sioux City with a new 500-plus seat center on Discovery Boulevard, near the Sioux Gateway Airport. MCI says the new 50,000-square-foot facility will allow for over 300 employees in 2019, and up to 500 employees in 2020.
Open Access BPO
Open Access BPO, a Philippine-based global multilingual business process outsourcer, has launched a new call center in Makati City, Philippines, at the Glorietta 2 Corporate Center. The 1,000-seat facility was established to meet the growing demands of its clients and expanding workforce.
PNC Bank
PNC Bank has chosen New Braunfels, Texas, for a new operations center where the company expects to employ more than 550 workers once it is fully functioning. The operations center will be housed in 60,000 square feet in the Parkview Plaza office building. The space is expected to be completed by late 2020. The New Braunfels Economic Development Corp. agreed to provide a performance-based incentive up to $800,000 in return for PNC Bank meeting and maintaining certain job-creation goals over a multiyear period.
Radial
Radial plans to begin hiring 735 workers to support the increased demand during the upcoming holiday season at its site in Brunswick, Georgia. The company is also hiring entry-level call center representatives at $11 an hour.
Rogers Communications
Rogers Communications announced that it will open a new call center in Kelowna, British Columbia, Canada. The new customer solutions center will occupy 32,000 square feet for around 350 employees in Kelowna's Landmark District.
Sitel
Sitel announced its entrance into the Fishers, Indiana, market with the opening of a new state-of-the-art contact center later this fall. It anticipates hiring and training 350 claims adjusters by the end of the year.
TaskUs
TaskUs will move 1,200 workers into Rackspace's Castle building in the former Windsor Park Mall in San Antonio. The company leased 32,000 square feet at the Fine Silver Building downtown in 2017 and hired 400 people. A little over a year ago they opened a facility for 1,200 employees at a building, tucked between interstates 10 and 410 on the city's northside. It also has another 900 employees in New Braunfels.
Transcom
Swedish-owned business process outsourcer, Transcom, opened its latest site in Metro Manila. The new site is located at The 30th Corporate Center in Pasig City, occupying two floors and marking its fifth site in the country. Three of its offices are now in Metro Manila while two others are in Visayas. The newest location is expected to eventually hire up to 1,000 workers, bringing Transcom's total workforce to 11,500.
Transparent BPO
Transparent BPO announced plans to open a new call center in Belmopan, Belize, in early 2020. The expansion marks the first time the company will have operations outside Belize City. Construction on the building, a 66,000-square-foot facility with 700 workstations at 3025 Hummingbird Highway, is expected to be completed in January 2020 with occupancy near the end of March.
TTEC
TTEC, formerly TeleTech, announced that it will open its latest Humanify Customer Engagement Center in Oklahoma City. The center opening represents up to 350 new jobs for the community for licensed insurance agents.