Unstable Office Market Conditions Creating Opportunities for CRE Decision Makers
by King White, on Feb 21, 2023 11:16:17 AM
The impact of remote work, economic conditions, and changing corporate workplace strategies are taking a toll on the office market across the U.S. According to CoStar Group, there is currently over 240 million square feet of sublease space available, and 10 metro areas have almost 50% of that sublease space. It will take years before the office market recovers which is going to be difficult for institutional and private office real estate investors to dig their way out of debt. However, it will provide a good opportunity for office tenants seeking to restructure leases, renew leases, expand, or relocate.
To help assess the situation, Site Selection Group has analyzed office real estate conditions to help you determine the optimal corporate real estate strategy for your company.
Sublease availability has doubled in the last three years
Sublease availability has more than doubled since 2019 to 243 million square feet in 2022. Companies are dumping real estate at an unprecedented rate. Class A office space is seeing some movement; however, Class B and Class C office space aren't getting absorbed as the majority of the market's activity is for higher-quality office space. It is estimated that it will take two to three more years before the market begins a real recovery at the rate things are going. The following chart illustrates the rapid increase of sublease space that began shortly after the pandemic.
Available Sublease Space (2017-2022)

10 metro areas have almost 50% of the available sublease space
Large metro areas have been hit the hardest with a glut of sublease space on the market. New York City has the most sublease space with almost 30 million square feet available. Other large metro areas like Chicago, Washington, Los Angeles, and San Francisco lead the way with the most office space available for sublease. The following table provides a summary of the 10 metro areas that have 49.4% of all of the sublease space available in the U.S.
| | | |
| --- | --- | --- |
| Metro Area | Available Sublease Square Feet | % of U.S. Total |
| | | |
| | | |
| | | |
| | | |
| | | |
| | | |
| | | |
| | | |
| | | |
| | | |
Some metro areas are impacted more than others
The following table compares the percentage change in available subleases in the last few years to sublease availability as a percentage of inventory. This may sound a little complex, but it truly helps you visualize the outlier cities that have been impacted the most. It is interesting to see how markets like Columbus, Ohio's sublease availability increased by over 400%. Conversely, Miami appears to be one of the most resilient markets in the country.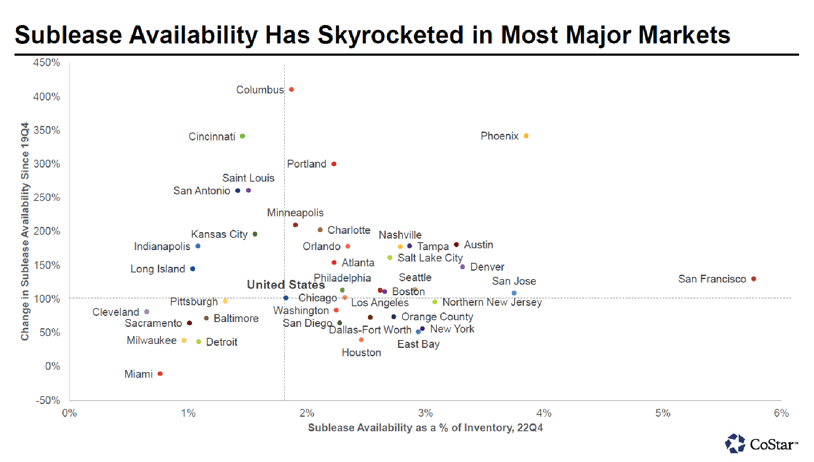 Conclusions
The road to recovery for the office real estate market is long. Many experts predict a slew of foreclosures could be on the horizon as loans mature. Regardless, landlords are desperate for tenants and it will only get worse as lease terms expire on these subleases. It is a tenant's market which means more free rent, higher tenant improvement allowances, and more flexible lease terms. If you need help navigating this highly disrupted market then it is highly recommended you seek the advice of a corporate real estate expert who specializes in tenant representation and workplace strategies.