Top Manufacturing Site Selection Trends from 2016
by Josh Bays, on Jan 23, 2017 2:49:44 PM
Site Selection Group, a leading location advisory and economic incentives firm, researched site selection trends for manufacturing projects in 2016. The more than 2,300 announced manufacturing projects ranged significantly in both job creation and capital investment. The average number of jobs created per project was 78 employees, and the average capital investment per project was approximately $53 million.
Project trends between 2015 and 2016
As with 2015, the majority of projects were modest from an employment
perspective. More than 75% of projects plan to hire less than 100 people. Very few projects were announced that are planning to hire 500 or more workers (1.3%). Overall, while those smallest manufacturing projects hiring fewer than 25 employees grew slightly in 2016 from the previous year, there was a slight drop in the number of announced projects across the board. The chart below provides more information.
Number of Projects by Jobs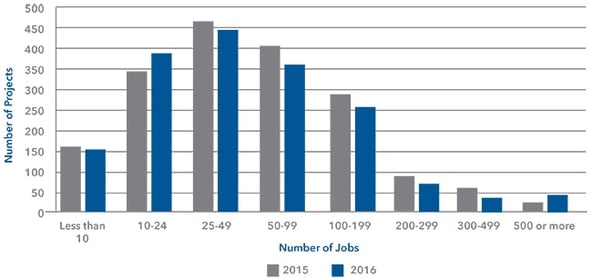 Similarly, the bulk of the 2016 manufacturing announcements involved capital investments of $10 million or less. In fact, the median investment announced was $5 million demonstrating that while the biggest projects can command the headlines, the bulk of activity involved modest investments. The overall distribution of projects was similar to that in 2015, although a slight uptick occurred in those previously mentioned projects investing less than $10 million.
Number of Projects by Capital Investment Category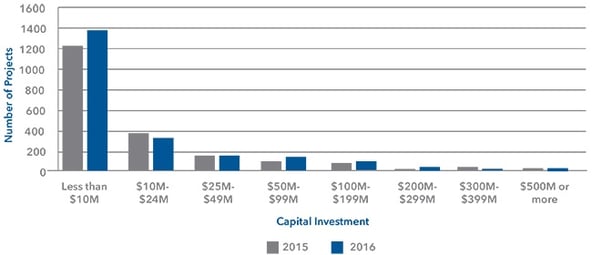 Industry trends for 2016
Depending how you measure, one of three industry sectors led in 2016 manufacturing announcements. Energy had the highest average investment per project at $577 million, driven by several large petrochemical announcements. Automotive scored highest on average number of jobs per announcement with 180. Finally, machinery, equipment and construction had the highest number of announcements with 273. The interactive Tableau dashboard below highlights these three sectors.
Geographic trends for 2016
The top states by number of announcements were Texas (408), Ohio (277), Illinois (170), Kentucky (168), and North Carolina (167). Regions with the lowest number of projects include New England, the Rocky Mountains and the Pacific Northwest.
Major manufacturing announcements
Site Selection Group identified the top five manufacturing announcements in terms of jobs and capital investment in the United States:
1. Formosa Petrochemical (St. James Parish, LA)
The company officially confirmed its previously proposed plans of building facilities for ethylene and other chemical products. The project is expected to create 1,200 jobs with a capital investment of $9.4 billion.
2. Ford Motor Co. (Multiple Locations)
Ford made one announcement affecting two locations that rank in our top 5. Specifically, Ford has plans for assembly plants in Michigan and Ohio for a total investment of $1.6 billion and 650 jobs.
3. Athenex (Dunkirk, NY)
The pharmaceutical manufacturer announced a new facility in Dunkirk, New York, that is expected to create 900 jobs in 10 years with a $1.5 billion investment. The facility will produce highly specialized oncology drugs.
4. Continental Tire (Hinds County, MS)
In February, Continental announced a new plant what will produce commercial tires and employ 2,500 people at full capacity with a projected capital investment of $1.45 billion dollars.
5. General Motors (Spring Hill, TN)
With many manufacturing facilities, GM announcements were plentiful in 2016. Its Nashville metro location in Spring Hill ranks in our top 5 announcements by expanding its footprint with $789 million in added capital investment and 650 new jobs in order to increase production capacity