Top 15 Metro Areas for Graduates in Mechatronics
by Josh Bays, on Jan 25, 2016 3:25:33 PM
Mechatronics is a field of engineering that combines principles of mechanical, electrical, and computer engineering into one. As manufacturing operations have increased the prevalence of computer-aided equipment and robotics, students with experience in mechatronics are necessary to these operations. For example, applications of mechatronics include CNC machining, control systems, and automotive systems design. All of these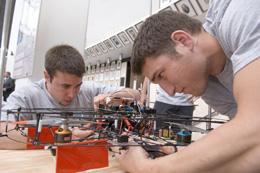 applications are used in a variety of industries. Site Selection Group, a leading location advisory and economic incentives firm, analyzes workforce conditions across the country.
"As the complexity of manufacturing practices continues to increase, more companies are demanding employees with a background in a variety of discipline," says Josh Bays, principal of Site Selection Group. "Mechatronics is a field that equips employees with the skill sets needed to be successful in a variety of manufacturing industries."
Mechatronics programs are growing, but they are still rare
Based on information from the Integrated Postsecondary Education Data System (IPEDS) maintained by the US Department of Education, there were only 16 post-secondary institutions that offered a Mechatronics, Robotics, and Automation Engineering degree for the 2014-2015 school year. Completions in this exact degree have increased 153% from 2010 graduates to 2014 graduates.
Since this is still a developing field, many graduates with knowledge of and experience in mechatronics have a degree in another field. By combining graduates in a variety of fields, including mechanical engineering, electrical engineering, computer engineering, and computer numerically controlled production, the number of institutions with mechatronics-related programs increases to 1,403.
Top metro areas for mechatronics graduates
1. Pittsburgh, PA
Pittsburgh had 1,785 mechatronics-related completions in 2014. This made Pittsburgh the 8th largest metro area in mechatronics-related graduates, but the region had more mechatronics degreed graduates than any other metro. Carnegie Mellon University houses the Robotics Institute and, as a result, offers an undergraduate minor in robotics, post-bachelor's degrees in robotics, and offers several robotics programs for students K-12. Several community colleges in the region also offer certificates in mechatronics.
2. New York-Newark-Jersey City, NY-NJ-PA
The New York region graduated 4,953 students in mechatronics-related programs, the greatest out of any other metropolitan area. The concentration of universities in the New York-Northern New Jersey area contributed to this volume. Universities with a high number of graduates in 2014 were Columbia, New Jersey Institute of Technology, NYU, and Rutgers.
3. Los Angeles-Long Beach-Anaheim, CA
Over 4,800 students graduated from a Los Angeles college or university with a mechatronics-related degree or certificate. Major universities in this field include USC, UCLA, UC-Irvine, Cal State-Long Beach, and Cal Poly Pomona.
4. Boston-Cambridge-Newtown, MA-NH
As General Electric's announcement to move its headquarters to Boston attests, the Boston area has a highly technical work force and is the home to several top universities. Approximately 3,000 completed a degree or certificate in a mechatronics-related program at a Boston-area institution. Boston University, MIT, and Northeastern University graduated the most mechatronics-related degrees in the metro area in 2014.
5. Chicago-Naperville-Elgin, IL-IN-WI
The Chicago metro area had over 2,300 students graduate from a mechatronics-related program in 2014. A high concentration of universities in the metro, including the University of Illinois at Chicago, the Illinois Institute of Technology, Northwestern University, and Northern Illinois University, helped push this MSA to the fifth position on this list.
The table below shows total mechatronics-related graduates for the 20 metro areas with the most completions.
| Metro Area | Mechatronics-Related Graduates |
| --- | --- |
| New York-Newark-Jersey City, NY-NJ-PA | 4,953 |
| Los Angeles-Long Beach-Anaheim, CA | 4,829 |
| Boston-Cambridge-Newton, MA-NH | 3,010 |
| Chicago-Naperville-Elgin, IL-IN-WI | 2,383 |
| Atlanta-Sandy Springs-Roswell, GA | 2,342 |
| Dallas-Fort Worth-Arlington, TX | 1,963 |
| San Jose-Sunnyvale-Santa Clara, CA | 1,850 |
| Pittsburgh, PA | 1,785 |
| Washington-Arlington-Alexandria, DC-VA-MD-WV | 1,693 |
| Philadelphia-Camden-Wilmington, PA-NJ-DE-MD | 1,644 |
| Phoenix-Mesa-Scottsdale, AZ | 1,568 |
| Houston-The Woodlands-Sugar Land, TX | 1,542 |
| Ann Arbor, MI | 1,529 |
| Lafayette-West Lafayette, IN | 1,416 |
| Columbus, OH | 1,364 |
| San Francisco-Oakland-Hayward, CA | 1,295 |
| Seattle-Tacoma-Bellevue, WA | 1,276 |
| Miami-Fort Lauderdale-West Palm Beach, FL | 1,265 |
| Minneapolis-St. Paul-Bloomington, MN-WI | 1,245 |
| Detroit-Warren-Dearborn, MI | 1,220 |
Mechatronics-Related Programs include: Electrical, Electronics, and Communications Engineering; Mechanical Engineering; Computer Engineering; Industrial Engineering; Manufacturing Engineering; Electromechanical Engineering; Mechatronics, Robotics, and Automation Engineering; Electrical Engineering Technologies/Technicians; Electromechanical Instrumentation and Maintenance Technologies/Technicians; Industrial Production Technologies/Technicians; Mechanical Engineering Related Technologies/Technicians; Computer Numerically Controlled Production.