2019 Tech City Ranking Report Released by Site Selection Group
by King White, on Jun 19, 2019 9:36:00 AM
Hiring and retaining tech talent is one of the biggest challenges faced by companies due to extremely tight labor conditions across the U.S. The tech sector continues to grow at a rapid pace led by numerous tech giants such as Amazon, Google, Facebook, Uber and others who are implementing nationwide mega-expansions. Other companies desperately needing tech workers are battling against these tech behemoths which can be challenging. To help navigate the competitive landscape, Site Selection Group analyzed 184 of the largest metro areas to identify the top 25 tech cities in the U.S. The Tech City Ranking Report summarizes the results of this analysis to help companies make smarter location decisions.
Tech city ranking methodology
To identify the top tech cities, Site Selection Group weighted, scored and ranked 184 metro areas based on critical location intelligence data that have been proven to identify high performing locations. The methodology encompasses more than a dozen variables within the below categories. The top 25 metro areas were selected based on the Tech Industry Presence then ranked within each of the other categories.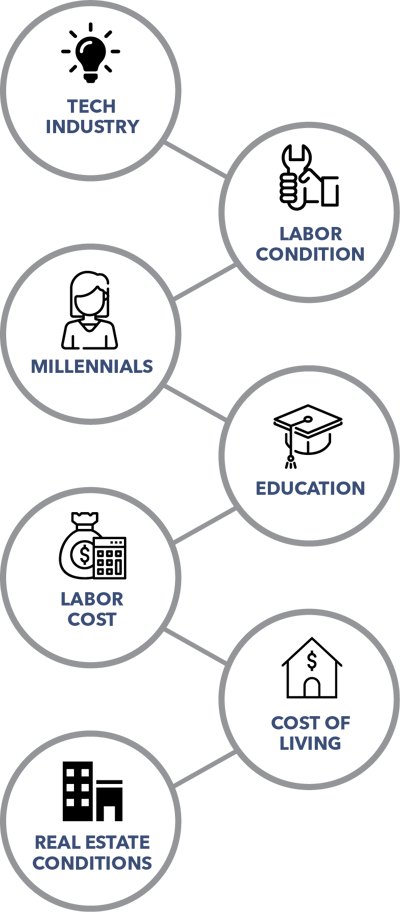 Top 25 Tech Cities
Based on the results of the analysis, the following 25 cities were identified as some of the best tech cities to expand your business. These cities possess some of the deepest pools of tech talent; however, they often come at higher labor, more expensive operating costs and a lot more competition.
| Rank | Metro Area |
| --- | --- |
| 1 | San Jose-Sunnyvale-Santa Clara, CA |
| 2 | New York-Newark-Jersey City, NY-NJ-PA |
| 3 | San Francisco-Oakland-Berkeley, CA |
| 4 | Washington-Arlington-Alexandria, DC-VA-MD-WV |
| 5 | Seattle-Tacoma-Bellevue, WA |
| 6 | Boston-Cambridge-Newton, MA-NH |
| 7 | Dallas-Fort Worth-Arlington, TX |
| 8 | Los Angeles-Long Beach-Anaheim, CA |
| 9 | Austin-Round Rock-Georgetown, TX |
| 10 | Atlanta-Sandy Springs-Alpharetta, GA |
| 11 | Chicago-Naperville-Elgin, IL-IN-WI |
| 12 | Denver-Aurora-Lakewood, CO |
| 13 | Provo-Orem, UT |
| 14 | Phoenix-Mesa-Chandler, AZ |
Emerging tech cities to consider
As the larger tech cities become more saturated, it is critical to keep your eyes on some the emerging metro areas where you can access tech talent but with less scalability. These emerging geographies may be able to offer you less competition, lower labor costs, lower cost of living and access to a workforce that can be trained and retained. The following list identified 20 emerging tech markets to keep an eye on.
| | |
| --- | --- |
| Akron, OH | Milwaukee-Waukesha, WI |
| Boise City, ID | Nashville-Davidson--Murfreesboro--Franklin, TN |
| Charleston-North Charleston, SC | Oklahoma City, OK |
| Cincinnati, OH-KY-IN | Orlando-Kissimmee-Sanford, FL |
| Cleveland-Elyria, OH | Pittsburgh, PA |
| Colorado Springs, CO | Richmond, VA |
| Columbus, OH | San Antonio-New Braunfels, TX |
| Des Moines-West Des Moines, IA | St. Louis, MO-IL |
| Indianapolis-Carmel-Anderson, IN | Tampa-St. Petersburg-Clearwater, FL |
| Jacksonville, FL | Virginia Beach-Norfolk-Newport News, VA-NC |
Conclusions
The demand for tech talent is only going to compound into the future. Companies will continue to try and find that optimal balance of onshore and offshore locations in order to meet this demand. The U.S. will continue to be one of the highest quality regions for tech talent; however, companies will need to think strategically about their site selection strategies if they want to attract and retain these highly sought-after workers. As a result, it is critical to monitor the leading tech cities as well as keep your eye on younger, emerging tech markets that may provide the answer to your future tech talent needs.