Distribution Center Site Selection Trends from 2019
by Josh Bays, on Jan 22, 2020 9:07:21 AM
Site Selection Group, a leading location advisory and economic incentives firm, researched site selection trends for distribution center and logistics projects announced in 2019. According to Conway Analytics, announced distribution center projects varied widely in the number of jobs created and the amount of capital invested. At 198 employees, the average number of jobs created per project was up 16.9% from 2018. The median jobs created was 75. Capital investment per project announcement also increased, with an average of approximately $30 million and median of $6.2 million compared to an average of $28.7 million and median of $4.6 million in 2018.
Comparing 2019 with 2018
In terms of job counts, 2019 was more robust than the previous year with more large projects (creating over 200 jobs). The majority of projects in 2018, by comparison, fell more into the mid-size range.
Distribution Project Announcements by Jobs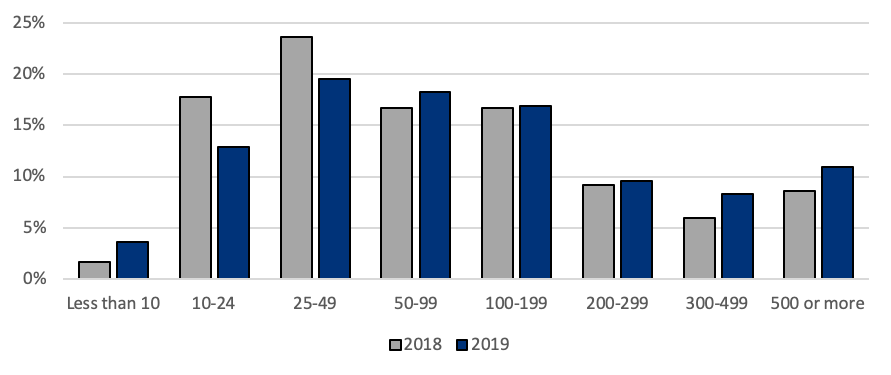 Source: Conway Analytics
In addition to more announcements with large job creation in 2019 compared to 2018, capital investment also moved toward the upper end, with more projects coming in at over $25 million compared to last year. Despite this, over half of the projects reported a total capital investment under $10 million.
Distribution Project Announcements by Capital Investment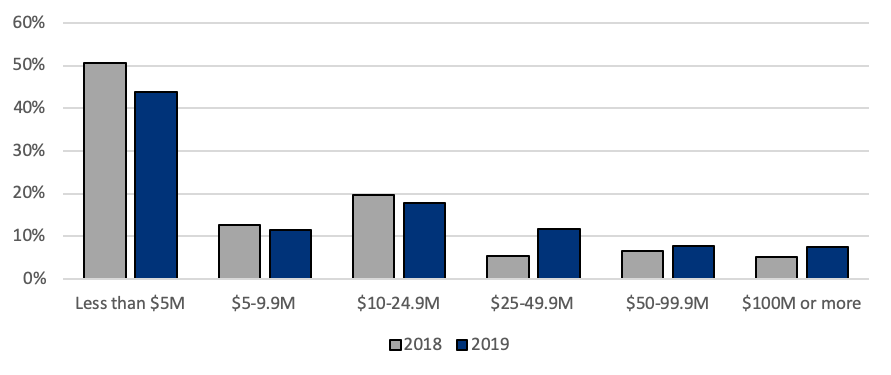 Source: Conway Analytics
Metros with high distribution center project announcements and growth
Site Selection Group identified the top 10 metros areas with high activity of distribution center projects in 2019.
| Metro Area | Projects Announced |
| --- | --- |
| Chicago-Naperville-Elgin, IL-IN-WI* | – |
| Indianapolis-Carmel-Anderson, IN | 17 |
| New York-Newark-Jersey City, NY-NJ-PA | 16 |
| Columbus, OH | 13 |
| Memphis, TN-MS-AR | 13 |
| Dallas-Fort Worth-Arlington, TX | 10 |
| Los Angeles-Long Beach-Anaheim, CA | 10 |
| Atlanta-Sandy Springs-Alpharetta, GA | 10 |
| Denver-Aurora-Lakewood, CO | 9 |
| Virginia Beach-Norfolk-Newport News, VA-NC | 9 |
Source: Conway Analytics * Chicago experienced high project activity in 2019, but data is incomplete