Current Real Estate Trends for Distribution Centers
by Josh Bays, on Mar 23, 2023 2:12:18 PM
Those associated with the industrial real estate industry will attest that 2022 was another record year for overall activity. While the hyperactivity might slow slightly in 2023, it continues to have a material impact on site selection decisions within the distribution sector. Site Selection Group, a full-service location advisory, economic incentive and real estate services firm, monitors critical distribution center real estate data metrics to help our clients make informed location decisions.


While many believe we are in the face of a recession (or already in one), some are still surprised when faced with the constrained availability of real estate and associated costs. Is there tenant relief in the near future?
Vacancy rates seemed to bottom in 2022
As a result of the industrial market being so active over the past couple of years, vacancy rates hit an all-time low of 4.1% in Q2 2022. Since there has been a half percentage point bump in vacancy likely as a result of unprecedented deliveries. The chart below shows vacancy rates over the last six years, as well as projections for the next five years.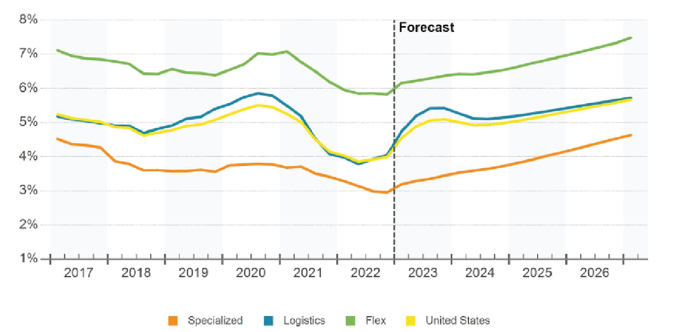 Source: CoStar
Record-setting deliveries
Despite the e-commerce sector cooling ever so slightly and large institutional developers announcing their plans to slow speculative construction, the first half of 2023 will bring unprecedented net deliveries. And although Q2 2023 seems to be the peak for net deliveries, overall activity is projected to stay strong for the foreseeable future which appears not to provide construction pricing much relief.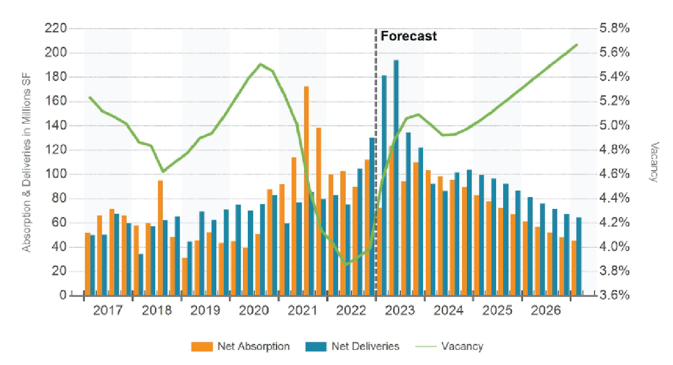 Source: CoStar
Annual rent growth, while still double digits, seems to have peaked
Since the start of the pandemic in 2020, U.S. industrial rents have been accelerating. Recently, they've further accelerated due to a lack of supply in the industrial market to meet demand. As of Q2 2022, annual industrial rent growth was running at 10.6%, with even higher year-over-year rent growth in the distribution and logistics sector specifically (11.9%). While rent growth has peaked, rent growth is not projected to lower to pre-pandemic levels until late 2024. The graph below shows the historical YOY rent increases in the industrial market and the forecasted projections for the next few years.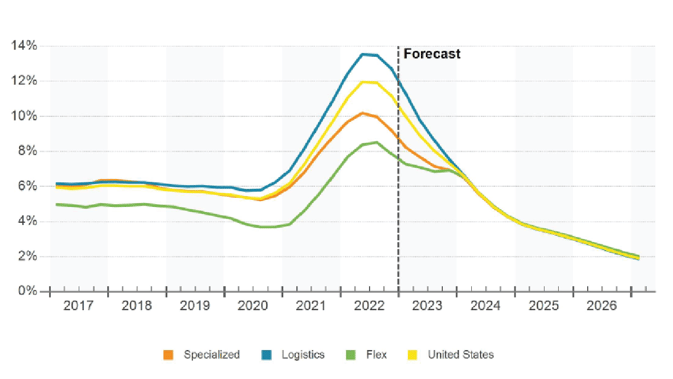 Source: CoStar
What does 2023 hold?
Prologis, the largest industrial real estate company in the world with over 1.2 billion square feet globally, published an article summarizing seven industrial real estate predictions for 2023. Prologis predicts the following:
U.S. warehouse development starts will drop to a seven-year low, even as rent growth exceeds 10%.
California's barriers to development will permanently constrain logistics demand, allowing Texas to become the No. 1 state for net absorption.
Mexico's demand will hit a new annual record as nearshoring drives expansion along the border.
India will rise from fourth to the third-most-active country for development starts, behind the U.S. and China.
Build-to-suit rents will reach new levels in the U.S. and EU as market rents are capitalized at 5%, despite falling land and construction costs.
E-commerce leasing will bounce back to become the second-most-active year on record (after 2021).
Demand for sustainable warehouses will grow rapidly. Installed rooftop solar capacity will double, and EV truck charging capacity will exceed 10 megawatts.