Cold Storage: The Anomaly of Industrial Real Estate
by Josh Bays, on Feb 20, 2019 2:37:07 PM
In free markets, supply and demand are pushed to equilibrium over time. This economic principle has typically been true in industrial real estate, especially for large warehouse buildings. According to CoStar, national industrial construction starts outpaced deliveries every quarter except one since the beginning of 2014. This trend finally reversed in the fourth quarter of 2018. One can interpret this data to mean that industrial building supply took five years to start catching up with demand.
Historical Construction Starts & Deliveries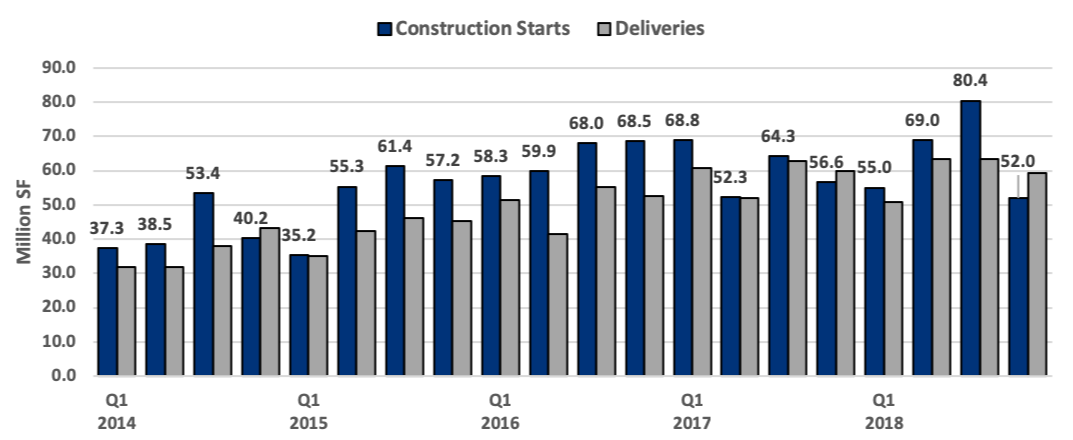 The boom in demand for industrial buildings over the last five years can be attributed to several factors such as the evolution of e-commerce, a hyper-active national economy, and the overall race for companies to shorten delivery times to customers. For the most part, the real estate development community has been willing to satisfy demand with speculative construction. CoStar estimates that at the end of 2018 there was 371,814,527 square feet of industrial space under construction, of which only 37.1% was preleased. Given the relatively low development cost compared to other commercial real estate product types, the prevalence of investment capital and intense demand, speculative development has become the norm in most tier one markets around the country. But, this has really only applied to standard warehouse construction.
The anomaly of industrial real estate
One segment of the industrial real estate market where supply has significantly been short of meeting demand is for cold storage facilities. Given population growth, consumer demand for fresh and organic food products, and consumer expectations for quick delivery times, the overall demand for cooler and freezer space is at an all-time high. As an example, CoStar indicates there is 8,098,355 square feet of existing cold storage in the DFW market. Of the existing cold storage market, only 75,871 square feet is available representing a 0.94% vacancy rate. It is astounding that the fourth largest market in the United States has an absurdly low vacancy rate for a product type that is surging in demand.
Why the lack of cold storage product?
There are two fundamental reasons why the supply of cold storage facilities is almost non-existent nationwide: 1) cold storage companies rarely vacate quality space, and 2) cold storage facilities have traditionally been too expensive for speculative developers to stomach.
In the vast majority of instances, existing cold storage facilities were purpose-built for a specific tenant. In many of those instances, tenants have quite a bit of their own capital tied up in the deal, making it difficult to justify vacating their space unless material business issues exist.
Modern cold storage facilities can cost upward of $200 per square foot to construct. Compared to traditional warehouse space, this figure is almost four times the cost. Therefore, it has traditionally been difficult for institutional capital, which is behind the majority of industrial developments, to justify the risk of speculative development. Additionally, since these expensive buildings are only geared to a small segment of the overall industrial market, cap rates have not been as attractive as traditional industrial buildings.
Are we at a tipping point?
To date, third-party cold storage operators and build-to-suit arrangements with cold storage users have satisfied demand. But for the first time, we are starting to see developers dip their toe in the speculative arena. For example, Hunt Southwest recently developed 300,000 square feet of speculative turnkey cold storage space in Fort Worth. This is one of the first case studies for this type of development.
The big question that most users of cold storage space continue to wrestle with is how the real estate market will meet their growth and speed-to-market demands. It will be interesting to see if institutional capital gets behind development similar to the Hunt Midwest case study. At a minimum, Site Selection Group expects to see more speculative development that is built with basic cold storage specifications, but might not necessarily be turnkey.