Dewey Evans Joins Site Selection Group
by Vince Varela, on Apr 13, 2021 1:04:59 PM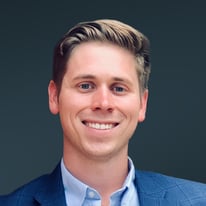 Site Selection Group, a leading global location advisory, economic incentive, and corporate real estate services firm, is pleased to announce that Dewey Evans has joined the company as a Senior Associate. Dewey will help expand the Greenville, South Carolina office and will focus on corporate site selection projects and economic development consulting efforts, primarily through site and infrastructure assessments and GIS spatial analyses.
Dewey launched his career in site selection at Quest Site Solutions, supporting corporate projects through data analysis and site evaluation. Additionally, he provided economic development services for clients including the Iowa Economic Development Authority, Gulf Power's Florida First Sites Program, and the Duke Energy Site Readiness Program.
Dewey's business experience also includes time working in community and economic development at Ten at the Top, serving as program manager for the regional strategic planning organization with a focus on economic and entrepreneurial vitality, sustainable growth, and community vibrancy. Further experience supporting Duke Energy in data analysis and budgeting prepares him for the site selection industry.
"SSG is excited to grow the Greenville office. Dewey's background in location analysis and economic development allows him to hit the ground running to help serve our clients," said Beth Land, Vice President of Site Selection Group.
To read more about Dewey Evans and find his contact information, go here.
---
About Site Selection Group
Site Selection Group LLC is a leading independent location advisory, economic incentive and corporate real estate firm providing solutions to corporations and communities across the world. Site Selection Group offers four core services to customers: Location Advisory, Economic Incentive Services, Corporate Real Estate Services, and Economic Development Consulting. Site Selection Group's mission is to align the needs of corporations with the optimal locations in order to provide the absolute maximum economic benefit. For more information, visit: www.siteselectiongroup.com.