Top Metro Areas With Highest Growth of Engineering Graduates
by Josh Bays, on Mar 18, 2015 8:30:00 AM
The demand for trained engineers across a variety of disciplines is high.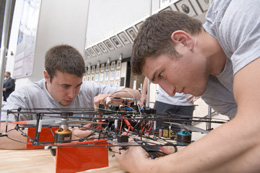 Therefore, the country needs post-secondary institutions to train future engineers at a rate that keeps up with demand. An integral part of establishing new campuses for engineering programs is understanding graduation trends.


"In a time when the United States is making a conscious effort to focus on STEM education, the demand for engineers will continue to increase. We have also seen a rise in companies that need qualified engineering talent from well-developed programs," said Josh Bays, Principal, Site Selection Group.


Site Selection Group, a full service location advisory firm, identified the metro areas that experienced the greatest growth in engineering graduates from 2013-2014.


Top 15 Metro Areas with Highest Growth of Engineering Graduates
2013-2014
| MSA | Absolute Change | % Change |
| --- | --- | --- |
| New York-Newark-Jersey City, NY-NJ-PA | 405 | 5.7% |
| Washington-Arlington-Alexandria, DC-VA-MD-WV | 300 | 10.2% |
| Boston-Cambridge-Newton, MA-NH | 269 | 6.6% |
| Los Angeles-Long Beach-Anaheim, CA | 262 | 4.1% |
| Atlanta-Sandy Springs-Roswell, GA | 242 | 7.8% |
| Salinas, CA | 226 | 44.8% |
| San Diego-Carlsbad, CA | 205 | 12.4% |
| State College, PA | 203 | 10.2% |
| Denver-Aurora-Lakewood, CO | 201 | 17.0% |
| San Luis Obispo-Paso Robles-Arroyo Grande, CA | 178 | 15.0% |
| Virginia Beach-Norfolk-Newport News, VA-NC | 167 | 31.0% |
| Sacramento--Roseville--Arden-Arcade, CA | 148 | 12.5% |
| Philadelphia-Camden-Wilmington, PA-NJ-DE-MD | 146 | 5.2% |
| Milwaukee-Waukesha-West Allis, WI | 133 | 15.1% |
| Rolla, MO | 133 | 10.6% |