Top Distribution Center Trends in the First Half of 2019
by Josh Bays, on Aug 20, 2019 2:06:48 PM
Site Selection Group, a leading location advisory and economic incentives firm, researched site selection trends for new and expanded distribution operations announced in the first six months of 2019. According to our research, we found over 200 distribution projects announced in the United States during this time period, according to research largely attributed to Conway Analytics. Distribution center operators may be tempted to follow their peers to "hot" markets, but before they do, it is essential to critically assess how this recent high growth will affect operating conditions, specifically workforce, real estate, transportation service providers and economic incentives in those markets.
Metros with high distribution center project announcements and growth
Site Selection Group identified the top 10 metro areas with high distribution center project activity over the first half of 2019.
| Metro Area | Projects Announced |
| --- | --- |
| Chicago-Naperville-Elgin, IL-IN-WI | 12 |
| New York-Newark-Jersey City, NY-NJ-PA | 10 |
| Atlanta-Sandy Springs-Alpharetta, GA | 9 |
| Indianapolis-Carmel-Anderson, IN | 7 |
| Dallas-Fort Worth-Arlington, TX | 7 |
| Los Angeles-Long Beach-Anaheim, CA | 6 |
| Denver-Aurora-Lakewood, CO | 5 |
| Memphis, TN-MS-AR | 5 |
| Savannah, GA | 4 |
| Nashville-Davidson--Murfreesboro--Franklin, TN | 4 |
Comparing distribution job growth to the nation
While growth in some of these markets is consistent with national growth rates, there are several that significantly outpace the national growth rate. As shown below, markets like Nashville, Savannah, Georgia; and Dallas have seen significant growth in distribution-related jobs over the past five years and are projected to continue to grow rapidly in the future.
Employers considering locating or expanding in one of these high-growth markets in 2019 or beyond will need to fully evaluate the workforce consequences of locating in these metro areas. These effects can include wage inflation and scarcity in real estate, which are further described below.
Job Growth in Selected Markets

Source: EMSI Historic and Projected Growth Rates, Transportation and Material Moving Occupations
A look at distribution wage inflation in hot markets
A critical factor new market entrants will need to consider is how wages are growing in these "hot" distribution markets. Looking at historical data, median wages in markets like Denver and New York have always hovered above the national average. However, some markets like Dallas that used to have relatively lower wages have recently overtaken the United States. As a result, it is critical for companies and their partners to use a mix of data sources and conduct interviews with employers in staffing agencies in all candidate markets to understand what real market wages are today.
Transportation Workers Historical Wage Inflation

Source: EMSI Historical Median Hourly Earnings, 2013-2018, Transportation and Material Moving Occupations
Examining industrial real estate options
Evaluating real estate availability is another critical consideration for new and expanding distribution facilities. It comes as no surprise that industrial vacancy rates for distribution center space have been decreasing steadily in the nation, as well as in the example markets shown below. Again, it's critical to combine a comprehensive search for real estate along with an in-depth analysis of workforce conditions especially in these fast-growing markets to ensure an optimal site selection decision.
Change in Vacancy Rates in Selected Markets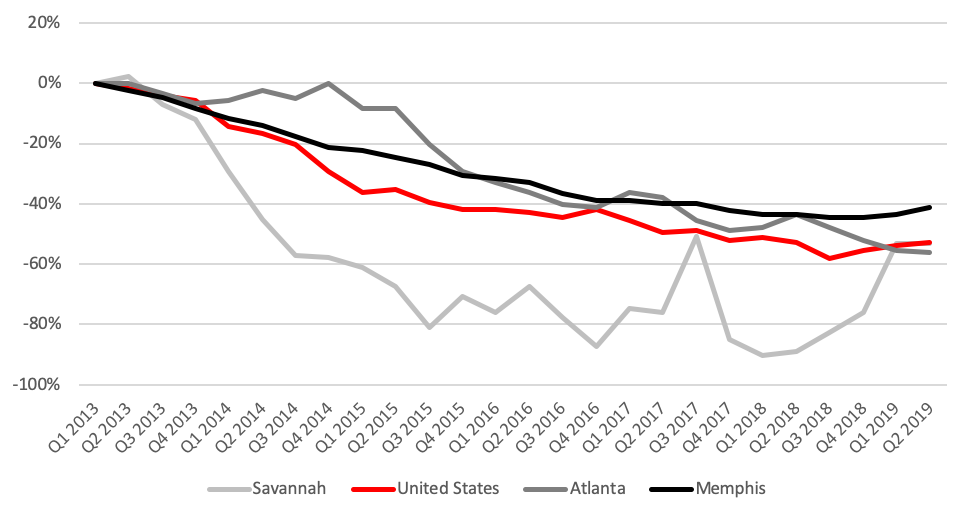 Source: CoStar
2019 US distribution center announcements
While we've focused on a handful of fast-growing distribution metro areas, the map below displays all distribution center projects announced in the first six months of 2019 and shows that distribution activity is occurring across the country. Hover over a point for additional data. Before entering or expanding in one of these markets, Site Selection Group would counsel its clients to take a holistic approach to examining the strengths and weaknesses of each market including understanding workforce availability, wage trends and real estate availability.