Top 20 metro areas with highest % of U.S. population within one day drive
by Josh Bays, on Nov 10, 2014 10:30:00 AM
Keeping up with a shifting customer base can be a difficult proposition for many transportations and logistics planners. As companies continue to optimize their logistics networks and reduce transportation costs, they are forced to keep up with meaningful changes in population trends.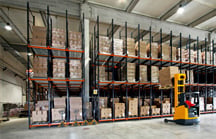 "Given the same-day service trend prevalent in today's market, and a truck driver's on-the-road limit of 11 hours per day, it makes sense for companies to cluster in areas that give them the greatest access to their consumer base," said Josh Bays, Principal, Site Selection Group.
Site Selection Group calculated the percent of the overall United States population within an 11-hour drive time of each metropolitan and metropolitan statistical area. The following table shows the top 20 MSAs with the largest population base within a one-day's drive time.
Top 20 Metro Areas with the Largest Population Base within
One Day's Drive Time
Rank

Metropolitan Statistical Area

% of U.S. Population within
One Day Drive

1

Mansfield, OH

50.30%

2

Bucyrus, OH

49.80%

3

Dayton, OH

49.80%

4

Cincinnati, OH

49.70%

5

Fremont, OH

49.50%

6

Knoxville, TN

49.40%

7

Indianapolis, IN

49.40%

8

Tiffin, OH

49.30%

9

North Vernon, IN

49.30%

10

Kingsport-Bristol, TN-VA

49.30%

11

Madison, IN

49.30%

12

Springfield, OH

49.20%

13

Ashland, OH

49.10%

14

Zanesville, OH

49.00%

15

Richmond, IN

49.00%

16

Greeneville, TN

49.00%

17

Columbus, IN

49.00%

18

Mount Vernon, OH

48.90%

19

Norwalk, OH

48.90%

20

Morristown, TN

48.90%