Certain states have proven to be more effective at attracting recent distribution center investment due to a variety of factors. These factors include the accessibility to supplier and customer bases, readily available skilled workers with experience in the material-moving industry, and favorable economic incentive offerings.

Site Selection Group researched distribution center announcement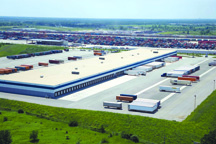 s in the last quarter to identify the top 10 states with the most distribution center announcements.

Texas, Ohio and Illinois were the most effective at attracting distribution and warehouse projects over the previous quarter due to their ability to serve large population bases as well as their robust logistics infrastructure. These states combined to announce more than 170 new distribution centers in only three months with a combined capital investment of $1.3 billion.

The following table shows the number of announcements, total capital investment, and total jobs created for each of the top 10 states.
.
TOP 10 STATES WITH MOST
NEW DISTRIBUTION CENTER ANNOUNCEMENTS


State

Number of
Announcements

Capital Investment
(USD m)
Jobs
Created


Texas

79

$902

744

Ohio

48

$236

1,349

Illinois

45

$208

1,097

Pennsylvania

27

$464

2,432

Georgia

14

$124

328

Missouri

14

$65

926

Florida

12

$214

1,348

Michigan

12

$52

549

California

10

N/A

N/A

Maryland

10

$1

1,205

*The expansion data used in this blog comes from the Conway Data New Plant Report, a publication of Conway Inc. and Site Selection Magazine.