Third Quarter 2023 Distribution Real Estate Trends
by Josh Bays, on Oct 5, 2023 9:00:00 AM
Those associated with the industrial real estate industry will attest that 2022 was a peak year for hyperactivity, which can be measured by low vacancies, increased construction starts and peak year-over-year rent growth. While it appears the post-COVID "boom" peaked last year, tenants expecting a prolonged swing back in their favor will likely be disappointed. Because not all distribution markets are created equal, real estate trends will continue to have a material impact on site selection decisions within the distribution sector. Site Selection Group, a full-service location advisory, economic incentives and real estate services firm, monitors critical distribution center real estate data metrics to help our clients make informed location decisions.
Vacancy rates bottomed in Q2 2022 and are projected to peak in Q2 2024

Source: CoStar
As a result of the industrial market being so active over the past couple of years, national vacancy rates hit an all-time low of 3.7% in Q2 2022. Vacancy rates are projected to peak at close to 6% by mid-2024. Despite the swings in vacancy rates demonstrated in the chart above, rates are still low enough that there has been no material impact on absolute rental rates, which have grown and are projected to grow at a fast clip.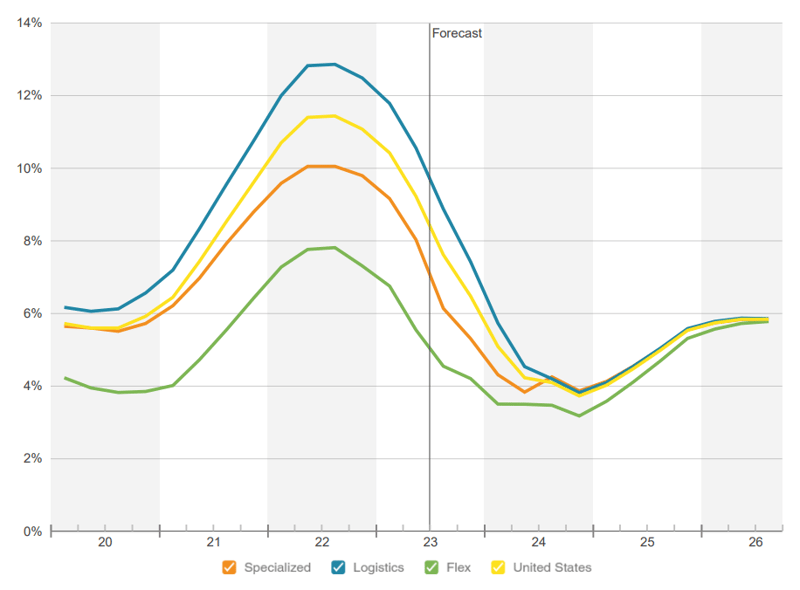 Source: CoStar
While the year-over-year national rental rate growth is finally on the decline after peaking at 11.3% in mid-2022, tenants can still expect annual growth to average more than 4% for the foreseeable future.
The peak in vacancy rates is heavily impacted by record-setting deliveries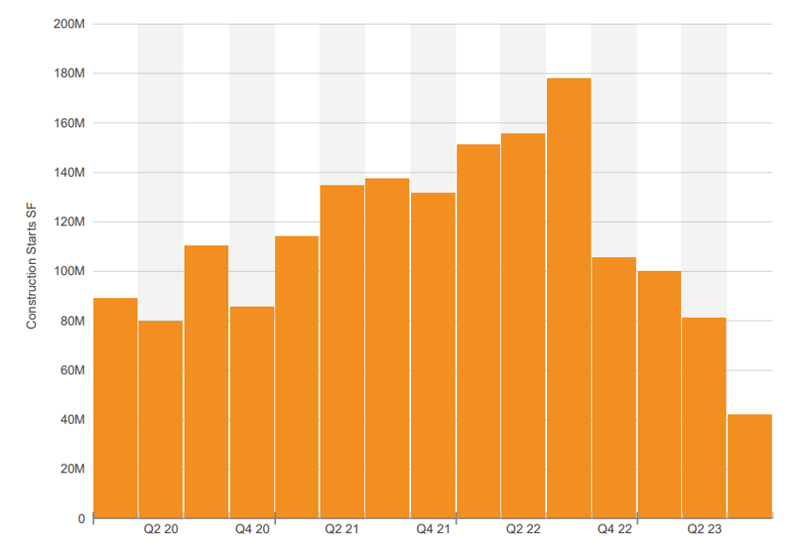 Source: CoStar
Construction starts for warehouse space increased steadily from 2020 and peaked in Q3 2022. And true to the signaling from large institutional developers, so far in 2023, construction has slowed down significantly relative to the preceding three years. Obviously, this can be attributed to a slowdown in projected demand, but the rising cost of debt has had a profound impact as well. Anecdotally, SSG has seen a slight fall in construction pricing for recent build-to-suit projects.
The following chart shows the lag between unprecedented construction starts and unprecedented deliveries. Over 210 million square feet are scheduled to be delivered in Q3 2023, which is undoubtedly driving the uptick in projected vacancy rates. After mid-2024, deliveries will be more consistent with pre-pandemic levels.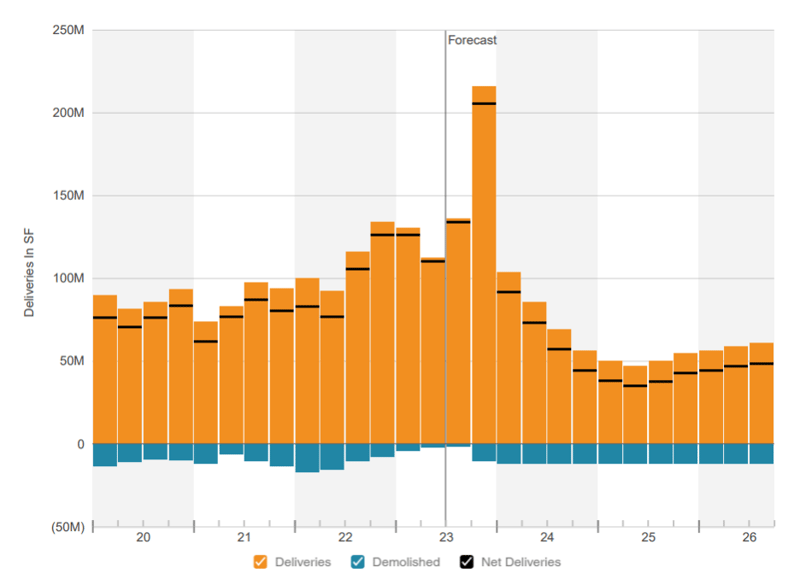 Source: CoStar
Site Selection Group's one critical piece of advice for tenants
Site Selection Group has been amazed at the number of new clients we have helped with renewals in 2022 and 2023 that did not have a limit on fair market value rent adjustments. We have recently seen horror stories of tenants experiencing rental adjustments upwards of 30% to 40% from expiring rent. Further, the institutional development community is betting on their ability to capitalize on these adjustments more frequently. There are prominent developers adopting the strategy of shorter-term deals to maximize rent growth across their portfolios.
While there are a multitude of important issues to negotiate in a lease, it is absolutely imperative for tenants to do everything they can to limit their rent exposure during renewal periods. The ideal strategy is to pre-negotiate renewal rates in order to provide budgeting certainty, but at a minimum, tenants should do everything they can to get an escalation ceiling.