Why the Tax Department Shouldn't be the Last to Know about Site Selection Projects
by Kelley Rendziperis, on Sep 18, 2018 2:15:14 PM
Accounting firms are focused on tax and audit services, and thus client relationships are generally formed with financial and tax personnel. Having spent over decade of my career at a big four accounting firm, one prevalent theme was how the tax department was the last to know about site selection projects. The issue with this is that when companies are embarking on site selection projects, the tax department finds itself trying to play catch up and may not be able to make as big of an impact as they could otherwise.
The most successful site selection projects are ones that include a company's key stakeholders early in the process. The essential stakeholders will vary based on industry and project type and not all companies will employ every one of the resources listed below, but the following diagram identifies the type of stakeholders often involved in the process: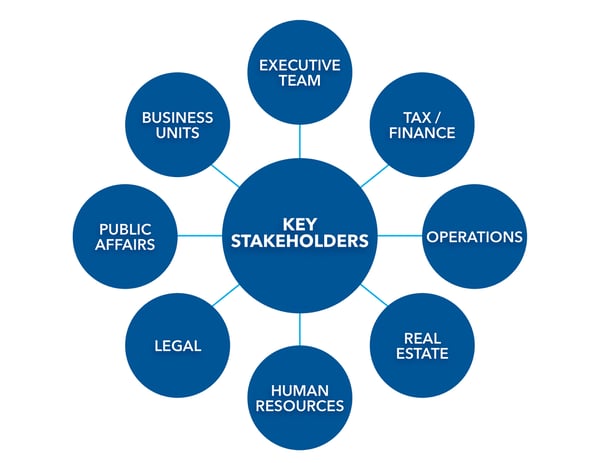 This blog specifically focuses on the tax and finance department and the importance of engaging the tax department early in the process to help quantify cost differentials and create strategies to maximize economic incentives. Here are a few examples of why the tax department should be fully engaged.
Legal entity
Which legal entity will house the proposed operation is often overlooked at the early phases of a project. However, this is relevant because a company may already have a presence in a certain state and expanded operations could affect existing state tax liabilities. Conversely, if a company does not have a physical presence in a state, this could be purposeful to avoid creating nexus and a tax filing obligation. Several factors contribute to the magnitude of whether increased operations will create increased tax liabilities, such as filing methodologies, apportionment, intercompany transactions, etc., but these are reasons why the tax department should be engaged early in the process.
Type of entity
Not only should the company consider which legal entity is the proper entity for the new operations, but the type of legal entity also matters – S Corp, LLC, C Corp, etc. A project may garner several tax credits, but the tax department needs to be engaged early on to determine whether those benefits can be allowed at the entity level and/or whether they flow through to the owners. In a situation in which the owners are individuals, this will be very important to them and may have implications for nonresident withholding. Moreover, individual shareholders will certainly be interested in knowing if identified states have a personal income tax.
NAICS code
A project team also cannot assume that it is automatically eligible for certain programs. Many economic incentive programs are heavily reliant on a company's NAICS code. This may be an issue where a company operates several business lines and not all fall under the same category. In those instances, the tax department will have to review whether it can use more than one NAICS code and/or whether it may even need to request a letter ruling. The same can be said for employee eligibility and Standard Occupational Classification (SOC) codes, which highlight how key stakeholders overlap since human resources would likely work with the tax department to review employee eligibility.
Financial analysis
Perhaps a more obvious benefit to engaging the tax department is when it is time to project future revenues and tax liabilities in finalist jurisdictions. The tax department will be able to identify which economic incentives will truly be realized and which ones will not. This can aid a company in shifting those benefits elsewhere in communication with the other stakeholders. For example, if a tax credit will not be realized, the benefit associated with that credit could be used instead for training, infrastructure assistance, special permitting or waivers, etc.
Another undervalued benefit of the tax department in this part of the site selection process is identifying opportunities to negotiate more favorable tax treatment based on a state's existing tax structure. Alternative apportionment, for instance, can be a mechanism to narrow a gap between two competing states in which one's tax structure does not fairly represent the company's presence and operating activities in the state. Negotiating tax treatment, such as alternative apportionment, is not a typical incentive program that would be offered in the normal course of economic incentive negotiations which is why having the tax department involved early in the process, with a high degree of negotiating leverage, can maximize the benefits associated with a favored jurisdiction.
Reporting
One common misconception is that companies do not have to worry about complying with economic incentives until a project is completed and operational. However, many programs may require immediate tracking of capital expenditures. For example, benefits involving sales tax may include tracking costs from the outset, which includes construction and labor costs. Failing to do this properly can completely negate a sales tax benefit by either not being able to produce the necessary supporting documentation or by doing it too late in the process and not meeting minimum capital expenditure commitments. This is also the case with how the tax department initially classifies various assets for property tax purposes and how that relates to real and/or personal property tax benefits.
Conclusion
Instead of being viewed as a cost center, having the tax department manage the economic incentive process allows them to become a profit center. The economic incentives and strategies described above can not only maximize economic incentives but can also yield longer term benefits.