Vacated Call Center Facilities Available in the US Could Accommodate Over 300,000 Call Center Workstations
by King White, on Aug 25, 2016 1:46:24 PM
Despite the robust call center market, there are currently almost 900 vacated call center facilities available to lease or purchase in 243 metro areas across the U.S.

These call center facilities encompass over 30 million square feet of office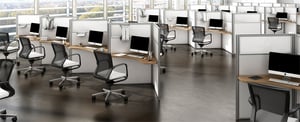 space which could accommodate a staggering 300,000 call center workers in a single shift. These are great options for companies that need to open a call center location quickly or don't have the capital to build or convert a new call center. Many of the better facilities have been picked over, however, leaving behind less desirable sites that are in poor condition or located in problematic labor markets.

To help navigate these call center facilities, Site Selection Group evaluated the availability of call center facilities across the United States utilizing its proprietary database of vacated call center facilities combined with its call center labor market database which includes critical site selection variables such as labor availability, call center saturation, labor cost and economic incentive availability.

Availability by facility size
Based on Site Selection Group's research, there are 799 vacated call center buildings available in the U.S. The condition of these facilities varies significantly. Many of these sites have furniture and generators in place while others are stripped down to basically open office space.

"Call center users can be extremely rough on their facilities due to the density of call centers. A standard office user will have three to five employees per 1,000 square feet while a call center may have seven to ten employees per 1,000 square feet with multiple shifts," explains King White, CEO of Site Selection Group.

The following table summarizes site availability by square footage:
Availability by geography
Texas, Florida and Arizona have the most vacated call center facilities. These states have always had a greater concentration of call centers because labor costs are generally low and economic incentives often readily available. States with a higher population and greater number of metro areas will typically have a larger amount of vacated call centers (e.g. Texas and Florida). The following map identifies which states have the greatest number of call center buildings available.
Availability by labor market size
Call centers used to locate in tertiary, smaller labor markets as companies sought very low labor costs; however, companies have often found these smaller metro areas don't provide long-term labor market sustainability. As a result, more companies have been migrating back to larger metro areas, as explained in our blog post Why call centers are migrating back to larger metro areas. The following graph summarizes the availability of call center facilities by the population of the metro areas in which they are located.
Conclusions
With labor markets tightening across the U.S., it is critical to locate call centers in strategic locations with the optimal balance of labor availability, labor costs, business climate, economic incentives and real estate. Vacated call center facilities are one way to solve the real estate component of the site selection equation; however, it is important to remember that real estate is less than 10 percent of a call center's operating budget. As a result, you need to make sure to carefully evaluate why the call center closed and understand labor conditions around the site. For additional information on vacated call center facilities, please contact Site Selection Group.