Top Metro Areas for IT Workforce
by Josh Bays, on Apr 25, 2017 4:33:04 PM
In this age of information technology, employers are feeling the strains of a tight labor market as they struggle to staff their IT operations with technical talent. As the national workforce responds to this demand, the Bureau of Labor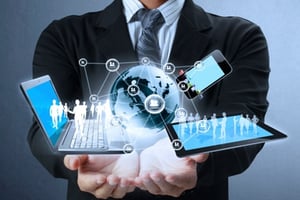 Statistics recently listed both software developers and computer systems analysts as two occupations with the most expected job growth from 2014 to 2024. Site Selection Group, a full-service location advisory and economic incentives firm, helps companies find the optimal location for their operations based on key workforce availability, quality and cost metrics. Site Selection Group recently completed a proactive national workforce study that assesses key information technology occupations.
Certain metros to see nearly 20% growth over next five years in IT occupations
On average, the fastest-growing metro areas with a population over 250,000 are projected to experience an increase in their information technology occupation cluster by nearly 20% over the next five years. The table below shows the top metro areas that are expected to experience the highest growth rate in the information technology occupation cluster.
Of these communities, Naples, Florida, has the highest projected growth of 19.1%. On the other side of the country, Provo, Utah, is expected to experience the same high growth even though it already has a high percentage of the current labor force employed in IT occupations (4.4%).
Top Metro Areas for IT Occupation Cluster Growth
MSAs with Total Population 250,000 or More
Metro Area

State

Projected Growth
of IT Cluster
2017-2022
IT Cluster as % of
Current Labor Force

Naples-Immokalee-Marco Island

FL

19.10%

0.90%

Provo-Orem

UT

19.00%

4.40%

Greeley

CO

18.00%

0.80%

San Luis Obispo-Paso Robles-Arroyo Grande

CA

17.10%

1.70%

Brownsville-Harlingen

TX

17.10%

0.50%

Mobile

AL

17.00%

1.50%

Green Bay

WI

15.10%

2.40%

Port St. Lucie

FL

14.70%

0.70%

Ocala

FL

14.50%

0.50%

Charleston-North Charleston

SC

14.10%

2.30%
East Coast metro areas show most activity in hiring IT workers
Labor demand is one of many labor supply measures Site Selection Group includes in workforce forecasting analyses. We analyzed job postings data for the IT sector to better understand which metro areas have the most hiring activity. The rankings in the table below include only metro areas with a population of at least 250,000. The higher the percentage of job postings per IT occupation cluster, the more in demand IT workers are in that metro area.
In Hartford, for instance, the total number of job postings in the IT sector total more than 23% of all the IT workers in the area. These data suggest there is about one job posting for every five workers in the IT sector in the Hartford metro area. The demand is similar among the remaining top metro areas.
Top Metro Areas for IT Occupation Demand
MSAs with Total Population 250,000 or More
Metro Area

State

Job
Postings %
Average Unique IT
Job Postings

Hartford-West Hartford-East Hartford

CT

23.59%

4,719

Bridgeport-Stamford-Norwalk

CT

22.97%

2,925

Fayetteville

NC

22.93%

526

Trenton

NJ

21.75%

2,733

Raleigh

NC

19.99%

6,292

Reading

PA

18.96%

440

Atlantic City-Hammonton

NJ

18.92%

360

Colorado Springs

CO

18.12%

2,401

Charlotte-Concord-Gastonia

NC-SC

18.04%

7,136

Killeen-Temple

TX

17.92%

408
*Job Postings % is calculated by taking the number of IT job posting and dividing it by the total number of jobs in the IT cluster. Unique IT Job Postings is the unique number of IT job postings per month.
Talent pipeline is key for workforce recruitment by growing companies
For organizations that plan to grow their IT workforce, proximity to university graduates with computer and math degrees often plays a contributing factor in site selection. The table below ranks and sorts metro areas by the number of IT-related higher education completions as a percentage of the IT workforce. A larger percentage indicates that the IT talent pipeline is being filled at a faster rate.
Gainesville, Florida, home to the University of Florida, ranks first when scoring metro areas on computer and math completions as a percentage of the total IT occupation cluster. Other metro areas for IT talent pipeline are listed below, including Salt Lake City with nearly 2,000 graduates. During a true site selection process, these broad completion categories are customized to the client's needs (i.e. software development versus network administration).
Top Metro Areas for IT Talent Pipeline
MSAs with Total Population 250,000 or More
Metro Area

State

Computer and Math
Completions as %
Computer and
Math Completions

Gainesville

FL

12.54%

357

Flint

MI

9.51%

289

Lubbock

TX

9.15%

183

Erie

PA

8.43%

95

Clarksville

TN-KY

8.38%

81

Ann Arbor

MI

7.91%

679

Syracuse

NY

7.84%

544

Salt Lake City

UT

7.40%

1,938

Salisbury

MD-DE

7.26%

113

Tallahassee

FL

7.01%

417
*Computer and math completions as % of cluster is calculated by dividing computer and math higher education completions by the total number of workers in the IT occupation cluster. Computer and math completions is calculated by the number of bachelor and graduate higher education completions last year.