Top Growth Markets for Research and Development Talent
by Josh Bays, on Feb 22, 2016 1:30:00 PM
There were over 4,400 corporate openings and expansions announced for new projects in the United States in 2015. Of those announcements, a significant portion included some type of research and development component to the project. Corporate headquarters, manufacturing operations and laboratory facilities were among the new projects announced that co-located with a research and development function included.
University talent necessary for research institutions
Many companies that create new research and development operations partner with major research universities in order to take advantage of the talent and resources that these prestigious institutions can provide.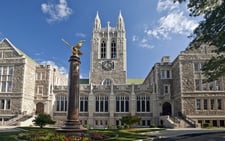 Of the companies that announced a research and development project in 2015, 72% of those located near an R1 university.
Universities are classified into R1, R2 or R3 designations every five years by the Carnegie Classification of Institutions of Higher Education. R1 universities have the highest levels of research activity. The most recent list of institutions was published on Feb. 1.
"To be an R1 university is monumental for any research university that offers doctoral education. For companies that need to access this level of talent or want to partner with education institutions in research efforts, locating near one of these universities is a major advantage," said Chris Schwinden, Vice President at Site Selection Group.
Education institutions new to the list
In 2015, 115 education institutions were classified as R1 universities. California had the most R1 universities, while New York, Massachusetts and Texas closely followed with nine, eight and eight, respectively. There were 15 universities new to the R1 classification this year. Those schools are listed below:
Boston College – Boston, MA
Clemson University – Clemson, SC
Florida International University – Miami, FL
George Mason University – Fairfax, VA
Kansas State University – Manhattan, KS
Northeastern University – Boston, MA
Syracuse University – Syracuse, NY
Temple University – Philadelphia, PA
Texas Tech University – Lubbock, TX
The University of Texas at Arlington – Arlington, TX
The University of Texas at Dallas – Dallas, TX
University of Mississippi – Oxford, MS
University of North Texas – Denton, TX
University of Wisconsin-Milwaukee – Milwaukee, WI
West Virginia University – Morgantown, WV