Top Economic Incentive Deals for Distribution Centers in 2018
by Josh Bays, on Jan 23, 2018 3:08:17 PM
As overall operating costs continue to rise and the competition to shorten transit times to customers remains a priority, optimizing a company's supply chain will play an increasingly significant role in their bottom line. When it comes to locating a distribution center, which typically involves a high head count and moderate capital investment, economic incentives can greatly impact a project by offsetting upfront capital and ongoing costs.
Site Selection Group, a full-service location advisory, real estate and economic incentive services firm, has tracked distribution center incentive packages over the past 12 months. Not only has there been a significant rise in activity, both in terms of overall projects and incentive deals, the size of projects have grown as well.
The average capital investment for a distribution center project in 2017 was $25.1 million, a substantial increase over 2016. Despite the intense focus on automation, this increase in capital investment did not come at the expense of job creation. The average distribution center project created 148 jobs in 2017, up 34.5% from 2016.
Job creation and capital investment impact distribution center economic incentive packages
Over 50% of distribution center projects in 2017 received less than $500,000 in economic incentives, and the average number of jobs created by these projects was 44. For those 12% of projects that were awarded more than $5 million in economic incentives, the average jobs created was 850. The table below shows how economic incentives were divided among distribution center projects.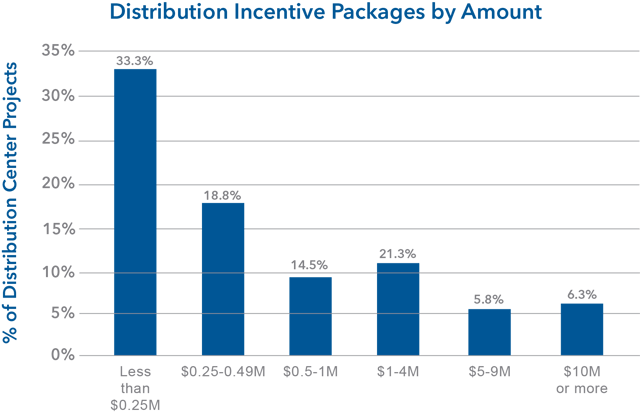 Incentives packages vary by location
The Midwest and Northeast saw the highest amount of economic incentives packages awarded to distribution center projects. The interactive map below displays this in more detail. Hover over or select a state to see the total amount of economic incentives packages awarded, average incentive amount, average capital investment and jobs created by projects that were awarded an incentive.
Top economic incentives packages for distribution centers
The average incentive package per distribution center in 2017 was $2.4 million. In 2016, this value was $1.6 million. The following table shows the top economic incentives packages awarded to distribution centers over the past 12 months.
| Company | Location | Capital Investment ($M) | Job Creation | Awarded Incentives ($M) |
| --- | --- | --- | --- | --- |
| Amazon | Hebron, KY | $1,494 | 600 | $40.00 |
| Digi-Key Corp. (Digi-Key Electronics) | Thief River Falls, MN | $200 | 1,000 | $40.00 |
| Wakefern Food Corp. | Perth Amboy, NJ | >$116 | 390 | $39.27 |
| Amazon | Monee, IL | N/A | 2,500 | $27.83 |
| Amazon | North Haven, CT | $25 | 1,800 | $25.00 |
| US Venture | Appleton, WI | $56 | 214 | $20.00 |
| Amazon | New York City, NY | $100 | 2,250 | $18.00 |
| Amazon | Memphis, TN | $63 | >600 | $15.19 |
| General Motors (GM) | Arlington, TX | N/A | >850 | $14.30 |
| Amazon | Aurora, IL | N/A | 1,000 | $12.90 |
| Gourmet Nut | Perth Amboy, NJ | N/A | 110 | $12.10 |
| KKR & Co. | Chippewa Falls, WI | $65 | 325 | $11.50 |
| The TJX Cos. | San Antonio, TX | $150 | 1,000 | $11.30 |
| Amazon | Troutdale, OR | $178 | 1,500 | $9.60 |
| NuVasive | Memphis, TN | $116 | 15 | $9.00 |