Top 5 Workforce Characteristics Manufacturers Should Consider
by Josh Bays, on Jun 18, 2018 2:41:18 PM
It is widely accepted that the primary location driver for manufacturing projects, after logistics has been assessed, is the availability of a qualified workforce. There are many demographic variables and workforce characteristics for manufacturing companies to consider when making a site selection decision, and it can often be an overwhelming process. Knowing which of these factors should have the most influence on these decisions can make the process more manageable for companies. Site Selection Group, a full-service location advisory, economic incentives and real estate services firm, provides our clients with a suite a detailed workforce analytics in order to minimize labor risks as they expand, consolidate or relocate their manufacturing operations. The following details the top five workforce characteristics that manufacturers should be assessing during the site selection process.
1. Underemployment is the prime consideration
When a company staffs a new operation, it has two main sources of labor: the unemployed and those willing to leave their current job. Those in the second category are referred to as "underemployed" and represent the lion's share of the candidate labor pool. Understanding which skill sets are prevalent in a market, the level to which those skill sets are being utilized in the workforce, and the wage structures for key positions is critical. In today's tight labor climate, those classified in the underemployed category might not have the specific skill sets the manufacturer is looking for, but typically have a strong base of skills on which to layer training. These skills include mechanical aptitude, industrial safety, lean production processes, etc.
2. Population growth helps ensure future pipeline
Especially for smaller metros that may not have the sheer workforce numbers of a large market, population growth can make a measurable difference in workforce availability. Areas with high growth have the potential to "grow" themselves out of workforce issues – that is, while the number of jobs remains the same, the available pool of labor expands as more and more people reach working age. As these areas grow, they become more attractive than larger markets with stagnant growth. The interactive map below displays five-year projected population growth by county.
3. Sourcing the right educational attainment distribution
It is critical for a company to accurately assess their target education level for a project, and make decisions accordingly. A high-skilled, low-job count operation is going to need a very different workforce than a lower-skill, high-job count project. For most production projects, understanding which communities are proactively training the workforce with target technical skill sets is critical.
4. Mitigating the effects of an aging workforce
Another top consideration for site selection is the age distribution of a potential workforce. As the national median age continues to grow, along with retirement concerns, companies will want to make sure that they can staff their operation well into the future. This is specifically a concern for the production sector where companies struggle to backfill their aging workforce with the millennial generation. The graph below shows the national median age over time.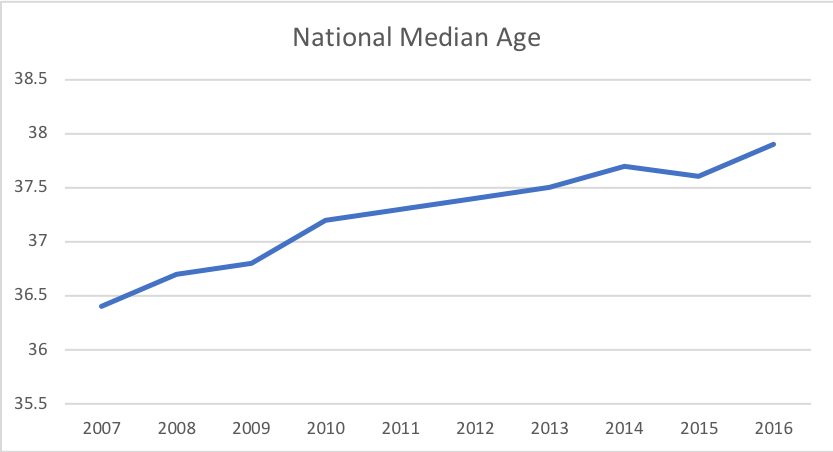 5. Commuting patterns can differ significantly within a market
It is important to note that workforce migration patterns typically do not follow political boundaries and are fluid within a broad geography. Most companies assess how far workers are willing to drive when assessing a laborshed, but neglect to thoroughly assess direction of travel and mode of transportation. Both of these factors can have a critical impact on the available supply of labor at any given location.