Top 20 Fastest Growing Metro Areas
by King White, on Jun 17, 2014 12:59:00 PM
As labor markets tighten across the United States, it is critical to understand the impact of population growth when trying to decide where to locate headquarters, manufacturing plants, distribution centers, call centers and other corporate facilities.

"Our clients have become extremely focused on labor market scalability and longevity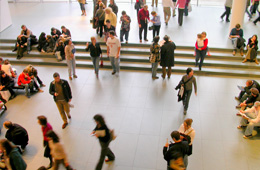 over the last several years as they seek to maximize the return on their investment," said Brett Bayduss, Principle of Site Selection Group. To understand what metro areas have a potential advantage, Site Selection Group evaluated historic and future population growth trends to identify metro areas best positioned to outperform the rest of the United States.


Historic Growth Trends

The following table identifies the top 20 metro areas that had the highest increase in population between 2010 and 2014. The overall winners are Dallas and Houston, which have seen explosive growth that has beat mega-markets such as New York and Los Angeles. Some of the hidden gems include locations such as Phoenix, San Antonio, Orlando, Charlotte and Tampa, which continue to successfully attract some major projects to their communities.


Top 20 Fastest Growing Metro Areas
Population Increase (2010-2014)

Metro Area

Population Increase

Dallas-Fort Worth-Arlington, TX

590,002

Houston-The Woodlands-Sugar Land, TX

552,252

Los Angeles-Long Beach-Anaheim, CA

522,066

New York-Newark-Jersey City, NY-NJ-PA

490,752

Washington-Arlington-Alexandria, DC-VA-MD-WV

403,205

Miami-Fort Lauderdale-West Palm Beach, FL

377,574

Atlanta-Sandy Springs-Roswell, GA

354,611

Phoenix-Mesa-Scottsdale, AZ

301,835

San Francisco-Oakland-Hayward, CA

238,729

Riverside-San Bernardino-Ontario, CA

234,350

Austin-Round Rock, TX

218,987

Seattle-Tacoma-Bellevue, WA

211,518

Denver-Aurora-Lakewood, CO

206,740

San Antonio-New Braunfels, TX

195,276

Boston-Cambridge-Newton, MA-NH

170,901

Orlando-Kissimmee-Sanford, FL

170,426

San Diego-Carlsbad, CA

159,539

Charlotte-Concord-Gastonia, NC-SC

146,205

Tampa-St. Petersburg-Clearwater, FL

145,677

Minneapolis-St. Paul-Bloomington, MN-WI

131,948
Forecasted Growth Trends

The following table identifies the top 20 metro areas that have the highest forecasted percentage growth rate between 2014 and 2019. The overall winners are mostly small to mid-size metro areas such as Williston, Dickenson, Andrews, Midland, Odessa and Bismarck that will be impacted by the energy boom. Junction City and Clarksville are also projected to rise to the top due to the growth of military operations in their communities. Other notable mentions include Austin, Houston, Clarksville and Crestview-Fort Walton Beach.


Top 20 Fastest Growth Metro Areas
Forecasted Growth Rate (2014-2019)

Metro Area

Forecasted Growth Rate

Williston, ND

19.49%

Dickinson, ND

17.21%

Junction City, KS

14.97%

Andrews, TX

14.20%

Midland, TX

13.05%

The Villages, FL

12.70%

Heber, UT

11.60%

Austin-Round Rock, TX

11.45%

Odessa, TX

10.76%

Bismarck, ND

10.16%

Dunn, NC

9.66%

Elko, NV

9.56%

Clarksville, TN-KY

9.45%

Vernal, UT

9.44%

Minot, ND

9.40%

Crestview-Fort Walton Beach-Destin, FL

9.12%

Columbus, GA-AL

8.92%

Elk City, OK

8.89%

Casper, WY

8.76%

Houston-The Woodlands-Sugar Land, TX

8.69%
Conclusions
Many factors can impact the growth of a metro area. It is critical to understand why a market is incurring such growth before making a location decision. High growth often brings many challenges such as low unemployment, wage inflation and excessive employee attrition. Bottom-line, make sure to evaluate all location criteria before deciding where to expand in the future.