Access to suppliers and customers has been, and will always be, the primary location driver for distribution operations. Given recent developments in sophisticated automation systems, distribution centers now require more technical labor than in the past. Site Selection Group, a location advisory firm well experienced in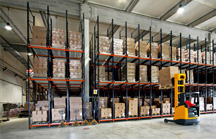 locating transportation and logistics businesses, has seen clients start to place a higher priority on the availability of a qualified labor force when evaluating new locations for investment.


As distribution operations have become more capital intensive due to automation, Site Selection Group has also observed states and communities revise their economic incentive offerings to better reward capital investment.


"We've found that it is easier to get states and communities more excited about distribution center projects given the increase in required skill sets and capital investment," said King White, President, Site Selection Group.


To get a sense of which communities have a strong pool of skilled labor, Site Selection Group identified metropolitan statistical areas with a population of more than 250,000 that have the highest concentration of industrial forklift operators, freight and stock laborers, and material movers. Those communities are presented in the following table.


Top 10 US Metro Areas for Logistics Labor
MSA

State

Industrial Truck
Operators &
Freight Laborers
% of
Labor Force

Memphis

TN-MS-AR

29,392

4.35%

Harrisburg-Carlisle

PA

11,920

3.95%

Scranton--Wilkes-Barre--Hazleton

PA

10,429

3.72%

Yakima

WA

4,242

3.71%

Louisville/Jefferson County

KY-IN

23,501

3.54%

Fort Smith

AR-OK

4,390

3.47%

Grand Rapids-Wyoming

MI

18,790

3.47%

Greensboro-High Point

NC

13,207

3.46%

Visalia-Porterville

CA

7,053

3.40%

Reno

NV

7,955

3.40%