The Chicagoland region is one of the Top 5 data center markets in the U.S., which might be expected due to Chicago being the nation's third largest metro area. Chicago is also a major financial, technology and Internet hub further assisted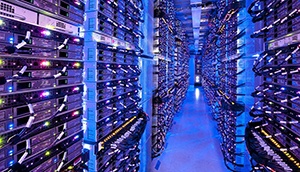 by its central geography. But in data center site selection, being one of the largest U.S. population centers does not necessarily correspond to having the most data center capacity (see Houston and Los Angeles).
Chicagoland's data center and colocation market in 2016 enjoyed its biggest year ever in terms of total megawatts (MWs) of data center absorption. If the supply can keep up with demand, then 2017 should be just as great a year.
A history of the Chicago data center market since the 1990s
Chicago took a slightly different route to get to its Top 5 status than competitors such as Northern Virginia and Silicon Valley. Those regions have grown consistently since the late 1990s through large suburban data center developments and enterprise data centers. In Northern Virginia, the city of Ashburn grew due to readily available land sites, economic incentives and power. Silicon Valley's concentration avoided downtown San Jose and focused on Santa Clara and its suburban sprawl for its reliable and affordable power.
In contrast, the suburban Chicago wholesale colocation market was relatively nonexistent prior to 2010. Chicago's growth through the 1990s' Internet boom was concentrated in the downtown core in such highly connected colocation facilities as Digital's massive 365 Cermak and 600 South Federal buildings, Netrality's 717 South Wells and CoreSite's 427 LaSalle. The only notable suburban projects were the initial phase of Dupont Fabros' Elk Grove campus, Equinix's new Elk Grove site and Microsoft's 700,000-square-foot Northlake data center (originally constructed by Ascent).
The pace of data center development and data center site selection in suburban Chicago quickened in 2012 with Digital Realty's purchase and re-development of a Franklin Park campus and Ascent's expansion of its Northlake campus. Chicago has now drawn major new development and expansions from every major data center developer and wholesale colocation operator along with relatively new entrants to the market.
The region remains optimal for its minimal hazard risk, cold climate allowing for energy efficiencies in cooling, great fiber infrastructure and reasonable power costs. Thus, it has become a favored market for many business and technology sectors, especially cloud providers.
The competitive landscape and some further market statistics
It is expected that Chicago's total commissioned space will exceed 260 MW and 2.1 million square feet by the end of the first quarter of 2017. The record absorption in 2016 exceeded 55 MWs, helped significantly by Microsoft's 30 MW lease with EdgeConnex and Oracle's 10 MW leases with a few other developers.
The competition in Chicagoland is comprised of all of the heavyweights in the wholesale colocation and turnkey data center sectors. Here's a list of some of the notable data center projects:
Equinix: Four Chicago data centers in two locations, with over 120,000 square feet of raised floor at Digital's 350 Cermak and 115,000 square feet of suburban raised-floor space in Elk Grove
Dupont Fabros: Two suburban campuses in Elk Grove totaling 62 MWs and 820,000 square feet with a third phase coming on line in late 2017
Digital Realty: Downtown facilities include 350 Cermak, its 1.1 million-square-foot interconnection hub. Its suburban campus in Franklin Park totals ~45 MWs and ~575,000 square feet. In late 2016, Digital announced the purchase of the 18-acre former Motorola site for future development.
QTS Realty: Bought the 317,000-square-foot former Chicago Sun-Times printing facility where it can provide up to 24 MWs over 130,000 square feet of raised floor.
EdgeConneX: owned by Comcast Ventures, EdgeConneX purchased a 132,000-square-foot building for a 25 MW build-to-suit for anchor tenant, Microsoft.
CyrusOne: Entered the suburban wholesale colocation market in early 2016 with the sale-leaseback purchase of the Chicago Mercantile Exchange's 408,000-square-foot data center.
TierPoint: with two Chicago locations as a result of acquisitions, this national colocation and cloud provider offers over 40,000 square feet of raised floor environment
Conclusions
Depending upon which statistics are being used, Chicago currently stands as the No. 5 Data Center Market, but it is very reasonable to expect over the next two or three years that it will overtake some other markets higher on this list. If supply can keep up with demand, 2017 should provide a similar record of wholesale colocation absorption. Current vacancy is in the low single digits with demand continuing to gobble up any available commissioned space.
With all of the favorable factors meeting all of the data center users' checklists, the Chicago market should expect to continue to its upward growth curve.