The Big Stories in the First Half of 2018 for the Data Center Market
by Michael Rareshide, on Aug 21, 2018 10:20:31 AM
Data center site selection in 2018 has experienced explosive growth across the U.S. and the world, with all projections being that the full year will set a new record. A recent report from Cisco projects that global Internet traffic is expected to increase threefold by 2021 to over 3.3 zettabytes. One zettabyte equals 1 billion terabytes (or approximately 250 billion DVDs) and is indicative of a significant amount of data to be stored and handled, which will require more global data center capacity.
U.S. data centers continue to get larger with significant investments. It seems that not a week goes by without another major announcement in data center site selection in both size and capacity of each new data center project. New developments both in the Top 10 data center markets — especially in Northern Virginia, Dallas-Fort Worth and Chicago — along with other smaller metro areas that can provide significant infrastructure, affordable power and incentives.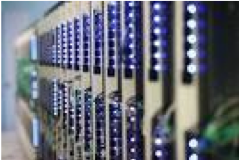 Since the beginning of the year here are a few representative samples of the major data center projects across the US:
Facebook will build two new $750 million data centers, with one in Huntsville, Alabama, and the other near Atlanta in Newton County.
Google announced the land acquisition for a new $500 million development in Midlothian, Texas, which is southwest of Dallas.
Vantage Data Centers, acquired in 2017 by Digital Bridge, secured over $1.1 billion in new financing for its national expansion primarily in Silicon Valley and Northern Virginia.
EdgeCore, with significant backing from its investment partners, announced plans for over $2 billion in new data center cloud campuses across six U.S. markets.
Iron Mountain, after its recent acquisition of IO Data Centers, will now expand its Phoenix campus by another 500,000 square feet.
Brookfield acquires AT&T's colocation business
AT&T is the latest telecommunications company to spin off its data center colocation portfolio. Following a similar exit strategy by Verizon, Windstream and CenturyLink, AT&T will sell 31 data centers primarily located in the US to Brookfield Infrastructure Partners. Brookfield will take this $1.1 billion acquisition to form a new yet-to-be-named global colocation business.
There have been similar exit strategies by other telecommunications giants over the past few years. Verizon sold its global colocation portfolio totaling 29 facilities, including the massive NAP of the Americas in Miami, to Equinix for over $3.6 billion. CenturyLink netted over $2.15 billion for its 57 facilities in North America from a private equity group that renamed this business Cyxtera.
New money players in the data center real estate sector
The data center commercial real estate sector has become very crowded with many new players with significant amounts of capital to invest. With the major data center REITs such as Digital Realty, Equinix and Carter Validus typically being the "go to" acquirer, that dynamic has changed in 2018, with billions being poured into this sector.
Liquid cooling is growing as an important technology and becoming mainstream
Close to half of a data center's total energy use can go to keeping equipment properly cooled. Only five years ago power densities in data centers averaged 100-125 watts per square foot across the raised floor environment. Now the power densities can typically exceed 200 watts per square foot, sometimes exceeding 500 watts per square foot in some portions of hyperscale facilities. The individual racks that used to hold 3-5 kilowatts of IT are being designed to handle up to 30 kilowatts per rack.
Cooling this increased power workload can be a challenge for air-cooled systems. Many of the hyperscale cloud operators such as Facebook, Apple, Google and Microsoft, are already using some form of liquid cooling for some workloads. This technology is now being implemented with some other enterprise users.
And the concept of liquid immersion cooling is as it sounds. The cooling fluid is either submerged or circulated within the computer server or its components to better remove the heat. The energy efficiency of these cooling designs also enables significant cost savings, which is another strong incentive to these technologies.
Conclusions
The 2018 data center market remains on an upward spiral, exceeding what had been a record-breaking year in 2017, with the second half promising similar robust results as the first half of 2018.