The Amazon $15 Per Hour Effect: The Impact on Site Selection & Economic Incentive Strategies
by King White, on Oct 22, 2018 2:45:55 PM
Amazon has proven that it can shake up the retail industry and now it is doing the same with labor markets. The recent announcement that Amazon will increase its minimum wage to $15 per hour across the U.S. will have a lasting impact on labor markets as well as your site selection and economic incentive strategies. As a result, it is important that companies plan for how this may change their location decisions.
How Amazon's wages compare the to the rest of the market
Amazon employs approximately 250,000 full time and 100,000 seasonal workers across the U.S. Amazon has historically paid around $11 to $13 per hour depending on the labor market for their distribution center and call center employees. Despite the actual base wage increase, it is important to understand that Amazon is phasing out various bonuses and stock options. So while its minimum wage is higher, the net effect on its overall operating cost may not be as big as it sounds.
So how does this compare to the rest of the market? According to the Bureau of Labor Statistics, the national average for warehouse hand packers and packagers is $12.22 and a retail salesperson is $13.20 per hour. Considering this is the average wage, you will typically find labor rates lower in smaller metropolitan areas and higher in large metropolitan areas. Therefore, the greatest impact will be in the smaller labor markets where Amazon's wages will be much higher than market rates.
Other companies made wage adjustments prior to the Amazon announcement. Major retail employers like Walmart increased their minimum wage to $11 per hour from $9 per hour three years ago while Target raised its wages from $11 to $12 with plans to reach $15 by 2020. Similarly, Costco increased their wages to $14 per hour this year.
To see a full list of employers that have increased their wages, please refer to Site Selection Group's recent blog Wage Inflation Fueled by Tightening Labor Markets and 340 Companies Who Are Paying More.
Distribution centers will be impacted the most
According to research from Business Insider last year, it is estimated that Amazon has 140 distribution centers across the U.S. which are identified in the below map. Many of these fulfillment centers are clustered in high density labor markets along with most other distribution centers trying to fulfill orders to the same customer base. As a result, labor costs will likely start to increase for warehouse workers more rapidly than in other markets, and labor conditions are going to get extremely tight during the peak holiday season when e-commerce operations are all trying to staff up.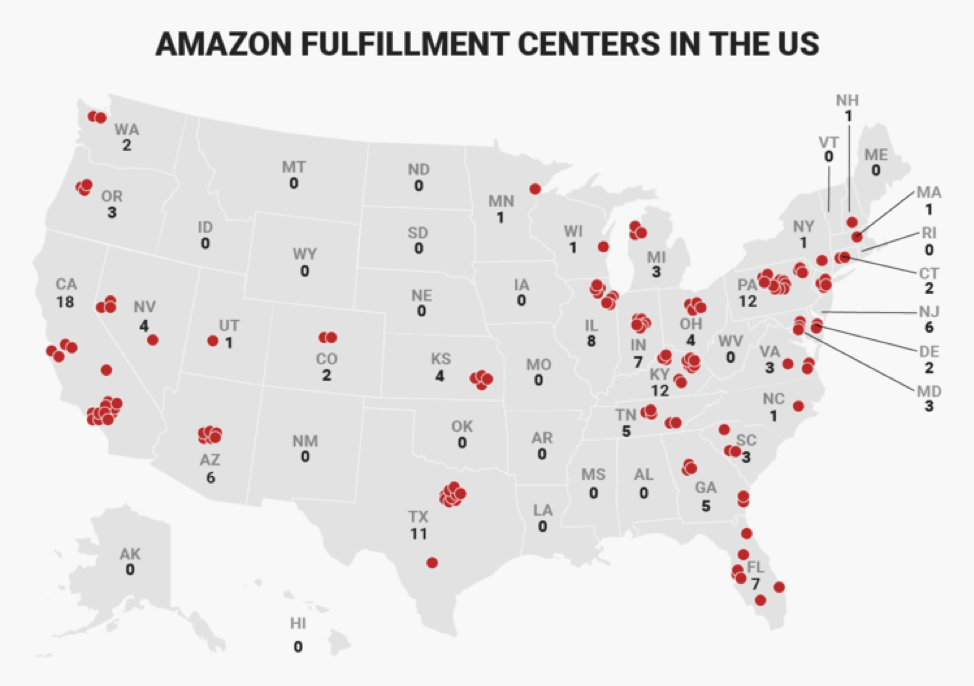 Economic incentives could also be impacted
Companies also need to be prepared for the impact on economic incentive availability and compliance. The increase in wages could push up the average wages in a region which is often a factor that communities use to determine if a company is eligible for economic incentives. It can also raise the bar for what economic developers target as a desirable wage for giving out highly valuable discretionary economic incentives.
In addition, companies can be at risk of falling out of compliance if they don't maintain their employment level. If a company is struggling to fill job openings due to it not increasing wages to stay competitive then it might fall below its required job thresholds.
Conclusions
Amazon has incredible brand value in the labor market, and it has some serious momentum behind positioning itself as an employer of choice by paying at the top of the market for its workers. As a result, companies need to carefully evaluate the impact during the site selection process as well as the implications on their demand for labor and economic incentives at existing sites located near Amazon.