Renegotiating NAFTA – The Potential Impact on Site Selection Decisions for Manufacturing and Distribution Operations
by Bob Cook, on Aug 28, 2017 8:23:07 AM
After threatening U.S. withdrawal from NAFTA for several months, the Trump administration has now declared renegotiation of NAFTA as a major priority. President Trump has consistently pointed to "bad trade deals" such as NAFTA as being a principal cause of U.S. job losses. Furthermore, Trump has consistently insisted that NAFTA has been a "disaster" for the United States.
Although there has been little data put forth to substantiate that claim, U.S. negotiators have now revealed their most comprehensive view of what they seek to accomplish in the renegotiation. Site Selection Group, a full-service location advisory, corporate real estate and economic incentive services firm, researched the four major objectives of the United States Trade Representative (USTR) that may have the greatest impact on site selection.
On July 17, the USTR issued an 18-page document titled "Summary of Objectives for the NAFTA Renegotiation." The report, written in bullet-point format, puts forth more than 100 objectives for the renegotiation, covering 22 different issues related to trade among the the United States, Mexico and Canada.
Although the document does not often reveal specific negotiating points, it does give some insight into what the administration seeks to achieve. The "new NAFTA" that may result from these talks will have a direct bearing on corporate site selection and economic incentive trends, especially for manufacturing plants and distribution centers that seek to optimize their location footprints in North America.
The first objective that is put forth in the document broadly addresses the matter of trade deficits. This objective states that the U.S. seeks to "improve the U.S. trade balance and reduce the trade deficit with NAFTA countries." Increasing exports while decreasing imports is likely the goal of all three countries at the renegotiating table. This has certainly been top-of-mind for President Trump who has previously threatened to levy as much as a 35% "border tax" on companies that locate outside the U.S. (specifically singling out Mexico) and seek to sell their products back into the United States. While the document does not reveal specific details about what it may seek to negotiate in regard to import duties, it does address "trade remedies" which is highlighted later in this article.
It is instructive to consider what has occurred in U.S. trade relationships both before and after NAFTA was launched in 1994. First, the U.S. has experienced an overall trade deficit (in goods-producing sectors) with the world every year since 1976. The last year that the U.S. experienced an overall trade surplus with the world was in 1975.
The reality is that the United States' significant purchasing power places negative pressure on this country's balance of trade. The U.S. represents 19.2% of global purchasing power, which makes this country the planet's most significant market for goods and services, as compared to China at 15.3% and India at 5.7%. Also, the U.S. dollar has consistently gained strength against most every other currency in the world, which tends to exacerbate trade deficits here.
The U.S. has had a trade deficit with Canada in every year since 1985 and has had only four years of trade surpluses with Mexico over the same time frame. These surpluses occurred in four consecutive years from 1991-1994. Since the inauguration of NAFTA in 1994, U.S. exports to Canada have grown 164% ($267 billion in 2016) while imports have increased 149% to $278 billion in 2016. Hence, the trade deficit with Canada has remained relatively constant for more than 20 years.
The gains in U.S.-Mexico trade following the passage of NAFTA have been more dramatic. Since 1994, U.S. exports to Mexico have increased by more than 4.5 times, reaching $229.7 billion in 2016. That is a growth in annual exports of nearly $190 billion, the greatest volume of export growth that the United States has experienced with any of the world's nations, including our largest trading partner Canada.
Imports from Mexico have grown at a much faster pace, increasing by more than six-fold under NAFTA, but we must not lose sight of several important features related to U.S.-Mexico trade. Depending upon industry segment, 40% to 70% of Mexico's value of manufactured products first originated as a raw material, component part or sub-assembly in another country, most often the U.S. While trade deficits have grown dramatically with Mexico, there has been dramatic growth of U.S. exports to Mexico, which had played a critical role in retaining, and in some instances creating, millions of jobs in the United States.
The thornier question is the potential impact that NAFTA may have had on manufacturing job losses in the United States. Since the implementation of NAFTA, manufacturing employment in the United States has declined by more than 4.4 million, a loss of more than one-fourth of our nation's production labor force. But is NAFTA to blame? A 2015 study out of Ball State University concluded that trade agreements such as NAFTA likely had very little to do with these job losses. While the study identified international trade and domestic demand as having some impact on the decline of manufacturing jobs, it identified that 88% of the job losses could be directly linked to productivity gains such as increased automation. As a result, while the nation's manufacturing employment has encountered a 27% decline since NAFTA, U.S. manufacturing output has actually grown by 33%.
The main point of this long introduction is that in order for the U.S. to achieve its economic and trade objectives, there must be an accurate understanding of the economic forces causing trade imbalances and job losses.
The facts seem to indicate that NAFTA is not a principal culprit. Still, how NAFTA is renegotiated will have a direct impact on corporate site selection decisions in North America. Site Selection Group has identified four of the USTR objectives, which may have the most significant impact on site selection decisions. Some companies may have to potentially modify aspects of their global supply chain strategy, once there appears to be clear direction for the "new NAFTA."
USTR Objective 1: Trade Remedies
"Preserve the ability of the United States to enforce rigorously its trade laws, including the antidumping,countervailing duty, and safeguard laws. Eliminate the NAFTA global safeguard exclusion so that it does not restrict the ability of the United States to apply measures in future investigations. Eliminate the Chapter 19 dispute settlement mechanism."
The three objectives related to trade remedies may seem innocuous on the surface, but this is where most of the Mexican and Canadian opposition could lie during the negotiations. Presumably, the U.S. is seeking to broaden its discretion in the application of countervailing duties and other sanctions in the event that the U.S. determines that trade practices of another NAFTA country cause "serious injury" to the United States and one or more industry sectors.
We would do well to remember the president's early insistence on a 35% "border tax" for any companies that locate outside of the U.S. and wish to sell products to the U.S. The administration appears to have backed away from that notion and, as of July 27, Treasury Secretary Steven Mnuchin, Speaker Paul Ryan, and Senate Majority leader Mitch McConnell announced that the administration and Republican leaders have now also backed away from a 20% border adjustment tax. If implemented, this would have been similar to value-added taxes levied in many other countries. Having said that, if any such measures are to be undertaken by the administration, they would have to comply with World Trade Organization (WTO) guidelines. As a matter of course, Site Selection Group is now looking at various tax/duty scenarios for its clients considering offshore or nearshore locations, in order to cover a wide array of potential NAFTA outcomes. These range from the 35% border tax to a 20% VAT to an average 5% customs duty if we end up returning to pre-NAFTA practices.
USTR Objective 2: Investment
"Establish rules that reduce or eliminate barriers to U.S. investment in all sectors in the NAFTA countries."
Over the last couple of decades, Mexico has done more than perhaps any other country in the world to open up its major industries to foreign direct investment. Companies from all industry sectors can establish manufacturing operations in the country, with the ability to own 100% of the assets related to that operation.
The country has also spurred foreign ownership in its railroads, telecommunications and other sectors. Most recently, Mexico has begun to open up its state-owned petroleum company (PEMEX) to allow for foreign direct investment in oil and gas exploration and refining. The government still maintains a fairly tight hold on electricity generation and distribution, but even this sector is open to private investment although not yet from foreign entities. Energy is one of the few sectors specifically mentioned in the USTR document in terms of ensuring continued market access.
As private sector entities are allowed to make additional investments to modernize and otherwise improve Mexico's energy sector, both fuel and electric prices should come down over time, making Mexico an even more attractive location for manufacturers.
USTR Objective 3: Currency
"Through an appropriate mechanism, ensure that the NAFTA countries avoid manipulating exchange rates in order to prevent effective balance of payments adjustment or to gain an unfair competitive advantage."
SSG closely follows the peso-dollar exchange rate because of its impact on labor and other operating costs in Mexico. President Trump has repeatedly admonished countries, specifically China, for manipulating currency exchange rates in order to gain an unfair advantage in attracting investment and boosting trade, and now is apparently putting Mexico and Canada on notice.
As can be seen in the chart below, the U.S. dollar / Canadian dollar exchange rate (blue line) has remained relatively stable in the NAFTA era while the peso-dollar exchange rate (red line) has been volatile.
The peso experienced a precipitous drop immediately following the election of Donald Trump (6.5% overnight) and a total decline of 15% within 60 days of the election. The situation has stabilized, as the peso has now regained all the value lost since the election and then some. In July, the average was 17.85 pesos per dollar, the first month it has fallen below 18 per dollar since April 2016. Still, the peso has lost more than one-fourth (28%) of its value to the dollar over the past three years, which makes labor costs in Mexico more affordable (in U.S. dollar terms) today versus three years ago. It will be interesting to see if the USTR is pursuing a mechanism that could lead to a more stable peso.
Relative Change in USD Exchange Rates vs. Canadian Dollars and Mexican Pesos
1993 Baseline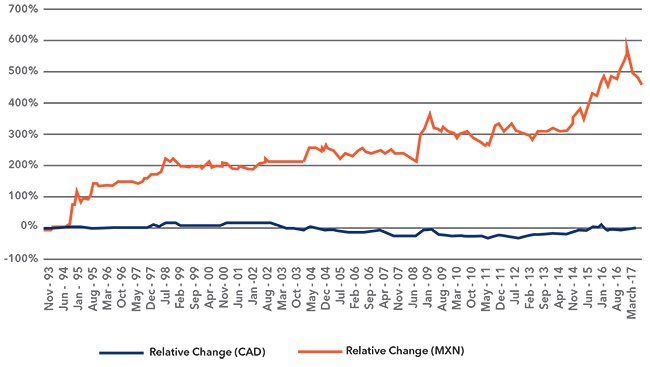 USTR Objective 4: Rules of Origin
"Update and strengthen the rules of origin, as necessary, to ensure that the benefits of NAFTA go to products genuinely made in the United States and North America."

"Ensure the rules of origin incentivize the sourcing of goods and materials from the United States and North America." "

"Establish origin procedures that streamline the certification and verification of rules of origin and that promote strong enforcement, including with respect to textiles."

"Promote cooperation with NAFTA countries to ensure that goods that meet the rules of origin receive NAFTA benefits, prevent duty evasion, and combat customs offenses."
We suspect that issues surrounding "rules of origin" may have the most significant impact on location decisions as time moves forward. "Rules of origin" are the criteria that are used by a particular country (or trade bloc such as North America) to determine the source (country of origin) of a product. Under NAFTA, most manufactured products are required to have at least 60% of its total value be a product of Mexico, Canada and/or the United States in order to qualify for duty-free treatment. The challenge here is that there tends to be a wide variation in the practice of sovereign governments with regard to rules of origin. The different criteria that may be used to determine rules of origin include:
requirement of "substantial transformation"
change of tariff classification
ad valorem percentage
type of manufacturing or processing operation
The first two objectives are of particular interest in that it seems the U.S. negotiators may be seeking to apply a stricter standard for determining what may qualify as "North American" content. The requirement of "substantial transformation" is a universally recognized and accepted criterion. In other words, a non-NAFTA sourced raw material or component part may be "substantially transformed" as a result of the manufacturing process employed in the NAFTA country, so much so that the entire value of the raw material or component would then become part of the product's NAFTA value.
USTR may be seeking a stricter definition of "substantial transformation," or perhaps will push for the "ad valorem percentage" criterion. If the latter is pursued, even if a raw material or component is "substantially transformed" in a NAFTA nation, the value of that input would remain as non-NAFTA origin. Often times, a product could qualify for a lower tariff rate if the value of its components or raw materials are changed to the same duty classification as the finished product.
If these stricter rules are negotiated and applied, manufacturers may have to rethink aspects of their global supply chain, especially if duty-free treatment under NAFTA is an important part of their strategy. This is particularly true for companies that may be sourcing a significant amount of raw materials and/or component parts from Europe and/or Asia. Stricter application of "rules of origin" could clearly impact future location decisions for manufacturers seeking to serve the North American marketplace.
Site Selection Group continues to monitor various trade policies that will affect the site selection decisions or our manufacturing and distribution-oriented clients. Regardless of the outcome, companies can mitigate risk by taking a prudent approach to strategically selecting locations for their operations.