Private Equity Investments Fuel Site Selection & Economic Incentive Deals Across U.S.
by King White, on Jul 23, 2018 3:03:37 PM
The last five years have clearly been one of the most incredible times to be in the site selection and economic incentives business. It is estimated that during this time there were over 5,000 corporate expansion projects across the U.S. involving more than 50,000 jobs, $5 billion in capital investment and $5 billion in economic incentives. There are many factors that influenced this massive growth wave, including an expanding economy, the release of hoarded corporate cash, new corporate tax policy and technological advances to name a few. However, there is one factor that was new to the game in this historic economic growth period – private equity funding.
Private equity fuels site selection and economic incentive deals
According to Pitchbook, there were over 4,000 private equity deals completed in 2017 that infused $565.9 billion of private equity capital into companies. More importantly, if you look at the growth in these investments over the last five years, you will see a similar growth pattern of site selection and economic incentive deals. The following graph provides summary of private equity growth in the U.S.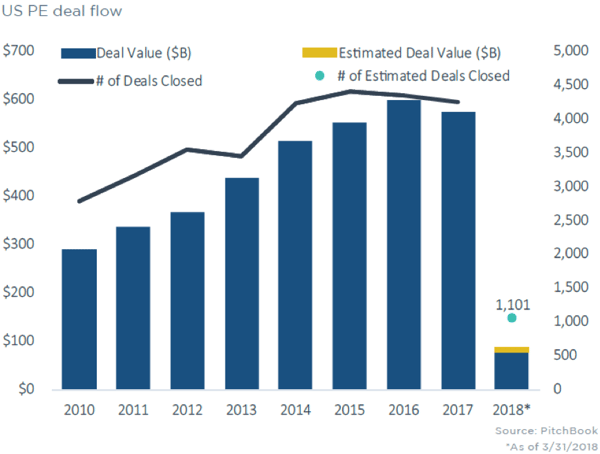 5 ways private equity deals spur site selection and economic incentive activity
There are generally five ways we are seeing private equity transactions create market activity.
Rapid job creation – Labor is the No. 1 expense of a corporations so when you are needing cash to grow then it is likely going to go toward hiring people. The type of jobs created will typically include software engineering, sales representatives, production workers, call center representatives and other corporate functions that can rapidly help fuel revenue. This job growth will trigger the opportunity for economic incentives such as cash grants, tax credits and training subsidies.
Investment in new equipment – Adding new production lines in manufacturing plants, new technology in distribution centers or data center capacity for more servers can drive growth of a company. The capital expenditures will make companies eligible for much needed tax abatements as well as cash incentives to help offset both the up-front capital needs and on-going carrying cost of the equipment.
Opening of new sites – The demand for more jobs and investment in equipment will quickly create the need for new facilities. These new facilities will typically include sales offices, call centers, data centers, manufacturing plants and distribution centers. The ability to access economic incentives is once again triggered by these capital investment events.
Consolidation from roll-up acquisitions – Once a private equity firm invests in a company, it will immediately start looking to buy complementary companies then roll them up to create efficiencies in overhead and synergies for growth. This will usually result in layoffs at some facilities and expansions at others as they "right-size" the combined companies. Companies need to pursue economic incentives at this point by emphasizing the retention of jobs and investment in their existing facilities.
Restructuring of corporate real estate – Some private equity deals involve restructuring of corporate real estate to gain additional tenant improvement cash for remodels or lowering overall real estate costs to improve profitability. These restructuring initiations may include early lease renewals, lease terminations, lease restructuring, dispositions of owned properties, sale-leasebacks or recasting of leases.
What is going to happen next?
Most private equity firms have a three to five-year hold time on their investments as they need to return profits to their investors. So these companies are either going to have to be sold or merged with other companies so they can get the next round of private equity to come in for another bite of the apple. Many people are asking if this could be the source of the next bubble to burst; however, only time will tell. Regardless, these private equity deals are definitely influencing site selection and economic incentive deal activity.