Minimum Wage Hikes to Impact Hiring and Site Selection Decisions
by King White, on Jan 15, 2014 1:58:00 PM
Striking fast-food workers thrust the federal minimum wage into the national spotlight recently but many states already have raised rates — or will soon.

That has prompted companies to be concerned about mounting labor costs and employee attrition.

Labor costs are a major factor in the site selection process so corporations will increase their scrutiny of — and perhaps penalize — states that raise rates beyond the federal minimum. Already, Site Selection Group clients are shunning high minimum-wage states such as Washington and California, which has the nation's highest minimum wage ($9.19) and California ($8).

Washington state's rate will rise to $9.32 on Jan. 1, while California's rate will rise to $9 on July 1 and to $10 in 2016. Twenty states plus the District of Columbia have minimum wages higher than the federal standard.

The following map identifies which states are set to increase minimum wage in 2014.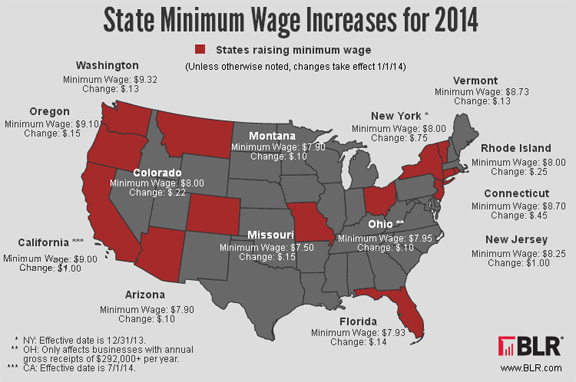 ( Planning is Everything )
Industries that rely on minimum-wage workers such as retailers will feel the brunt of the increases. Rising rates could also negatively impact labor availability for employers that pay slightly above minimum wage. Companies with call center employees, warehouse employees and unskilled production workers will be among those most affected.

Obama recently threw his support behind Democrats who have proposed raising the federal minimum wage of $7.25 per hour to $10.10 over the next two years.

Democrats can expect pushback from Republicans concerned about the nation's fragile economy. We also expect constituents to raise concerns about potential pressure on corporate profits. The proposed minimum-wage increase far outstrips the productivity growth of minimum-wage workers and would force employers to curtail hiring.

Proponents of minimum wage increases argue that increased spending power by low-wage workers will offset job losses. A study by the Heritage Foundation indicates the proposed federal minimum-wage hike would likely eliminate 300,000 jobs per year and reduce gross domestic product (GDP) by more than $40 billion annually.

How much minimum-wage hikes will impact site selection decisions remains to be seen, but it's already evident that they will have an impact.