Mid-Year Manufacturing Site Selection Trend Report
by Josh Bays, on Jun 26, 2017 3:59:37 PM
Site Selection Group, a leading location advisory and economic incentives firm, researched site selection trends for manufacturing projects in the first half of 2017. Nearly 1,900 manufacturing projects were announced. The average number of jobs created per project was 74 employees, and the average capital investment per project announcement was approximately $30 million.
Comparing the first half of 2017 with the same time last year
As with 2016, the majority of projects were modest from an employment perspective (as shown in the chart below). More than 75% of projects plan to hire less than 100 people. Very few projects were announced that are planning to hire 500 or more workers (1.5%). The smallest manufacturing projects — those hiring fewer than 25 employees — grew slightly in 2017 from the previous year while there was a slight drop in the number of announced projects across the board.
Manufacturing Project Announcements by Jobs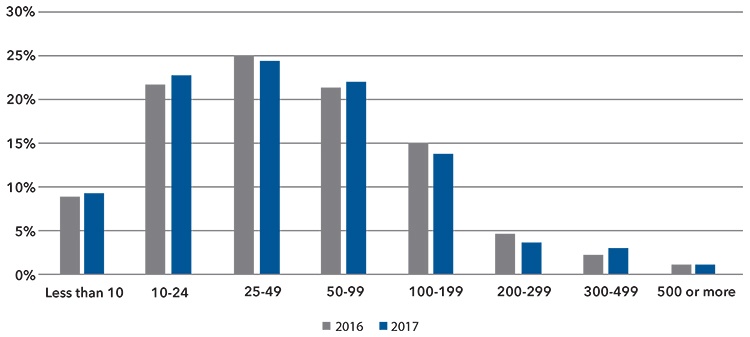 Similarly, the bulk of the 2017 manufacturing announcements involved capital investments of $10 million or less. In fact, the median investment announced so far in 2017 is $6 million, which demonstrates that while the biggest projects can command the headlines, the bulk of activity involved much smaller investments. The overall distribution of projects was similar to 2016 with some minor variations.
Manufacturing Project Announcements by Investment

Sector trends for 2017

Depending how you measure, one of three industry sectors led in 2017 manufacturing announcements. Chemicals and plastics had the highest total investment so far this year at $33.3 billion. Automotive scored highest on total number of jobs announced with more than 30,000. Finally, machinery, equipment and construction had the highest number of announcements with 649. Other notable sectors are food and beverage, which scored high on jobs and number of projects, and energy, which invested nearly $30 billion so far this year. The interactive Tableau dashboard below highlights these top sectors.

Major manufacturing announcements

Site Selection Group identified the top five manufacturing announcements in terms of jobs and capital investment in the United States:

1. Intel Corp. in Chandler, Arizona.

Billed as the most advanced semiconductor factory in the world, Intel's announced Chandler facility will invest more than $7 billion in capital and bring thousands of jobs.

2. Huntington Ingalls in Newport News, Virginia.

A 52,000-square-foot expansion of its existing manufacturing headquarters and foundry facility is expected to be completed in the fall. Capital investment is estimated to be around $700 million.

3. Fuyao Automotive in Plymouth, Michigan.

Fuyao plans to open a plant that will employ more than 900 workers in three years for its auto glass finishing of products manufactured in its Dayton, Ohio, facility.

4. Prestage Foods in Eagle Grove, Iowa

Almost 1,000 jobs are planned for a pork processing plant in a 650,000-square-foot facility with an estimated $240 million in capital investment.

5. Shandong Ruyi Technology Group (Ruyi) in Forrest City, Arkansas.

Ruyi is transforming a former Sanyo facility to create 800 jobs to spin cotton – sourced locally – into yarn for textiles. The renovations are scheduled for later this year.