Mega Site Selection Deals Winning Big Economic Incentive Packages and Tightening Labor Markets Across the U.S.
by King White, on Jun 18, 2018 2:39:33 PM
With the economy going strong, there has been a ton of site selection activity across the U.S. for high-end corporate campus projects. These site selection projects are very industry diverse and include big name companies such as Amazon, Apple, Snapchat, JPMorgan Chase, Google, Infosys, State Farm, NTT Data, Liberty Mutual and many more. These mega projects are attracting huge economic incentive packages and are gobbling up labor across metro areas. To help understand the impact on your site selection decisions, Site Selection Group has analyzed where these projects have landed as well as where many of them are shortlisted to help you plan for the future.
Labor availability drives most mega site selection deals
The quest for more labor is the No. 1 factor behind most of these mega site selection deals. Most companies have gotten so large at their headquarters location that they are tapping out their existing labor markets. As a result, some companies are setting up operations strategically in other submarkets within their existing labor pool or they are expanding into totally new metro areas to find totally new labor resources while often reducing labor cost at the same time. For example, Amazon and Apple are both searching for new labor markets as they have outgrown their headquarters labor markets. When leaving high cost labor markets like San Francisco and Seattle, these companies can often reduce their labor costs by 20 to 30%.
Economic incentives play critical role in site selection decisions
Economic incentives should always be considered "icing on the cake" when making your final site selection decision. These mega projects have attracted some of the biggest economic incentive packages which include cash grants, tax credits, tax abatements, training grants and a variety of statutory and discretionary state and local economic incentives.
The following provides some good examples of the types of economic incentive packages that have been awarded:
DXC Technologies was awarded $115 million for 2,000 tech jobs in Lousiana.
Credit Suisse Group was awarded $53.9 million for the creation of 1,200 jobs related to its expansion of their campus in Raleigh, North Carolina.
Infosys was awarded $31 million for 2,000 tech jobs in Indianapolis.
Allstate was awarded $23.75 million for 2,250 jobs in Charlotte, North Carolina.
Charles Schwab was awarded $6 million in state incentives for 1,200 jobs at its new campus in a Dallas-Fort Worth suburb.
Tracking where big deals are locating or looking is critical in the site selection process
The impact of these mega-deals on your site selection decisions is critical. Most of these projects are branded employers paying premium wages so they can be an employer of choice. Just think of the impact of Amazon landing in your city as they ramp up to 50,000 employees. Your employee attrition and labor cost for quality talent are going to skyrocket.
To help you stay informed, Site Selection Group has mapped most of these mega-deals to help you visualize where the deals have happened or may be happening in the the future.
Mega Site Selection Project Announcements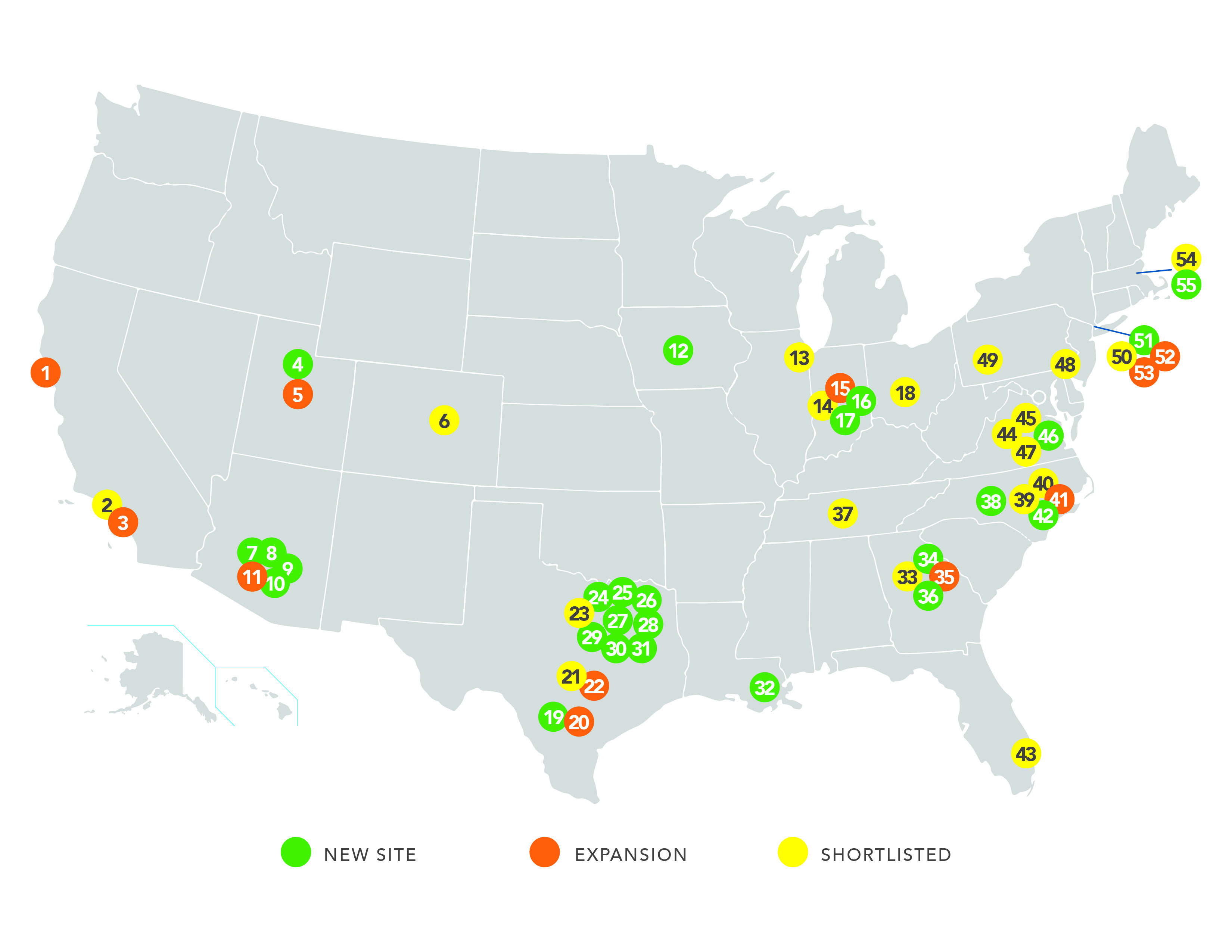 | # | Company | Project Type | Metro Area | # of Jobs |
| --- | --- | --- | --- | --- |
| 1 | Facebook | Expansion | San Francisco, CA | 7,500 |
| 2 | Amazon HQ2 | Shortlisted | Los Angeles, CA | 50,000 |
| 3 | Snapchat | Expansion | Los Angeles, CA | 1,194 |
| 4 | Pluralsight | New Site | Salt Lake City, UT | 2,400 |
| 5 | Adobe Systems | Expansion | Provo, UT | 1,260 |
| 6 | Amazon HQ2 | Shortlisted | Denver, Colorado | 50,000 |
| 7 | ADP | New Site | Phoenix, AZ | 1,500 |
| 8 | Bank of the West | New Site | Phoenix, AZ | 1,027 |
| 9 | Farmers Insurance | New Site | Phoenix, AZ | 1,000 |
| 10 | State Farm | New Site | Phoenix, AZ | 8,000 |
| 11 | USAA | Expansion | Phoenix, AZ | 1,500 |
| 12 | Cognizant | New Site | Des Moines, IA | 1,014 |
| 13 | Amazon HQ2 | Shortlisted | Chicago, IL | 50,000 |
| 14 | Amazon HQ2 | Shortlisted | Indianapolis, IN | 50,000 |
| 15 | GEICO | Expansion | Indianapolis, IN | 1,474 |
| 16 | Infosys | New Site | Indianapolis, IN | 2,000 |
| 17 | Salesforce | New Site | Indianapolis, IN | 800 |
| 18 | Amazon HQ2 | Shortlisted | Columbus, OH | 50,000 |
| 19 | Ernst & Young (EY) | New Site | San Antonio, TX | 600 |
| 20 | USAA | Expansion | San Antonio, TX | 1,500 |
| 21 | Amazon HQ2 | Shortlisted | Austin, TX | 50,000 |
| 22 | Uber | Expansion | Austin, TX | 50 |
| 23 | Amazon HQ2 | Shortlisted | Dallas-Fort Worth, TX | 50,000 |
| 24 | Charles Schwab | New Site | Dallas-Fort Worth, TX | 1,200 |
| 25 | Cognizant | New Site | Dallas-Fort Worth, TX | 1,090 |
| 26 | FedEX | New Site | Dallas-Fort Worth, TX | 1,200 |
| 27 | Liberty Mutual | New Site | Dallas-Fort Worth, TX | 4,000 |
| 28 | NTT Data | New Site | Dallas-Fort Worth, TX | 6,377 |
| 29 | State Farm | New Site | Dallas-Fort Worth, TX | 10,000 |
| 30 | Toyota | New Site | Dallas-Fort Worth, TX | 4,000 |
| 31 | Walmart | New Site | Dallas-Fort Worth, TX | 200 |
| 32 | DXC Tech. (Formerly HP) | New Site | New Orleans, LA | 2,000 |
| 33 | Amazon HQ2 | Shortlisted | Atlanta, GA | 50,000 |
| 34 | Anthem | New Site | Atlanta, GA | 1,800 |
| 35 | NCR Corp. | Expansion | Atlanta, GA | 1,800 |
| 36 | State Farm | New Site | Atlanta, GA | 8,000 |
| 37 | Amazon HQ2 | Shortlisted | Nashville, TN | 50,000 |
| 38 | Allstate | New Site | Charlotte, NC | 2,250 |
| 39 | Amazon HQ2 | Shortlisted | Raleigh, NC | 50,000 |
| 40 | Apple HQ2 | Shortlisted | Raleigh, NC | 20,000 |
| 41 | Credit Suisse Group | Expansion | Raleigh, NC | 1,200 |
| 42 | Infosys | New Site | Raleigh, NC | 2,000 |
| 43 | Amazon HQ2 | Shortlisted | Miami, Florida | 50,000 |
| 44 | Amazon HQ2 | Shortlisted | Northern Virginia | 50,000 |
| 45 | Apple HQ2 | Shortlisted | Northern Virginia | 20,000 |
| 46 | Amazon | New Site | Northern Virginia | 1,500 |
| 47 | Amazon HQ2 | Shortlisted | Northern Virginia | 50,000 |
| 48 | Amazon HQ2 | Shortlisted | Pittsburgh, PA | 50,000 |
| 49 | Amazon HQ2 | Shortlisted | Philadelphia, PA | 50,000 |
| 50 | Amazon HQ2 | Shortlisted | New York Metro | 50,000 |
| 51 | Facebook | New Site | New York Metro | 1,000 |
| 52 | Spotify | Expansion | New York Metro | 1,832 |
| 53 | Spotify | Expansion | New York Metro | 1,000 |
| 54 | Amazon HQ2 | Shortlisted | Boston, MA | 50,000 |
| 55 | Amazon | New Site | Boston, MA | 2,000 |