Largest Economic Incentive Deals of Second Quarter 2016
by Kelley Rendziperis, on Jul 22, 2016 1:52:09 PM
Although the number of projects offered economic incentives increased 76% from the prior quarter, from 335 to 581, the overall value of incentives decreased from $1.3 billion to about $1.07 billion for the second quarter of 2016.

The largest incentive package of $167.5 million was offered to Sun Paper to build a new bio-products mill in Arkadelphia, Arkansas. California had the most announced economic incentive projects during the quarter with 166 deals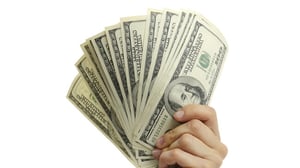 valued at approximately $100 million primarily through the use of the California Competes Program.

The top 25 announced economic incentive packages amounted to approximately $631 million, or 59%, of the total incentives offered in the quarter. Of the top 25 deals, 13 — 52% —, were located in New Jersey. To help understand economic incentive trends, Site Selection Group has evaluated the economic incentive deals announced during the second quarter of 2016.

More than $1.07 billion in economic incentives
As of the date of publication, Site Selection Group identified 581 economic incentive packages offered to companies across the United States during the second quarter of 2016. These economic incentive packages represent an estimated total incentive value in excess of $1.07 billion. To generate these economic incentives, companies are expected to spend more than $12.2 billion of capital and generate over 50,300 new jobs. This represents a total return on investment of approximately 8.7%, an award of $21,284 per new job, an average incentive value of approximately $1.8 million, and a $100,000 or less award being the most frequently offered value.

The 581 announced economic incentive packages represented 39 states, led by California with 166 deals, Pennsylvania with 64 and Kentucky with 49. The top 10 states based on the total number of announced economic incentive packages, which represent 458 of the 581 projects, is shown in the table below:
Top 10 states for number of announced economic incentive packages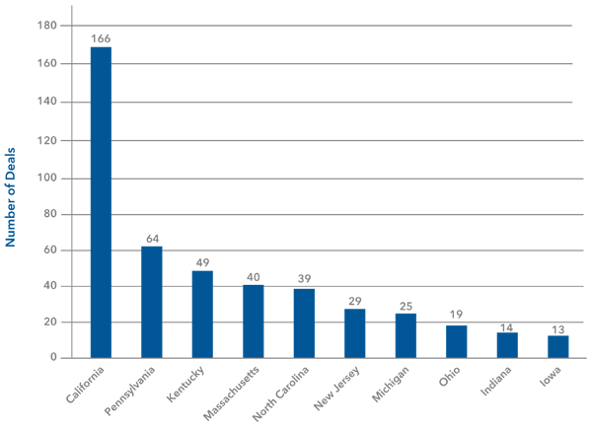 It is not surprising to see a number of announced economic incentive packages in California because California Competes Tax Credit awards were announced in the second quarter. Notably, the application period for the remainder of California's fiscal year 2016-2017 California Competes Tax Credit program was recently announced and will be from July 25 to Aug. 22 with $75 million of credit available.

While the average incentive package was valued at $1.8 million for the 581 announced projects, the average award for the top 25 deals was $25.2 million. The following chart depicts the 581 projects broken out by estimated incentive values:
Number of projects by incentive value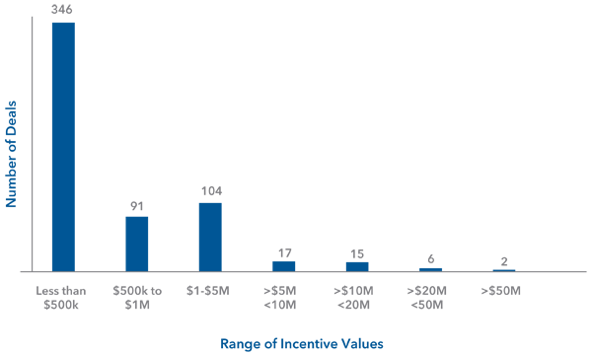 As reflected in the chart above, the average incentive value of $1.8 million is heavily skewed by the top 25 announced projects. For instance, approximately 76% of the 581 announced projects were actually awarded economic incentive packages less than $1 million and 93% were awarded economic incentive packages valued at $5 million or less.

Top 25 economic incentive packages in the second quarter
The following table identifies some of the largest economic incentive deals offered in the second quarter of 2016. These projects provide a great way to benchmark what range of economic incentives exist for a variety of project types. However, it is important to understand the values are estimated and typically only reflective of state level incentives.


Top 25 economic incentive packages
Company

Location

Incentive
Value ($M)

Capex ($M)

Jobs Created

Sun Paper

Arkadelphia, AR

167.50

1,000.00

250

Caterpillar

Tucson, AZ

56.00

0.00

600

iCIMS

Holmdel, NJ

38.30

41.12

390

The Hibbert Company

Trenton, NJ

33.67

10.12

0

Newell Brands

Hoboken, NJ

27.00

10.94

300

Quality Packaging Specialists

Florence, NJ

22.88

41.17

220

Bridgewater Associates

Multiple locations, CT

22.00

505.00

750

Mallinckrodt Enterprises

Warren Township, NJ

20.43

29.37

337

EdenCrete Industries

Augusta, GA

18.89

67.00

251

Quest Diagnostics

Secaucus, NJ

18.59

6.78

0

Bayada Home Health Care

Pennsauken, NJ

18.44

11.50

162

Milwaukee Electric Tool

Brookfield, WI

18.00

33.00

600

Salesforce

Indianapolis, IN

17.95

40.00

800

Coronet

Paterson, NJ

17.76

5.98

45

Tokio Marine North America

Jersey City, NJ

17.74

11.35

215

US Mobile Phone

Elizabeth, NJ

17.00

1.25

200

WorkWave

Holmdel, NJ

15.73

7.20

247

Grifols Therapeutics

Clayton, NC

12.78

210.00

250

Faraday Future

Multiple locations, CA

12.73

311.12

1,990

Ogilvy CommonHealth

Parsippany-Troy Hills, NJ

11.34

11.91

60

Kronos

Lowell, MA

10.20

56.00

400

Regional Energy Holdings

Norwalk, CT

10.10

29.00

225

NextEV USA

Multiple locations, CA

10.00

138.00

917

Project Vesper

Denver, CO

8.50

0.00

443

Corning Pharmaceutical Glass

Vineland City, NJ

8.33

37.73

0
The top 25 economic incentive packages announced in the second quarter represent approximately $631.8 million of the total $1.07 million of estimated incentives, over 59%. These projects in isolation will account for more than $2.6 billion of capital and generate over 9,600 new jobs, representing a return on investment of approximately 24% and $65,000 per new job. For the top 25 projects listed above, the following graphs reflect the project type, number of projects by state and industry function:

Number of projects by industry function

In this quarter, New Jersey's Grow New Jersey Assistance Program continued to be leveraged by companies and accounted for 13 of the top 25 projects in terms of the number of incentives deals. However, the top two awarded projects were located outside of New Jersey in Arkansas and Arizona, and accounted for $223 million in economic incentives or approximately 35% of the top 25 deals and 21% of the overall incentives awarded in the second quarter of 2016.

As mentioned above, Sun Paper, which produces and distributes paper and paperboard, will invest $1 billion to build a new bio-products mill in Arkadelphia, Arkansas. The company will create 250 new jobs paying an average annual wage of $52,000. The next largest economic incentive package was provided to Caterpillar, which designs, manufactures and markets construction, mining and forestry machinery, to open a regional headquarters in Tucson, Arizona. The project will create 600 new jobs over the next five years.

It is hard to accurately predict how much of the economic incentives offered will actually be realized by the recipient companies. For instance, while New Jersey and California represent a vast number of the overall economic incentive packages offered and some of the larger packages in terms of value, these primarily consist of tax credits which are non-refundable. The California Competes Tax Credit is non-refundable, non-saleable and non-transferable. However, while the Grow New Jersey Tax Credit is non-refundable, it is transferable. SSG points this out because oftentimes economic incentives are scrutinized and seeing figures so large causes alarm, but in reality it is hard to quantify at the outset of a project how much of the tax credits offered will be truly utilized and how much will go unused.

Please note that the analysis above is based on publicly available data at the time of this article. In addition, the current quarter's data is compared to the information available at the time of prior quarterly articles.

For additional information about these project and others, please contact Site Selection Group.