Largest Economic Incentive Deals of Q3 2016
by Kelley Rendziperis, on Oct 24, 2016 4:21:41 PM
Although the number of projects offered economic incentives decreased 22% from the prior quarter, from 581 to 456, the overall value of incentives increased from $1.07 billion to $1.81 billion for the third quarter of 2016.

The largest incentive package of $267 million was offered to The Walt Disney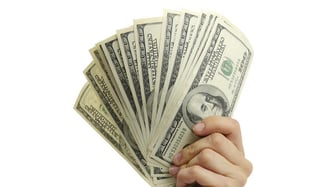 Co. to build a new luxury hotel in Anaheim, California. California had the most announced economic incentive projects during the quarter with 39 deals valued at approximately $448 million primarily through the use of the California Film & TV Tax Credit program.


The top 25 announced economic incentive packages amounted to approximately $963 million, or 53%, of the total incentives offered in the quarter. Of the top 25 deals, 10 or 40% were located in New Jersey. In this report, Site Selection Group evaluated the economic incentive deals announced during Q3 2016 to help understand economic incentive trends.


More than $1.81 billion awarded in economic incentives
Site Selection Group identified 456 economic incentive packages offered to companies across the United States during the third quarter. These economic incentive packages represent an estimated total incentive value in excess of $1.81 billion. To generate these economic incentives, companies are expected to spend more than $15 billion of capital and generate over 72,400 new jobs. This represents a total return on investment of approximately 12.1%, an award of $25,030 per new job, an average incentive value of approximately $3.9 million, a median value of approximately $750,000 and approximately $250,000 as the most frequently offered economic incentive.


The 456 announced economic incentive packages represented 42 states, led by California with 39 deals, Kentucky with 32 and Ohio and Pennsylvania with 31 apiece. The top 10 states based on the total number of announced economic incentive packages, which represent 285 of the 456 projects, is shown in the table below:
Top 10 States for Number of Announced Economic Incentive Packages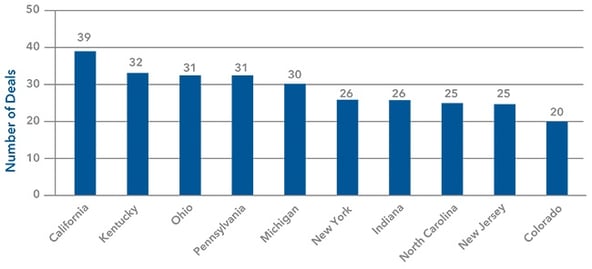 It is not surprising to see a number of announced economic incentive packages in California because the California Film and TV Tax Credit program Credit Allocation Letters were issued during the third quarter.

While the average incentive package was valued at $3.9 million for all 456 announced projects, the average award for the top 25 deals was $38.5 million. The following chart depicts the 456 projects broken out by estimated incentive values:
Number of Projects by Incentive Value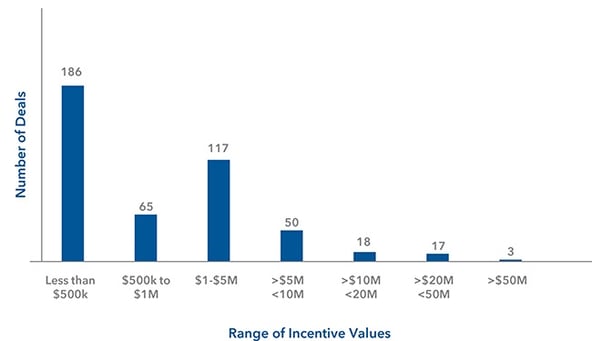 As reflected in the chart above, the average incentive value of $3.9 million is heavily skewed by the top 25 announced projects. For instance, approximately 55% of the 456 announced projects were actually awarded economic incentive packages valued at less than $1 million and 81% were awarded economic incentive packages valued at $5 million or less.
Top 25 economic incentive packages in Q3
The following table identifies some of the largest economic incentive deals offered in the third quarter. These projects provide a great way to benchmark what range of economic incentives exist for a variety of project types. However, it is important to understand the values are estimated and typically only reflective of state-level incentives.
Company

Location

Incentive
Value ($M)
Capex
($M)
Jobs
Created

The Walt Disney Co.

Anaheim, Ca

267.0

411.0

1,150

Gateway Sports Complex

Grandview, MO

61.0

300.0

0

Allergan

Madison, NJ

58.3

0.0

300

ACTEGA North America

Camden, NJ

40.0

0.0

21

Ernst & Young

Hoboken, NJ

39.8

54.1

430

Louisiana Pacific Corp.

Hoyt Lakes, MN

36.0

440.0

250

Fiat Chrysler Automobiles

Sterling Heights, MI

34.6

1,480.0

1,751

Omnicom Group

Jersey City, NJ

33.2

17.0

415

New Avon

Jersey City, NJ

31.7

0.0

396

Fidessa

Jersey City, NJ

30.6

13.4

340

Alstom

Hornell, NY

30.0

0.0

400

Zurich North America

Jersey City, NJ

28.3

12.9

314

Wal-Mart

Irvington, Al

25.4

135.0

550

Project Colony

Unmapped, CO

23.9

30.0

922

Broadridge Financial Solutions

Newark, NJ

23.4

0.0

0

Direct Supply

Milwaukee, WI

22.5

0.0

800

Amazon

Multiple, PA

22.3

150.0

5,000

Sofidel America

Hattiesburg, MS

22.2

0.0

66

Marsh & McLennan Cos.

Hoboken, NJ

22.0

22.3

0

Broadcom

Eugene, OR

21.0

400.0

0

Siemens Healthcare Diagnostics

Walpole, MA

19.0

300.0

400

DuBell Lumber Co.

Camden, NJ

18.3

0.0

30

Tesseract Productions

undisclosed, CA

18.1

85.4

350

Walt Disney Studios

undisclosed, CA

18.0

85.0

400

Third & Grand

Detroit, MI

17.1

54.6

55
The top 25 economic incentive packages announced in the third quarter represent approximately $963.5 million of the total $1.81 million of estimated incentives, over 53%. These projects in isolation will account for more than $3.7 billion of capital and generate over 13,200 new jobs, representing a return on investment of approximately 25% and $72,900 per new job. For the top 25 projects listed above, the following graphs reflect the project type, number of projects by state and industry function:

Number of Projects by Industry Function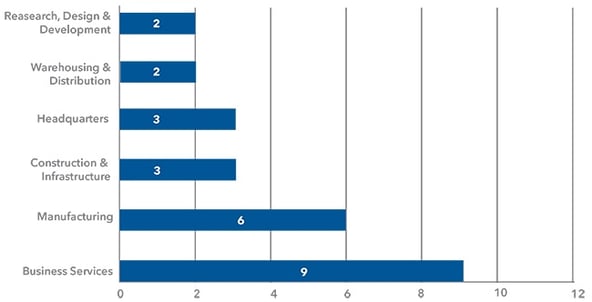 In this quarter, New Jersey's Grow New Jersey Assistance Program continued to be leveraged by companies and accounted for 10 of the top 25 projects in terms of the number of incentives deals. However, the top two awarded projects were located outside of New Jersey and were in California and Missouri, accounting for $328 million in economic incentives or approximately 34% of the top 25 deals and 18% of the overall incentives awarded in the third quarter of 2016.


As mentioned above, The Walt Disney Co. will invest $411 million to build a new luxury hotel in Anaheim, California. The company will create 1,150 new jobs. The next largest economic incentive package was provided to Gateway Sports Complex to construct a complex which includes 14 lighted artificial turf soccer fields, three hotels with 540 rooms and retail space in Grandview, Missouri. The project will investment approximately $300 million.


It is hard to accurately predict how much of the economic incentives offered will actually be realized by the recipient companies. For instance, while New Jersey and California represent a vast number of the overall economic incentive packages offered and some of the larger packages in terms of value, these primarily consist of tax credits which are non-refundable. However, while the California Film and TV Tax Credit applied to income tax is non-refundable, the credit may be assigned to one or more affiliates, and may be sold in the case of Independent Films. The Grow New Jersey Tax Credit is non-refundable, but it is transferable. SSG points this out because oftentimes economic incentives are scrutinized and seeing figures so large causes alarm, but in reality it is hard to quantify at the outset of a project how much of the tax credits offered will be truly utilized and how much will go unused.


Please note that the analysis above is based on publically available data at the time of this article. In addition, the current quarter's data is compared to the information available at the time of prior quarterly articles.


For additional information about these project and others, please contact Site Selection Group.